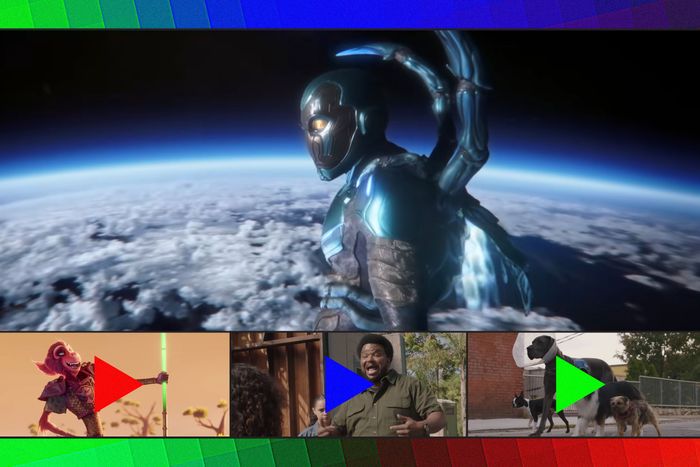 Clockwise from top:
Blue Beetle, Strays, Killing It
, and
The Monkey King.
Photo-Illustration: Vulture
Walking out of my screening of Blue Beetle, I overheard a woman say, "So, he's like the Mexican Iron Man?" Not really, but it did seem like the movie hit the right beats of, let's say, an old-school Marvel movie like Iron Man. It's a departure from the DC Studio films of late, but if superhero fare isn't your style, Blue Beetle won't convert you, but at least there's plenty of other TV and movie options this weekend, from No Hard Feelings hitting digital video platforms to another summertime Will Ferrell performance, but this time as a stray dog. —Savannah Salazar
Featured Presentations
.

Blue Beetle
Let's break the ice: Blue Beetle is actually good?! Directed by Ángel Manuel Soto, the latest from DC is a solid origin story that doesn't necessarily color too far outside the lines but is still enjoyable nonetheless. Cobra Kai star Xolo Maridueña is charming as Jaime Reyes, a recent college graduate who learns that things still suck post-college. Relatable. But he gains powers when some alien tech known as the Scarab chooses him as its symbiotic host. Who knows what's going on at DC Studios right now, but here's hoping that Jaime and his family (played by George Lopez, Damián Alcázar, Adriana Barraza, Belissa Escobedo, and Elpidia Carrillo) can return in whatever shape or form the upcoming DC Universe comes in. —Savannah Salazar
➽ And then there was one: Only Aquaman 2: The Lost Kingdom remains before James Gunn and Peter Safran reboot the DC Universe, Infinite Crisis style.
.

Strays
They say you can't teach an old dog new tricks, but when they're voiced by Will Ferrell and Jamie Foxx, as they are in this raunchy new comedy, you can teach them to say cuss words. Is there a ceiling on how entertaining it is to see cute animals do and say things that cute animals normally don't do or say? Yes, probably, but you've got to throw a dog a bone — or more likely a boner, in this movie's case. —James Grebey
➽ PSA: We spent a non-insignificant chunk of this week talking animals.
.

Killing It season two
The first season of the streaming channel's American Dream–eviscerating series was essentially an origin story for Craig Robinson's character, an aspiring palmetto-berry farmer whose seed capital comes from a snake-killing competition unique to Florida. It was also a smart working-class comedy that took on the absurdity of hustle culture and the desperation of living paycheck to paycheck. Dot-Marie Jones and Beck Bennett join the cast, as Killing It wonders how well Robinson's character, Craig Foster, can handle his unexpected success. —Roxana Hadadi 
➽ Or you could watch the first episode Peacock uploaded on TikTok.
.

Landscape With Invisible Hand
Surprisingly relevant now that reality-TV stars are considering unionizing, Landscape With Invisible Hand is about two teens living in a world that's been taken over by aliens. These aliens aren't the Independence Day, city-destroying type, but they don't exactly come in peace, either. They want entertainment, and when the two teens turn a fake relationship into a hit reality-dating show for the aliens, it's a lucrative venture until the the invaders realize they're faking, threatening to drive them into financial ruin for breach of contract if they break up. —J.G. 
➽ Who would be the aliens in this scenario in the real world? The AMPTP? Lisa Vanderpump?  
Animation Station
The Monkey King
Journey to the West, a 16th-century Chinese novel about a mythical monkey that becomes an immortal god with countless superpowers, is one of the most famous stories in the East, but it has had trouble making its own journey to the West, so to speak. Netflix's new film — an origin story that just tackles the first seven of the source material's centuries-spanning 100 chapters — aims to introduce a whole new group of kids to an iconic hero and his magical Stick, a weapon that rivals Excalibur and Mjölnir. —J.G.
Grand Finale
The Summer I Turned Pretty season two
The teenage-love-triangle show soundtracked by one too many Taylor's Version tracks is coming to a close this week. Which brother will Belly end up with? Yes, you heard that right, the Jenny Han (writer of To All the Boys I've Loved Before) series features a semi love triangle between a girl and two brothers named Conrad and Jeremiah. —S.S.
➽ Taylor Swift must really be invested in Belly, because why else would this series have access to 14 of her songs. Fourteen!
By Popular (On) Demand
No Hard Feelings
This Jennifer Lawrence–led good time deserved more eyes on it, so hopefully coming onto VOD platforms will help. Lawrence stars as a down-on-her-luck woman looking for some extra cash, so she answers an ad to date the son (Andrew Barth Feldman) of rich parents (Matthew Broderick and Laura Benanti). It's a hilarious movie from Good Boys director Gene Stupnitsky that features a delightful cover of an '80s tune (that you probably already know about, but if you don't, enjoy the surprise). —S.S.
Make It a Double Feature
Cats
No matter how crass and crude the R-rated Strays is, nothing can match 2019's musical fiasco Cats, which featured such horrors as a digitally removed cat buttholes, Taylor Swift's Barbie doll catgirl anatomy, and, shudder, James Corden. Anyway, it's a great watch. —J.G.
Want more? Read our recommendations from the weekend of August 11.