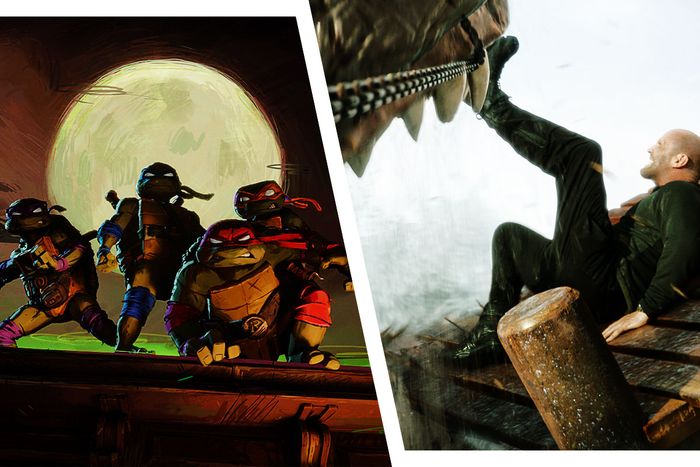 Teenage Mutant Ninja Turtles: Mutant Mayhem
;
The Meg 2: The Trench.
Photo-Illustration: Vulture; Photos: Warner Brothers, Paramount Pictures
Barbie and Oppenheimer are still dominating the movie-theater box office (good for them!), but if you've already done your time in Barbieland and drowned in Cillian Murphy's bright-blue eyes, this weekend is introducing some new in-theater contenders, from a group of pizza-loving sewer turtles to Jason Statham versus Meg. Plus, there's a chance to watch Lollapalooza from your home, so no need to spend $20 on beer! Now, here's the rest of this week's movie and TV picks. —Savannah Salazar
Featured Presentations
.

Teenage Mutant Ninja Turtles: Mutant Mayhem
Shout-out to Spider-Man: Into the Spider-Verse for making people realize that computer-animated movies could look like this. Mutant Mayhem is the tenth Teenage Mutant Ninja Turtles movie, and in addition to the nifty art style, it benefits from a screenplay co-written by Seth Rogen and a lack of upsettingly humanlike turtle "lips." —James Grebey
.

Meg 2: The Trench
Sure, the Barbenheimer weekend marked the release of two highly anticipated movies from two of our greatest living auteur-filmmakers. But do you know what the weekend of August 4 has that two weeks ago didn't? Jason Statham fighting a giant shark … again. It's Meg 2: The Trench time, baby! Chomp, chomp, chomp! —J.G.
➽ Jaws was the original summer blockbuster. What could be a better way to send off the summer-movie season than a tremendously stupid movie about a tremendously big shark?
.

Reservation Dogs season three
This is the final season of the show that all three Vulture television critics picked as one of the best of 2022. Maybe more than any other series on TV this summer, Reservation Dogs is the show you owe it to yourself to spend some time with. Soak up its gorgeous, astonishing wit before the series takes a final bow this fall. —Kathryn VanArendonk
.

Heartstopper season two
The sweet teen series adapted from Alice Oseman's comic returns for its sophomore season as Charlie (Joe Locke) and Nick (Kit Connor) face all the ups and downs of making their relationship official. Meanwhile, Tao and Elle's flirtation persists; Tara and Darcy enter a new phase in their relationship; and Imogen's Imogen. If you want a feel-good watch this weekend, check out Heartstopper. —S.S.
➽ The television series that best utilizes Olivia Colman's talents this year.
.

Winning Time season two
The second season finds the L.A. Lakers in the 1980s, as their rivalry with the Boston Celtics heats up and Lakers star Magic Johnson (Quincy Isaiah) heads down a path that will eventually lead to a life-changing HIV diagnosis. —Jen Chaney
.

Passages
In Ira Sachs's masterful new drama, Franz Rogowski plays a director who cheats on his husband with a female schoolteacher (Adèle Exarchopoulos). Unpredictable and earthy, this is already one of the year's best films. —Bilge Ebiri
.

The Lost Flowers of Alice Hart
The gorgeous seven-part series, based on Holly Ringland's novel, follows Alice Hart after she moves to her grandmother's (Sigourney Weaver) flower farm in rural Australia, where her love life gets tangled up in her family's mysterious past. —Roxana Hadadi
Live From Your Couch
The Lollapalooza Livestream (on Hulu)
Don't get me wrong, there's nothing like live music, but if you want the experience without the hangovers and back pain, Hulu is presenting a live feed of this year's Lollapalooza. While it won't be streaming every set, it does have a schedule of the artists it will be streaming, including Rina Sawayama, Maggie Rogers, Pusha T, Sylvan Esso, and headliners like Odesza and the 1975. —S.S.
Grand Finale
Hijack
Boy, it would be pretty funny if at the end of all that, the airline lost Idris Elba's dang checked luggage! —J.G.
By Popular (On) Demand
The Super Mario Bros. Movie 
The No. 1 movie of the year (watch out, though, Barbie is creeping up), The Super Mario Bros. Movie, is finally dropping on Peacock this month. It's a perfect way to shut your brain off and have your kids chillax for a second as Mario bops around with Peach to save Mushroom Kingdom from Bowser. Though, be warned, "Peaches" by Jack Black is about to be stuck in your head yet again. —S.S.
➽ In a just world, Jack Black's "Peaches" and Ryan Gosling's "I'm Just Ken" would both be performed at next year's Oscars.
Guardians of the Galaxy Vol. 3
James Gunn's swan (er, raccoon?) song has arrived on Disney+. If you missed it in theaters, now's your chance to check out the Guardians of the Galaxy's final adventure as they work to rescue Rocket from his traumatic past. Also, there's a killer joke about how tall Elizabeth Debicki is. —J.G.
➽ Wild how far superhero movies have come. The '70s Superman promised "You will believe a man can fly." Guardians of the Galaxy's tagline might as well be "You will believe a talking raccoon will make you sob ugly tears."
Want more? Read our recommendations from the weekend of July 28.