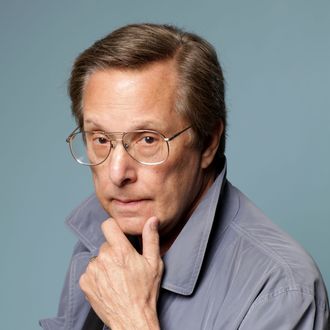 William Friedkin.
Photo: Matt Carr/Getty Images
Filmmaker William Friedkin, whose thriller The French Connection won five Oscars in 1972 and who changed the face of horror the following year with The Exorcist, has died at the age of 87. Family friend Stephen Galloway shared the news with The Hollywood Reporter, confirming that Friedkin died in Los Angeles on Monday, August 7.
The Chicago native got his start in television and documentaries before being tapped to direct Sonny and Cher's doomed feature film, Good Times. From there, Friedkin collaborated with screenwriters like Harold Pinter and Norman Lear before making queer cinema history with his 1970 adaptation of Mart Crowley's play The Boys in the Band. After these smaller projects, Friedkin directed two of his most timeless, certainly most well-known, works. First was 1971's crime thriller The French Connection, which won Academy Awards for Best Picture, Director, Editing, Screenplay, and Actor (for Gene Hackman). In 1973, he caused a sensation with instant horror classic The Exorcist, a difficult production that paid off as one of the highest-grossing films of all time, adjusted for inflation.
The R-rated sensation might not even be his most controversial film, however; that honor might go to the 1980 serial-killer crime thriller, Cruising, starring Al Pacino, which took place in New York's leather scene in the late 1970s and was protested by gay-rights groups. However, in the years that followed, the film has been reconsidered by many critics and cited as inspiration by a number of artists. It also has some legendary director's commentary.
Later in his career, Friedkin earned positive reviews for his intense film adaptations of Tracy Letts plays, including NC-17 Southern Gothic, Killer Joe (2011). His final project, The Caine Mutiny Court-Martial, starring Kiefer Sutherland, Jason Clarke, Lance Reddick, and Jake Lacy, is scheduled to premiere next month at the Venice International Film Festival.
Talking about The Exorcist and his exorcism documentary The Devil and Father Amorth with Vulture in 2018, when asked about the idea that his film "made the Devil real," Friedkin said, "If there are demons, there may be angels, but not physical. I don't believe they're flying around somewhere. I don't know! Maybe they are! Maybe they are. It's not given to us to know." He is survived by his wife, Sherry Lansing, and their two sons.