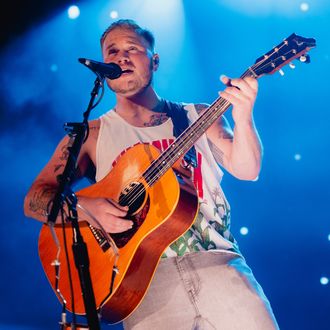 Photo: PolkImaging/Penske Media via Getty Images
Zach Bryan's gonna have a few more highway boys (and girls) on the road next year. The breakout singer-songwriter's 2024 Quittin Time tour features select openers including Jason Isbell and the 400 Unit, Sheryl Crow, and Turnpike Troubadours — artists who've been at this a lot longer than Bryan has. (He also got the Australian folk band the Middle East off their hiatus!) They're not the only ones who want to work with Bryan after he released his self-titled fourth album on August 25 with even more guests, including Kacey Musgraves (on a standout tearjerker), the Lumineers, the War and Treaty, and Sierra Ferrell (who's also hitting the road with him). Not to mention the artists who've joined him onstage during his current tour, such as Noah Kahan, Megan Moroney, and "Dawns" duet partner Maggie Rogers.
In other words, everybody wants to be friends with the guy just over a year after he made waves for a blend of country, folk, and rock on his triple album American Heartbreak. Some even want to be more than friends, like his new girlfriend, Barstool Sports podcast host Brianna Chickenfry. Bryan's a pretty private person (when he's not onstage or on Twitter), but take it from her: "He's like, the nicest, most genuine person I've ever met," she said on an August 4 podcast. "He's so normal." Forget about the industry plants and nepo babies — maybe being normal is really all it takes to get people in the music industry to like you.