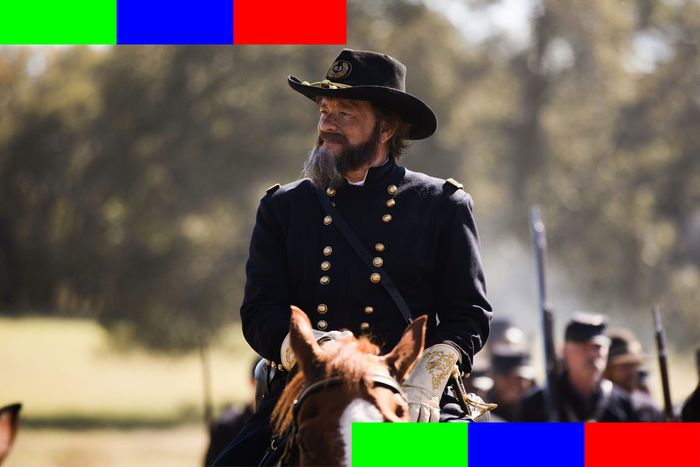 Photo-Illustration: Vulture. Photo: Emerson Miller/CBS
The 2010s USA Network drama Suits might have been the hottest thing on Netflix this summer, but over on cable, audiences spent the warm-weather months flocking to reruns of another semi-vintage show. Back in June, Paramount Network quietly took 1883 — the 2021 Yellowstone prequel series produced for sibling streamer Paramount+ — and gave it a weekly slot on the cable channel's Sunday night schedule. While at that point episodes had been streaming for more than 18 months and were in no way "new," audiences nonetheless embraced 1883 like a first-run show: On average, 2.5 million viewers tuned in to watch each week, per Nielsen's L+3 ratings. That made the Taylor Sheridan–created western cable's most-watched scripted series of the summer and No. 1 for all of 2023 to date, outdrawing the linear-only viewership of hits such as Hallmark's The Way Home (2.3 million), FX's Justified: City Primeval (1.8 million), and HBO's The Last of Us (1.4 million).
On one level, 1883's exceptional performance isn't a total shocker. After all, it's an extension of Yellowstone, the Paramount Network phenom better known by its formal name of the Most-Watched Show on All of Broadcast and Cable TV, with more than 11 million weekly viewers during the 2022-2023 season. People love their Duttons. But while 1883 was clearly helped by the Yellowstone halo, several previous attempts to import streaming shows over to linear networks have mostly been met with yawns by viewers — even when they, too, were part of big franchises. In August, for example, ABC aired three episodes of Disney+ original Ms. Marvel on a Saturday night and averaged fewer than 800,000 viewers for the night, drawing half the audience of reruns on CBS and NBC. And back in fall 2020, when COVID shutdowns delayed new scripted shows, CBS gave Star Trek: Discovery's first season a spot on its Thursday lineup. The CBS All Access (and now P+) drama did okay but finished well behind original eps of Big Brother and, when they returned in November, CBS's first-run sitcoms.
So how did 1883 make the leap from streaming to cable so successfully when others failed? Well, in addition to the Yellowstone of it all, Paramount execs treated 1883's linear run as a major summer event rather than an emergency effort to plug a schedule hole (Star Trek: Discovery) or a quickie ploy to promote a streaming platform (Ms. Marvel). The episodes aired in the same Sunday night 8 p.m. time slot where Yellowstone lives, and even premiered during the third week in June, as Yellowstone did during its first three seasons (before moving to the fall in 2021). And of course, like movies in a Nicole Kidman–approved theater, 1883 just feels right in a place like Paramount Network, since it's the home of the original Yellowstone. That made the channel's typical audience a perfect fit for viewers who'd be into 1883, which wasn't really the case with the CBS extended run of Trek or ABC's hit-and-run airings of Ms. Marvel.
Chris McCarthy, president and CEO of Showtime/MTV Entertainment Studios, says he believes the company's decision to give 1883 a full-season window on Paramount Network paid off because it wasn't designed primarily as a promo for Paramount+ but was instead part of a bigger plan to grow Sheridan's extended universe of series by using all of Paramount Global's video platforms: streaming, cable, and soon, broadcast TV. "Our philosophy as a company has always been that we can grow streaming subscribers and engagement while also growing linear viewers," he says. "It's not either/or; it's more."
With 1883, the multi-platform play began with the show's December 2021 launch. Much the way Paramount+ predecessor CBS All Access used the CBS broadcast network to preview the first episodes of The Good Fight and Star Trek: Discovery in 2017, McCarthy launched 1883 on linear, putting the first two episodes of the show on Paramount Network. But he also slotted them immediately following new episodes of Yellowstone, giving them a massive lead-in that allowed the show to be seen by 10 million viewers over the course of two weeks. That in turn directly translated into subscriptions for Paramount+: Boosted by the cable window, McCarthy says that among original series, 1883 ended up as Paramount+'s number-one "start driver" for all of 2021 (i.e., more people signed up for the streamer because of the show than any other title on the platform that year) even though it landed on the platform just two weeks before the end of the year. And it remained the number-one driver of new Paramount+ sign-ups in the U.S. all through 2022 as well, while also doing very well globally once the streamer began rolling out in international markets in June of last year.
Because it performed so well on streaming for so long — even though its final new episode dropped in February 2022 — there really wasn't much serious thought given to a linear window for the show last year. But by this past spring, consumption of 1883 on Paramount+ had slowed down notably from its previous highs: Average daily viewership of the series in April and May of this year was only one-fourth of what it had been at the start of the year, per internal viewing data obtained by Vulture. It was then that McCarthy and his team became open to the idea of windowing 1883 on cable. "Once we saw that there began to be some declines, we said, 'Let's see if we can't take an opportunity to not only bring in more audience, but also make the entire universe bigger,'" he says.
The thinking was that giving 1883 a run on Paramount Network would have several benefits. First, it would give the cable network a nice boost during the summer months, offering "new" Yellowstone-themed content at a time when the channel ordinarily would be airing more episodes of a reality show such as Bar Rescue. Second, sponsors value scripted shows more highly than unscripted, so the ten-week run would likely boost ad revenue as well. And finally, the cable telecasts of 1883 could be packed with promos for Sheridan's newest Paramount+ original, Special Ops: Lioness, which debuted about a month after 1883 began its run on linear. "We'd had great success using linear as a launchpad for streaming, but we had yet to do the full circle," McCarthy says, calling the decision to slot 1883 for a summer run on Paramount Network a "calculated experiment."
Based on the Nielsen numbers, that experiment seems to have worked. While the dramatic decline in the number of basic-cable scripted originals has lowered the bar for what it takes to be considered a success in the space now, the overall viewership numbers 1883 earned this summer would've made it a hit even five years ago, before the Basic Cable Apocalypse shifted so many tentpole titles to streaming. Indeed, several episodes of 1883's Paramount Network summer run actually notched a bigger audience than some season one episodes of Yellowstone did back in 2018. (While the mothership series obviously wasn't the phenom it is now, it was still considered an out-of-the-box hit from episode one.) What's more, audience for 1883 on cable grew throughout most of its two-and-a-half-month run, leaping 61 percent between its June 18 premiere (1.8 million) and its August 13 finale (2.9 million).
But beyond the Nielsen win chalked up by 1883 on cable, platforming the show on linear ended up having a somewhat unexpected additional benefit to the franchise. Paramount+ viewing of the show, which declined for five straight months at the start of 2023, immediately reversed as soon as the marketing of 1883 on Paramount Network kicked off in June. By July, the series was seeing viewership that was more than two times what it had been in May. "The real benefit of this was to maximize this franchise so that all boats are rising," McCarthy says. "So yes, on linear, it was great. But it also drove a significant amount of value back to Paramount+: real starts, real engagement."
Obviously some of the folks who watched 1883 on Paramount Network this summer might have been casual cable viewers who'd seen the show on streaming before but simply decided to revisit it reruns. But most were probably newbies, particularly since the demo skew of the Paramount Network audience for 1883 (the vast majority were over the age 50) is about ten to 25 years older than the typical Paramount+ viewer, says a person familiar with the numbers. And McCarthy says that's the other big win that came from the linear run. "What this is really doing is building this massive universe and bringing more people into it," he says. "There are now millions of people who are going to watch [1883 follow-up] 1923, or are least aware of it. It really allows us to gain a whole new set of viewers that we would not otherwise be able to reach because they aren't on [Paramount+] yet."
Paramount Global will add another layer to its multi-platform approach to the Yellowstone universe in about two weeks when CBS begins airing the first season of the original series on Sunday nights following football and 60 Minutes. In this case, the Eye network will be airing a basic-cable show and not a streaming series, and five-year-old episodes versus ones from 18 months ago. Yellowstone episodes have also streamed for years on Peacock and, more recently, on Paramount Global's own free streamer, Pluto TV. In theory, that might make it tougher for Yellowstone to pop on CBS the way 1883 stampeded to success on Paramount Network.
But McCarthy is hopeful. "The average audience on CBS Sunday nights is about 24 million viewers week to week," the exec says. "Do you want to guess what percentage of that has watched Yellowstone on Paramount Network? It's about 14 percent." That leaves plenty of Eye viewers who, somehow, might never have seen the series or perhaps checked it out a few years ago and drifted away. But even if the CBS reruns only average a couple million viewers, those are eyeballs which might then make the jump to signing up for Paramount+ or who seek out Yellowstone reruns on Pluto TV, Paramount Network, or even Peacock. And unlike the Netflix model that keeps originals exclusive to the same platform (Netflix) for the better part of a decade, seeding a show across multiple outlets opens up new revenue streams for a company like Paramount Global. It should also benefit the actors and directors on the show, along with writer/creator Sheridan, since a series created for streaming is now earning linear-TV residual rates.
The success of 1883 this summer, impressive as it was, doesn't necessarily mean we're about to see a new era of streaming shows getting regular berths on linear networks. As noted, it is possible that Yellowstone and all things related to it are something of a unicorn and that broadcast and cable audiences really have no interest in watching recycled streaming shows. And yet, given the pressures to reduce programming budgets at linear networks, and declining Nielsen expectations, it seems possible that we could see a reversal of the widowing pattern that characterized the first decade of streaming: Instead of broadcast and cable channels simply funneling the libraries of their shows to streaming platforms — as happened with Suits — legacy networks could soon find themselves the second or third incarnation in a streaming show's life cycle. We're already seeing Max and Amazon originals get windowed on free streamers such as Freevee and Tubi, and we might not be far from many of those shows getting weekly runs on broadcast and cable a la what Paramount has done with Yellowstone and 1883. A few years ago, linear networks would have been too proud to run streaming reruns, while streamers would have argued it made no sense to let people watch their shows without subscribing to their service. That attitude hasn't completely disappeared (particularly at Netflix), but economic reality has changed a lot of minds inside Hollywood's exec suites.
For his part, McCarthy says he's still planning to proceed somewhat cautiously. "It's not gonna be a wholesale, one-size-fits-all approach," he says of future windowing efforts, noting that every platform — broadcast, cable, streaming — has a different audience profile and different programming needs. Over the summer, for example, McCarthy-led MTV quietly put season four of Showtime with Paramount+ original The Chi on its schedule for several weeks. While the audience was much smaller than that which tuned in for 1883, McCarthy thinks the decision to put a premium-cable show on basic cable "paid off really, really well" and helped contribute to The Chi having a strong season six premiere on Showtime.
And while the exec says it's still "too early" to say for sure for whether 1923 or other installments in the Taylor Sheridan universe will get linear runs, McCarthy is already dropping hints that this summer's experiments will be repeated in some form. "This is just the beginning," he says. "The best part about streaming and where linear is, is that it's an opportunity to just totally reinvent. Everything's changing. This was the first of what will hopefully be many more to come."