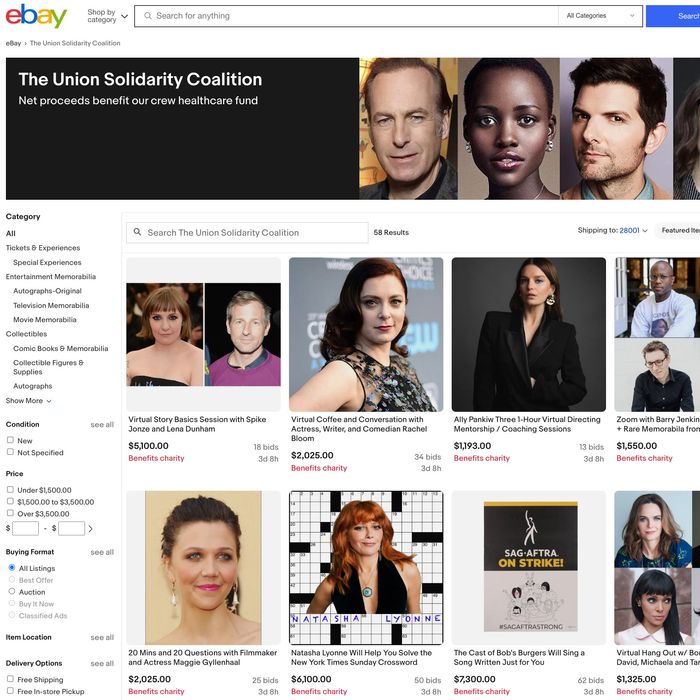 Photo: Screenshot via eBay
Welcome to Vulture's "Strike Recap," or "Strike-cap," if you will, a regular rundown of all the biggest news from the WGA and SAG picket lines.
The Union Solidarity Coalition broke the internet last week by announcing the weirdest charity auction ever devised by man. Busy Philipps, Adam Scott, and David Krumholtz are auctioning off things like going with you to a pottery class, walking your dog, or serenading you on Zoom (respectively). None of the actors have offered to define "parasocial relationship" to a bidder, but Natasha Lyonne will do the crossword with you! The real items/activities being auctioned are wild enough, but people really let their freak flags fly with the memes.
In other good news, the Alliance of Motion Picture and Television Producers and the Writers Guild of America are set to meet again Wednesday. "Every member company of the AMPTP is committed and eager to reach a fair deal, and to working together with the WGA to end the strike," the producers said in a statement. In the meantime, we saw themed pickets, a Harold & Kumar reunion, and more shows choosing to come back without writers.
The View Stands Alone
After losing her hosting gig at the National Book Awards, getting roasted online, and even having her great-aunt dragged for her scab activities, Drew Barrymore decided not to continue filming The Drew Barrymore Show. Barrymore vowed not to bring the show back until the strike is over. The Talk and The Jennifer Hudson Show also decided to postpone their new seasons, but didn't go so far as to promise no new eps until the strike is resolved. That leaves The View as the main daytime show with WGA writers still on the air.
Scabbing With the Stars
On the prime-time and late-night front, Real Time With Bill Maher announced that it was coming back without writers, which was hardly surprising given what Maher has said about the WGA's demands. Dude called demanding a living wage "kooky." On Monday, Maher walked back his previous announcement in real time. "My decision to return to work was made when it seemed nothing was happening and there was no end in sight to this strike," he tweeted. "Now that both sides have agreed to go back to the negotiating table I'm going to delay the return of Real Time, for now, and hope they can finally get this done."
The WGA-covered Dancing With the Stars is also coming back. Again, this show gave Sean Spicer a shot at redemption, so are we really surprised a progressive, pro-labor stance isn't on its dancing card?
Themed Pickets, Celebs on the Line
The week of September 11, we saw hundreds of WGA showrunners come together as a show of solidarity. The picket was organized after news broke that an informational meeting with some high-level showrunners (including Kenya Barris and Noah Hawley) had been canceled. According to the WGA, the Showrunner Solidarity picket collected "625 gift cards to businesses like grocery stores, Target, and Amazon," which will be given out Tuesday at the IATSE Appreciation Day picket at Fox. Later in the week at Fox, there will also be a Murder, She Wrote–themed picket.
Last week also saw stars like Oscar Isaac, Margot Robbie, John Cho, and Kal Penn on the picket line. "We have the munchies for a fair deal," Penn captioned his post on the mini Harold & Kumar reunion.
VFX and MTV Solidarity
Two exciting new unions have joined the scene. The writers of MTV's Ridiculousness unanimously voted to unionize on September 11. The new Ridiculousness union is with the WGA. Considering that MTV runs that show nearly continuously, this is a big deal. Also voting to unionize with IATSE were the VFX workers of Marvel. They really were tired of getting "pixel fucked." Walt Disney Pictures VFX workers are expected to unionize under IATSE soon as well.
Somebody Feed Phil the Rich
Not hugely newsworthy, but it's wild seeing the normally mild-mannered Phil Rosenthal absolutely pop off about today's media execs. Like United Auto Workers president Shawn Fain has been saying during their strike, Rosenthal doesn't cotton to the way the heads of these multibillion-dollar companies plead poverty. Speaking of UAW president Shawn Fain, the fan cams have been coming thick and fast on TikTok.
Do you have a story tip or interesting writers strike update to share? Drop us a line at tips@vulture.com.