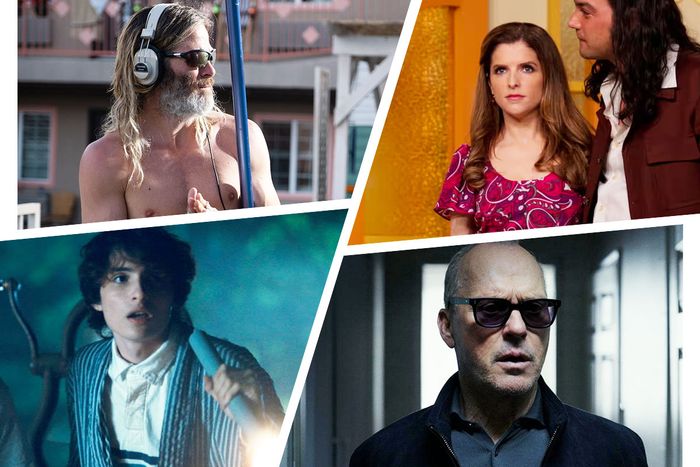 Clockwise from top left:
Poolman
,
Woman of the Hour
,
Knox Goes Away
, and
Hell of a Summer
.
Photo-Illustration: Vulture
How have the SAG and WGA strikes affected this year's Toronto International Film Festival? In form, not much. The most essential element of TIFF has always been the populace of North America's fourth-largest city coming out to celebrate cinema, and that was unchanged. In certain respects, things even ran smoother without the actors. No one had to stick around for a talkback they didn't really want to listen to just in case an A-lister accidentally said something interesting.
In content, though, the strike was all too noticeable. On the ground, the No. 1 topic of discussion was the curiously low-wattage lineup. No Maestro, no Poor Things; in their place, Dumb Money and Next Goal Wins. The scuttlebutt is that Venice and Telluride leaned on their premieres not to screen at TIFF — something they try every year, but the strikes gave them more leverage. With no talent attending, the films needed the festivals more than the festivals needed the films. (I have also heard rumors that a buzzy title from an Oscar-winning filmmaker was considering a TIFF pitstop until the Canadians offered them an unappealing second-week slot.)
Filling the gaps was a multitude of actor-directed projects, which three separate people described to me as emblematic of the "Tribecafication" of TIFF. It's generally assumed this was a way to ensure there would be at least some star power on the red carpets this year, though no one from the festival would admit this. In practice, results were mixed. Ethan Hawke, Viggo Mortensen, and Finn Wolfhard all made appearances in support of their films, while Anna Kendrick bowed out of promoting her directorial debut in solidarity with the rest of the cast.
What would the bevy of moonlighting thespians mean for the quality of the festival? To find out, I made it my mission to watch as many of the actors' films as possible. I wound up seeing eight of them, one shy of the number I'd intended. (My apologies to Tony Goldwyn's Ezra, which is apparently "both an unpredictable family dramedy and a road movie that runs on mischief.")
Of the bunch, the buzziest by far was Kendrick's film, Woman of the Hour, which just sold to Netflix for $11 million. Inspired by serial killer Rodney Alcala's 1978 appearance on The Dating Game, the film links his murders — he's believed to have killed over 100 people, mostly women — with the garden-variety sexism faced by women everywhere. (The Pitch Perfect star plays the unlucky contestant, a struggling actress fed up with the male gaze.) It's not an especially subtle film, and opinions vary on whether or not Kendrick pulls off the thematic conceit, but she's getting points for ambition. "She definitely did not make it easy for herself," one critic friend told me. Nothing gets people talking like a huge sale number, and for good or for ill, critics seem to agree that Netflix is the perfect home for a movie like this.
Coincidentally, two Gen-X icons, Ethan Hawke and Patricia Arquette, both brought not-quite biopics of famous writers, each of which is intermittently interesting. Arquette's Gonzo Girl is an adaptation of Cheryl Della Pietra's 2015 novel, a thinly veiled account of the author's time working for Hunter S. Thompson in the early '90s. Hawke's Wildcat stars his daughter, Maya, as Flannery O'Connor during a period when the young writer returned home to Georgia in ill health.
Of the two, Gonzo Girl is more fun, with psychedelic drug trips and an electric performance from Willem Dafoe as the Thompson stand-in. Wildcat is a more dour picture, though it gets a boost from Hawke's decision to dramatize O'Connor's short stories, with all the actors playing double duty. These interstitials give Wildcat a necessary dose of Southern Gothic wickedness, though they also make it a bit of a drag whenever we cut back to real life.
Similarly, Viggo Mortensen's Western The Dead Don't Hurt is either a mediocre movie enlivened by moments of beauty or the reverse. Half of the film is a 19th-century love story between Mortensen's Danish immigrant and Vicky Krieps's French Canadian feminist. The two actors have an earthy chemistry, and at moments the film seems to be verging on a gender-revisionist take on the genre. The rest is a framing device following Mortensen's character in a macho revenge quest against the most generic villain ever put onscreen. Still, The Dead Don't Hurt looks fantastic, especially the western scenery. Is it faint praise to come out of a film raving about the location scout?
Mortensen's movie confirmed something else I noticed: Men were more likely to cast themselves as heroes, while women were more likely to cast themselves as voices of reason. That's the role Kristin Scott Thomas plays in her debut, North Star, in which she's the mother to three feuding adult sisters. Scarlett Johansson plays one of them, an officer in the British navy about to become the first woman to command an aircraft carrier, who is also a lesbian dragging her feet on marriage to her long-term lover. There's a lot going on!
North Star only really makes sense when you learn that, like the sisters, Scott Thomas's own father and stepfather were Royal Navy pilots who died in flight accidents. As Vanity Fair's Katey Rich put it, "When I tell you there's an aircraft carrier in Kristin Scott Thomas's directorial debut I promise there is 100x more aircraft carrier than you are imagining." It was widely regarded as one of the worst films at TIFF, but personally, I think it would make a fine plane movie (if you can get past all the dialogue about people dying in plane crashes). A-listers doing accents, sitcom high jinks, a bucolic British wedding — I can already imagine my mom trying to summarize the plot. "It was called North something?"
I was dreading the horror-comedy Hell of a Summer, co-directed by Finn Wolfhard and his buddy Billy Bryk. I watched a lot of stuff directed by 20-year-olds back when I was 20, and I was not particularly jazzed to sit through an entire feature by two of them, especially at midnight. But Hell of a Summer turned out to be surprisingly watchable, a less annoying Bodies Bodies Bodies. Unlike Kendrick, the boys did make it easy on themselves; the slasher spoof is a genre that more or less runs on rails. But I laughed more than I thought I would, and stars Fred Hechinger and Abby Quinn turned in genuinely good performances. Either Wolfhard and Bryk know how to work with actors, or they know how to get out of the way.
I can't say the same about Michael Keaton's Knox Goes Away, in which the actor-director plays a hit man who holds two Ph.D.s and can whup the asses of thugs half his age — despite the fact that he's got fast-acting dementia! As a filmmaker, Keaton has a penchant for showy oners, but he never succeeds in the basic task of grounding the cuckoo-bananas plot in anything resembling reality. The film accidentally proves the value of an Academy Award: In the entire cast, the only ones who aren't terrible are Al Pacino and Marcia Gay Harden.
Knox was my least favorite of the festival, but it doesn't have the honor of being this year's official TIFF disaster. That title goes to Chris Pine's Poolman, an incoherent noir pastiche that had viewers racing toward the exits barely 30 minutes into my press screening. Those who stayed rose up in vocal rebellion against the movie, jeering every joke that wasn't funny, which was all of them, and every beat ripped off from Chinatown, which was half of them. (The other half were ripped off from The Big Lebowski.) I don't want to give away any more details because, as one outspoken hater put it, "The problem with 'wacky' movies is when you summarize the plot, it sounds fun. And it's not fun."
In fact, Poolman is so bad it may even call into question Pine's status as everyone's favorite Chris, thus reigniting the internet's most tiresome debate. Say what you will about The Goldfinch, but at least it never did that.