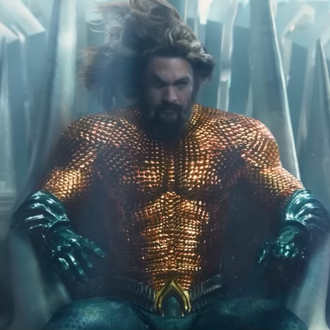 Photo: Warner Bros. Discovery/YouTube
Update September 13: James Wan denied reports that Aquaman and the Lost Kingdom has gone through loads of changes. Or even loads and loads of reshoots. "People are like, 'Oh, they're doing a whole bunch of different shoots!' No. If we actually combined them all together, it's actually not that many number of days at all." Wan told Entertainment Weekly. He also said the TBD nature of who plays Batman isn't really important to him. "At the end of the day, the best thing I would say about this movie is that it is not connected in any way to any of those films. That's the bottom line," he said.
Still, Wan recognizes that things have been a-movin' and a-shakin' at Warner Bros. Discovery and DC Films, however. "If I'm living in a house, and the house is getting renovated around me, it's hard for me to not take notice," he said, "because the roof, the ceiling's missing, right?" Meanwhile, we've gotten a trailer to the trailer for Aquaman and the Lost Kingdom, out December 20.
Original story follows.
In carpentry, the rule is "measure twice, cut once." This isn't the approach Warner Bros. is taking with Aquaman and the Lost Kingdom. The sequel to 2018's Aquaman has reportedly gone through three rounds of reshoots, something The Hollywood Reporter calls "almost an unprecedented number." The film has also gone through a number of test screenings, none of which were particularly confidence boosting. The movie's survival through regime changes at WB and the DC Films subsidiary, the disappointing box office for The Flash, and Amber Heard's defamation trial is incredible — and a testament to the fact that Aquaman remains the highest-grossing DC movie, at $1.148 billion.
Per THR, one of the stumbling blocks in getting Aquaman 2 shipshape was the question of Batman. Former DC Films head Walter Hamada wanted Michael Keaton's Batman to become the Nick Fury of the DCU, popping up in cameos to hint at the larger shared universe these characters occupy; Keaton's Batman was to fulfill this role in Batgirl. But when David Zaslav took over the merged Warner Bros. Discovery, the Nick Fury–fied Batman went into the trash can along with Batgirl. Then Ben Affleck's Batman appeared in The Flash (along with every other Batman), throwing everything into question. "It was pretty chaotic," a source told THR. The film's current solution? No Batmen, nowhere. "New DC heads James Gunn and Peter Safran do not want to promise a movie universe that will not come to fruition, nor tie it down excessively to past failures," THR reported.
Sources told THR that the latest round of reshoots might have finally gotten all the film's ducks (or stingrays or whatever) in a row. Gunn and Safran approved five days of reshoots for director James Wan starring Jason Momoa and Patrick Wilson. Apparently, Wan got what he wanted after day four, and now it's back to the edit bay and VFX mines. Aquaman and the Lost Kingdom is set to be the last film of the DCEU's ancien régime. The new DCU will begin in earnest with Superman: Legacy in 2025.