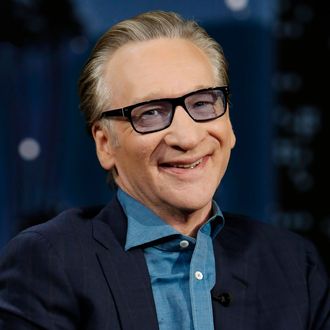 Scab.
Photo: Randy Holmes/ABC via Getty Images
Bill Maher, a paragon of virtue known for his kindness and empathy, has surprised everybody by going against the WGA's wishes and — wait, sorry, that's Drew Barrymore. Bill Maher's reputation remains sullied as his HBO show, Real Time With Bill Maher, is set to return to airwaves amid the WGA strike, he announced via X (the ashes of Twitter). "Real Time is coming back, unfortunately, sans writers or writing," Maher wrote on September 14. "The writers have important issues that I sympathize with, and hope they are addressed to their satisfaction, but they are not the only people with issues, problems, and concerns." The show will return without the components typically created by writers — there will be no monologue or "New Rules," for example, and the show will instead revolve around panel discussion. "I'm not prepared to lose an entire year and see so many below-the-line people suffer so much," Maher added. It will be the first late-night show to return to air.
The WGA is not thrilled. "Bill Maher's decision to go back on the air while his Guild is on strike is disappointing," the organization wrote. "If he goes forward with his plan, he needs to honor more than 'the spirit of the strike.'" They added that "WGA will be picketing this show." It looks like there might be some new rules for Maher to contend with moving forward.