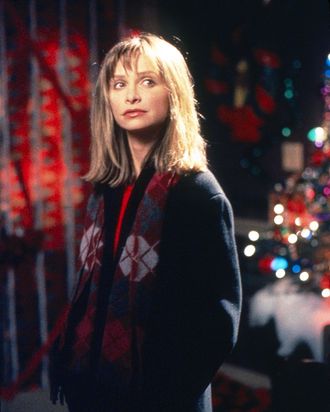 Photo: Randy Homes/20th Century Fox/Courtesy Everett Collection
Bad news for retro-TV fans: Hulu is getting ready to part ways with roughly a dozen classic and cult titles over the next two weeks, including Arrested Development, The Bob Newhart Show, Beverly Hills 90210, Hill Street Blues, and Ally McBeal. The Disney-owned platform began posting expiration notices on the shows earlier this week, but sometimes those get applied in error. (Indeed, Hulu briefly put one on The Mary Tyler Moore Show and St. Elsewhere, but those turned out to be false alarms.) But Buffering checked in with Hulu PR, which confirmed that indeed all of the aforementioned shows will be signing off the service at the end of September. Also saying adios: The Practice, Don't Trust the B— in Apt. 23, Better Off Ted, 7th Heaven, Speechless, and Touch. And while it's not exactly "classic" TV, two big reality franchises — MTV's The Hills — will also be leaving within the next few days.
What's interesting about this batch of programs is that most — though not all — come from 20th Century Fox TV, one of Hulu's Disney siblings since 2018. But Hulu insiders say these shows aren't leaving because of some corporate mandate to cut costs or gain some quick tax write-down money, something that did happen at Hulu and other streamers earlier this year as part of the overall streaming correction. Instead, these shows simply reached the end of their licensing agreements, and Hulu programmers opted not to continue investing the money needed to keep them on the service. Streamers, including Netflix, regularly weigh how many viewers shows attract on average versus how much they cost to license, something they call "content efficiency." If shows don't perform well enough over time, they can sometimes get the boot — even when they're part of the same corporate family (like the 20th shows).
If there's an upside here, it's that many of the booted titles — especially ones from 20th such as Arrested, The Bob Newhart Show, Ally, and 90210 — are streaming on Prime Video or other services. (Indeed, Netflix's deal to continue carrying the original Fox seasons of Arrested included a clause giving it complete exclusivity to all seasons of the show once Hulu's deal was up this month.) So most of these titles are not disappearing from streaming altogether, though viewers who enjoyed watching on Hulu are now out of luck. Still, a few others, including Speechless, Dollhouse, and Better Off Ted, do not appear to have other streaming homes, at least at the moment. It wouldn't be surprising, however, if those series quickly find life on either another subscription streamer or a free streamer such as Tubi.