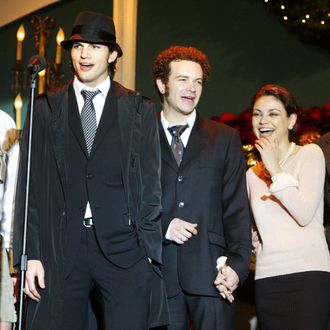 Ashton Kutcher, Danny Masterson, and Mila Kunis perform onstage at a
Church of Scientology
event in 2003.
Photo: Frazer Harrison/Getty Images
Update, September 9, at 4:28 p.m.: On September 9, Ashton Kutcher and Mila Kunis posted an apology video on Instagram in response to their letters of support for That '70s Show co-star, Danny Masterson, who was found guilty of two counts of rape and sentenced to prison for 30 years, being shared with the public. "A couple of months ago, Danny's family reached out to us asking us to write character letters to represent the person that we knew for 25 years," explained Kutcher. "The letters were not written to question the legitimacy of the judicial system, or the validity of the jury's ruling," Kunis added. They also said that the letters were written for the judge to read and not to "undermine the testimony of the victims or re-traumatize them in any way."
Original story follows.
New documents reveal that co-stars Ashton Kutcher and Mila Kunis, among others, made a plea to the judge for leniency ahead of September 7, when their That '70s Show castmate Danny Masterson was sentenced to 30 years to life in prison for rape, the maximum possible sentence for his conviction of two counts of forcible rape in 2003. The letters of support obtained and published by reporter Tony Ortega largely acknowledge that Masterson has been found guilty of drugging and raping two women, but vouch for his character despite the fact.
That '70s Show co-stars Debra Jo Rupp and Kurtwood Smith also wrote their own statements on behalf of Masterson, while it seems that former castmates Topher Grace, Laura Prepon, and Wilmer Valderrama did not. With the exception of Masterson, the aforementioned actors all appeared in the show's reboot, That '90s Show. "I found that Danny treated all women on the show with respect, not only the women in the cast, but women on the crew as well," Smith wrote in his letter. "It was my observation that he treated the woman he married in a respectful and loving way."
"While I'm aware that the judgment has been cast as guilty on two counts of rape by force and the victims have a great desire for justice, I hope that my testament to his character is taken into consideration in sentencing," Kutcher wrote, after saying that Masterson is a "role model," who "made it clear" he was against drugs, a Scientology belief. "And for me, that was an implication that if I were to do drugs, he wouldn't want to be friends with me, which is something I never would want to risk or jeopardize," he added. Mila Kunis, Debra Jo Rupp, Jim Patterson (creator of The Ranch), and Masterson's wife, Bijou Phillips, all highlight Masterson's "drug-free lifestyle."
"I do not believe he is an ongoing harm to society, and having his daughter raised without a present father would a tertiary injustice in and of itself," Kutcher finished. Other high-profile figures to ask the judge for leniency include Billy Baldwin, Scientology leaders Giovanni Ribisi and his parents Gay and Albert, as well as other members of his family.