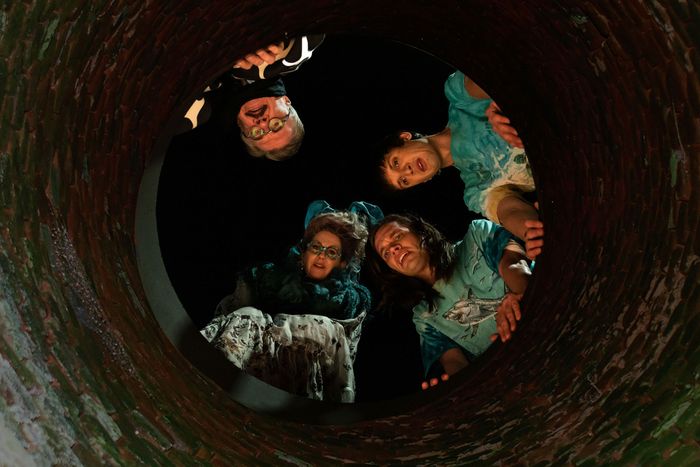 Photo: Justin Lubin/Sewer Boys LLC
With few of awards season's buzzy contenders in attendance, it's hard not to feel like the Toronto International Film Festival has the junior-varsity lineup of the fall festivals this year. The silver lining is that there's more time to seek out less heralded films that probably won't make an impact on the Oscar race. Like, say, Alice Rohrwacher's La Chimera, a playful Italian dramedy about a band of grave robbers that snuck into Canada in the shadow of its Cannes brethren. Or Dicks: The Musical, an original musical that opened TIFF's Midnight Madness sidebar, and which is basically The Parent Trap with more gay incest.
Dicks will probably not win an Oscar, unless the Academy invents a new category for Best CGI Labia. But it brought a different sort of energy to the festival lineup, exemplified by its choice of location for the opening-night party: the Hooters that sits squarely in the middle of Toronto's theater district, which had gone sadly unused by the likes of Roma and The Fabelmans. There, drag queens swirled in gigantic platform heels while waitresses passed around trays of curly fries. The Lido this was not.
On one hand, Dicks: The Musical is not some sort of radical underground art. It comes from A24, hardly the bargain-basement fringe. On the other hand, its origins are literally underground: The film is an adaptation of a 2014 UCB show called Fucking Identical Twins, which, as all comedy nerds know, means this material was first performed in a basement underneath a Gristedes.
I never saw Fucking Identical Twins, but I'm pretty sure I watched co-creators Aaron Jackson and Josh Sharp do another show underneath that Gristedes around the same time. (I think it was about hunting tigers?) Seeing them here a decade later, I couldn't help but be a little proud of them, even though we were complete strangers — the same way you'd be proud of a particularly successful high-school acquaintance or second cousin. I remember the guys as gifted sketch performers with a cinematic sensibility, people whose stuff was strong enough to make you wonder if it maybe could be turned into an actual movie one day.
Now it has been, a fact that on Thursday night seemed to fill the duo with giddy disbelief. "What's up, perverts?" Sharp announced to the assorted girls, gays, and theys who'd come out for the premiere. That he and Jackson were there at all — alongside Bowen Yang, who plays God, the best-selling author — was a close-run thing. They'd only been granted a SAG waiver the day before, thanks to A24 "making a fucking deal that a trillion-dollar tech company won't," Sharp said.
There are many things in Dicks: The Musical that a trillion-dollar tech company would probably not want to be involved with. Jackson and Sharp play Craig and Trevor — or maybe they're Trevor and Craig; even the script's not sure — two extremely successful, extremely straight vacuum-parts salesmen who begin as rivals, then become best friends after they learn that they are actually long-lost identical twins. They, too, embark on a twin-swapping scheme meant to reunite their divorced parents, but it's a little more difficult to pull off here than in a Nancy Meyers movie. Mom (Megan Mullally) is around 100 years old, and her vulva fell off some time ago; Dad (Nathan Lane) keeps two murderous foot-tall mutants he calls his "sewer boys" in a cage in his apartment, with dire consequences for his relationships and personal finances.
In other words, this is a deeply strange project that could only have come from the twisted minds of two underpaid sketch comedians. At the premiere, Jackson read a note from the film's director, Larry Charles, pitching Dicks as "the most anti-AI, pro-human movie of the 21st century," a huge slam on Mission: Impossible — Dead Reckoning Part 1, but just go with it.
Dicks bills itself as "proudly queer as fuck," which is evident, even before the gay incest, in its gonzo skewering of pop-culture tropes ("Everyone knows single-parent homes are not true families," Jackson deadpans) and the performance of hypermasculinity. At times there is a lingering scent of 2014 to the jokes, and the project's roots in live theater are evident in the fact that there are probably more F-bombs in the script than there are minutes in the film's runtime. It closes with a big self-congratulatory ballad, thus making this, after Bros, two TIFFs in a row with gay comedies climaxing with a musical number about whether love is or is not love. (Although given how firmly Dicks' tongue is planted in its cheek — among other places — it's hard to tell which is making fun of which.) It all went down like gangbusters in the specific context of a midnight festival screening, and I have absolutely no idea how it will play outside it.
At the end of the screening, there was one final surprise: a pink shower of giant inflatable penises cascading from the balcony as a Toronto gay men's chorus popped up to serenade us with lyrics about how God is an F-slur. While Venice may have Yorgos and Bradley and Sofia, it didn't have this.
More From the Toronto International Film Festival
See All