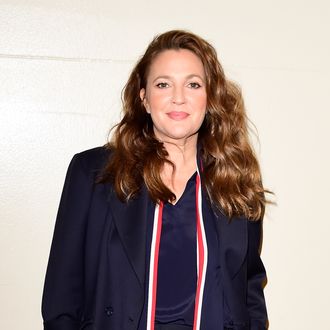 Photo: Raymond Hall/GC Images
Drew Barrymore has changed her mind. On September 17, she announced on Instagram that The Drew Barrymore Show will actually be on pause "until the strike is over." Barrymore previously had some fans asking, "Et tu, Drew?" when news broke that her daytime talk show would return for a fourth season on September 18 — without its striking WGA writers. Though Barrymore initially defended her choice, days of backlash appear to have taken a toll. "I have listened to everyone, and I am making the decision to pause the show's premiere until the strike is over," she wrote in her Instagram statement. "I have no words to express my deepest apologies to anyone I have hurt and, of course, to our incredible team who works on the show and has made it what it is today. We really tried to find our way forward. And I truly hope for a resolution for the entire industry very soon."
Barrymore, whose role as host is not a SAG-AFTRA position, had previously noted that other people's jobs were on the line and that her show would not promote any struck work. However, the WGA criticized the move. "Drew Barrymore should not be on the air while her writers are on strike fighting for a fair deal," a guild spokesperson told Deadline. "In reality, shows like this cannot operate without writing, and that is struck work." Barrymore's reversal comes two days after she shared a since-deleted video apology to writers and unions. "There's nothing I can do or say in this moment to make it okay," she said in part. We get the feeling that for fans who were disappointed, today's decision might at least help.
The Talk and The Jennifer Hudson Show have also decided to delay their premieres. Those shows did not promise to delay production until the strike is over, however, as Barrymore did. Both shows were supposed to come back September 18, but now those dates are TBD.
This post has been updated.