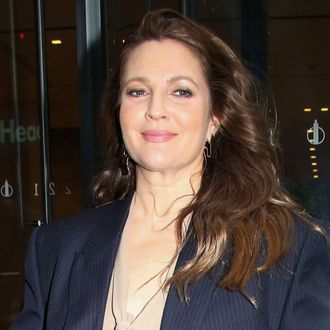 Drew Barrymore.
Photo: MediaPunch/Bauer-Griffin/GC Images
Two audience members have accused The Drew Barrymore Show staffers of removing them from a taping because of their pro–Writers Guild of America pins. Dominic Turiczek and Cassidy Carter allege they attended the September 11 taping and decided to take pins given to them by strikers outside the CBS Broadcast Center in New York. After they entered the building, Turiczek claims he and Carter were not allowed to put the pins away and were kicked out. Following the alleged incident, they joined the WGA picket in support. "We took pins & went in, got kicked out, & verbally assaulted by @DrewBarrymore's crew," Turiczek tweeted. "It's clear they don't support #WGAStrong, writers or fans! #DrewTheRightThing So we took shirts and joined."
"It is our policy to welcome everyone to our show tapings," a Drew Barrymore Show spokesperson said in a statement to Vulture. "Due to heightened security concerns today, we regret that two audience members were not permitted to attend or were not allowed access." The statement continued, "Drew was completely unaware of the incident and we are in the process of reaching out to the affected audience members to offer them new tickets." The daytime program first went dark in May when the WGA authorized the strike. Now, it will begin airing its fourth season on September 18, despite the ongoing labor action. While Barrymore herself is not in violation of strike rules as host, the WGA confirmed that anyone providing writing services for the show is. Looks like Drew's News has its headlines.