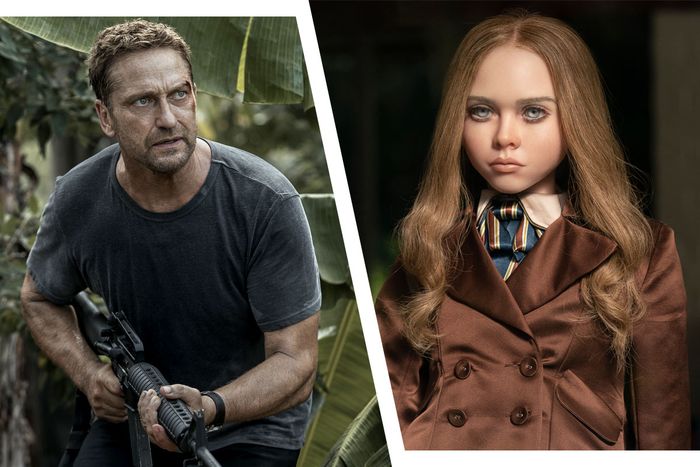 In a better world, the sequel to
M3GAN
would be
MEG4N
and
Plane
would be followed by
Ship
. Instead, we're getting
M3GAN 2.0
and
Plane 2: Stowaway.
Photo-Illustration: Vulture. Photos: Lionsgate; Universal
Sometimes the decision-makers in Hollywood have a great thing going and then they totally, arbitrarily blow it. (For example: watching Barbenheimer save cinema and then punting other blockbuster releases to next year rather than ending the ongoing labor strikes.) There may not be a clearer example of bigwigs beefing it than two upcoming sequels to 2023 movies, both of which had perfect, incredible titles sitting right there only for studios to end up going in a more boring direction. In a better world, moviegoers would be looking forward to the M3GAN sequel MEG4N and Ship, the follow-up to Plane. Instead, we're getting M3GAN 2.0 and Plane 2: Stowaway.
We've known for months now that the sequel to M3GAN, the January horror hit about a killer robot doll with sweet dance moves, isn't getting the obvious title it should. But any time there's a number in a movie title, the sequels should keep playing in that space. Ocean's Eleven was followed by Ocean's Twelve, not Ocean's Eleven 2. Blumhouse and Atomic Monster get points for riffing on the film's tech angle and going with "2.0" instead of just a normal 2, but come on. The letter E looks like the number 3 and the letter A looks like the number 4. This should be easy, people!
The Plane sequel's crash-landing into title mediocrity is a newer development. According to a Screen Daily report last week, the movie has gotten an interim agreement to allow filming despite the ongoing strikes. However, it's apparently no longer called Ship but Plane 2: Stowaway. This is a travesty.
Part of the reason Plane was good is that it didn't have a fancy name-brand movie title. It was just called Plane — a title so generic it was transcendent, and one that lends itself naturally to sequels. Just pop Mike Colter and/or Gerard Butler on some other mode of transport that might appear in a Baby's First Words book. Lionsgate seemed to understand this at first; when the sequel was announced in February, it was called Ship. Fine. Boat would have been better and funnier, but Ship was acceptable. Plane 2: Stowaway, though? Terrible. It's three words long, rather than just one generic noun. And I don't want to know that the sequel will be another aviation-centric action romp or that it will involve a "stowaway." I just want to point at the marquee and say, "One ticket for Ship, please," with a big smile on my face and my brain fully empty.
It's clear why Hollywood is fumbling the ball. M3GAN and Plane are now known IPs with "brand awareness." (The idea of Plane having brand awareness is very funny and also kind of sad.) Maybe audiences won't be able to connect Ship to Plane the way they can connect Plane to Plane 2. Better safe than sorry, the shot callers must be thinking. This lack of creativity — of joy — isn't a shock. The sequel to the 2013 magician heist movie Now You See Me should have been called Now You Don't, but instead it was just titled Now You See Me 2. Dan Harmon had a somewhat famous rant about how dumb this was.
It doesn't have to be like this. Too much of modern moviemaking is based on presumed audience metrics and calculated bean pushing. There's no joy in Plane 2: Stowaway, no wryness in M3GAN 2.0. A better world is possible. And it would be so simple! Don't overthink the stupidly obvious sequel titles to stupid movies.