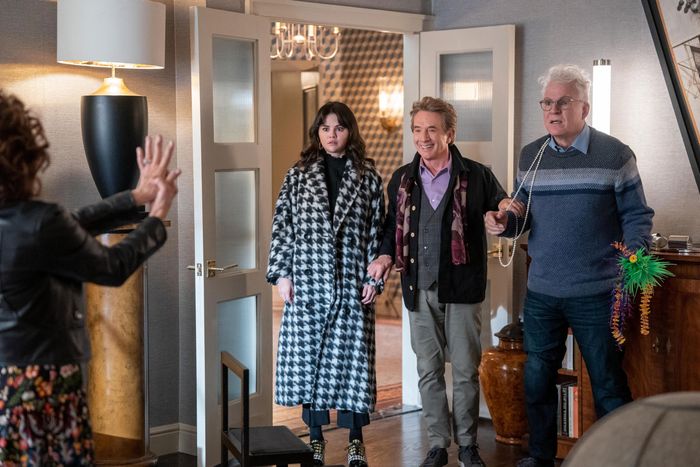 Photo: Patrick Harbron/Hulu
Hulu is finally getting into the numbers game — but on its own terms. Vulture has learned that the Disney-owned streamer is launching a variation on the most-watched-titles lists that have become a staple on Netflix and several other major platforms. Dubbed "Top 15 Today," Hulu's twist on the idea will begin appearing as a new content row on all TV and mobile devices starting Thursday afternoon and will include both television shows and movies from across the platform. But while the new metric will take into account popularity, it will be more than simply a list of the most-watched titles on the service.
According to a Hulu insider familiar with the project, Top 15 Today will be based on an algorithmic formula that takes into consideration several factors, including how many people start playing the title (i.e., watch at least two minutes) and its relative popularity on the platform. Hulu is thinking of its top 15 as less a Nielsen-like ratings chart and more of a compilation of titles trending on any given day. So while the rankings will reflect viewership, they'll also be swayed by variables such as a show experiencing a sudden surge in popularity or debuting a new episode and quadrupling tune-in. Per the insider, the point of Top 15 Today is not to present a historical record of each day's most-watched title but rather to offer users another way of discovering new content beyond relying on the Hulu algorithm or its various themed collections. Knowing what shows are generating viewership and buzz could help some subscribers discover new movies and shows to watch.
As for the nuts and bolts behind the data, Hulu will pull its top 15 from all titles on the platform — new or old, original or acquired. In theory that means The Golden Girls and Only Murders in the Building both have a shot at appearing on the list. However, for shows with deep libraries or that drop multiple new episodes in a week, Hulu won't allow multiple episodes of a show to appear in the top 15; only the top-ranked one will count when determining its position in the list. The daily top 15 will be updated seven days a week, with rankings changing between 2 and 3 p.m. ET. In recent days, internal test versions of the list have included everything from big tentpoles (Only Murders) and classic movies (The Devil Wears Prada) to next-day episodes of ABC series such as General Hospital and 20/20.
Hulu's decision to begin posting a daily snapshot of usage of the site has been in active development for the better part of a year and was quietly tested with a group of 2 million users back in February, per our insider. It is now the fifth major streamer — after Netflix, Amazon's Prime Video, Apple TV+, and Max — to offer such a tool. That could grow to six at some point soon, though: Paramount+ has been quietly testing a top ten with a few subscribers and may roll one out formally at some point, a source tells Vulture. Peacock currently doesn't have a top-titles list, though a source at the streamer says new product features are always being considered, leaving open the possibility it could join the metrics party.
Of course, it's worth remembering that none of these top shows and movies lists are verified by third parties, and Hulu's top 15 is very much not being offered as a straight-ahead ranking of consumption. That will disappoint anyone hoping for more transparency in streaming data, but for what it's worth, Hulu owner Disney has started putting some numbers behind its tune-in boasts. It recently said the first episode of the new Star Wars series, Ahsoka, generated 14 million global views (number of total minutes streamed divided by total run time) during its first week on Disney+. Company insiders say select Disney+ and Hulu will both release more such data in the future, though not yet with any sort of regular cadence.