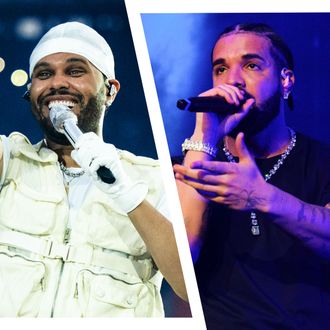 Don't count on seeing them
or
their AI counterparts at the Grammys.
Photo-Illustration: Vulture. Photos: Getty Images
The Grammys may have recognized such esteemed figures as Louis C.K. and Kanye West in recent years (and still not given Beyoncé an Album of the Year trophy), but relax — the awards won't sully their name by nominating an AI song this year. Heads turned earlier this week when the New York Times reported that "Heart on My Sleeve," a viral song featuring artificial-intelligence vocals imitating Drake and the Weeknd, had been submitted for Best Rap Song and Song of the Year Grammys. The song was written by a human, per the story, and Recording Academy CEO Harvey Mason Jr., who met with the artist, Ghostwriter, said that made it eligible "as far as the creative side." But Mason did add that the song also needed to satisfy a requirement for "general distribution" — that is, being released for sales or streaming.
Now, Mason has clarified that "Heart on My Sleeve" is "not eligible for Grammy consideration," in part because it doesn't meet that requirement. "Even though it was written by a human creator, the vocals were not legally obtained, the vocals were not cleared by the label or the artists, and the song is not commercially available," he explained in an Instagram video on September 8. In other words, it's more because of a technicality than the AI itself — after the Academy unveiled new rules stating that songs can use AI as a tool, but "only human creators" can be nominated. "Please, please, do not be confused: The Academy is here to support and advocate and protect and represent human artists and human creators, period," Mason said. Too bad actual human artists the Weeknd and Drake don't seem too interested in the Grammys, either.