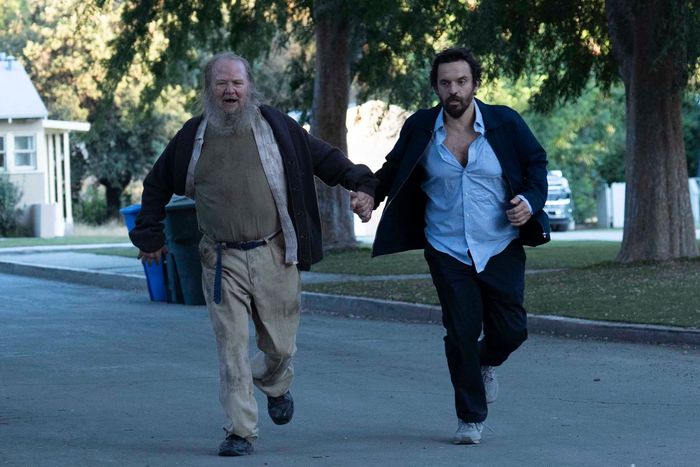 Inside the former
New Girl
star's wild SXSW comedy about a deadly dark-web game.
Photo: Saeed Adyani
This piece was originally published in March out of the SXSW festival. We are re-circulating it now timed to Self Reliance's streaming debut on Hulu.
People will listen to anything if it comes from a celebrity. Say you're walking down the street one afternoon. A limousine pulls over. Andy Samberg rolls down a window and offers a lift. He's holding a sign with your name printed on it. You get in because it's Andy Samberg and he's holding a sign with your name printed on it. After reciting biographical details about your life, he reveals you've been selected to step through a mysterious red door and begin an adventure he knows nothing about. Without any further information, you say "yes," because what could be more thrilling than a cryptic invitation from Andy Samberg?
So it goes in the first few minutes of Self Reliance, Jake Johnson's quirky, existential directorial debut premiering at South by Southwest this weekend. Johnson plays lonely Tommy Walcott, who hops into the limo and, much to Samberg's incredulity, declares this the most exciting thing to happen to him in ages. On the other side of that red door, two eccentric European men inform Tommy he's now a participant in the world's largest dark-web competition show. He'll be hunted by ninjalike figures for the next 30 days. They can kill him only if he's alone. Survive and he'll win $1 million.
Aha, a loophole! If Tommy surrounds himself with people at all times, there's no way he can lose, right? Thus launches what Johnson calls a "choose your own adventure" thrill ride he aptly likens to Jacob's Ladder meets Bottle Rocket. It's meant to be ridiculous but not, like, Dodgeball ridiculous. When Tommy asks his mom (Nancy Lenehan) whether she believes what he's told her about the show, she swiftly replies, "Not even a little." Maybe the game is real and Tommy is facing a stealthy battle for his life. Or maybe he's dissociating his way through a tough moment — a mundane job, a humdrum routine, a breakup he can't get over — by imagining an ornate scheme that jolts him out of his stupor.
Daredevil reality-TV spectacles like The Challenge, Survivor, and Naked and Afraid sparked this story in Johnson's mind years ago. His 90-page bible outlining three TV seasons' worth is still sitting in a "dorky" folder on his computer labeled "Jake's Writing." Johnson pitched the premise to Netflix back in 2017, when New Girl was nearing its end, but executives at the streaming service told him it was too similar to Maniac, the sci-fi mind-bender starring Emma Stone and Jonah Hill. So he let it go, returning to Self Reliance — originally titled DOG, as in "delusions of grandeur" — only once COVID-19 hit.
"As everybody was alone, all the ideas of this project came together," Johnson says. "I thought, What would happen if somebody was on a show that pushed it to the extreme and no one believed anybody? When the pandemic hit, I was working on another project that I was going to try to finish. It was April of 2020, and the world was shutting down. Agents and managers were all saying we might never go back to the way it was. I thought, If I'm going to spend my nights aimlessly writing a screenplay that no one's ever going to read or make, this is the one I want it to be."
Should things return to normal, financing an independent movie seemed easier than getting someone to green-light an entire series, so Self Reliance instead became a film. Johnson considered self-financing it, thinking he could adopt the same techniques used to make the low-budget romps he's written with Joe Swanberg, such as Digging for Fire and Win It All. But when the Lonely Island and comedy veteran Ali Bell agreed to produce the movie, Johnson had an excuse to scale up. The star power rose in tandem. Johnson's Drinking Buddies co-star Anna Kendrick signed on to play a fellow loner who joins Tommy as the game escalates, and Christopher Lloyd, Mary Holland, Natalie Morales, Emily Hampshire, and Dave's GaTa took other supporting roles.
The game itself is hard to talk about, in part because details risk spoilers and in part because the whole concept is open to interpretation. Johnson has a sense of what's real, but you're not likely to see him elaborate. He's the type who doesn't want to hear a musician explain what a song means — because once that song is made public, it no longer belongs to whoever wrote it. Instead, he sought to make a movie in which any argument about what happens and why can be valid. Perhaps it's less painful for Tommy to process the conditions of his life while living out a paranoid fantasy, or perhaps there really is a dark-web grotesquerie stalking people for entertainment. At this point, would that be so shocking?
Samberg, for one, didn't ask Johnson to spell anything out. "I do have a theory, but I think the fun of it is letting the audience discuss and decide what they think," he says. "That said, I think they're all dead and it's purgatory. Just kidding. But I do think it's fun no matter what the truth of it is."
Because Self Reliance depicts a lost soul who seems a bit out of his mind, Johnson is aware that some viewers may bring heftier subtext to Tommy's saga. Thinking any stranger could be an assassin is a pretty unstable way to spend a month. The production employed a mental-health adviser who combed the script for unintentional implications of schizophrenia or bipolar disorder, because that wasn't the film Johnson was making. "Everything has to be tied into what a human would do, as opposed to his brain making choices for him," he says.
But Johnson is no longer the judge of Tommy's fate — that would be the SXSW premiere crowd and everyone else who sees Self Reliance down the road. "I believe you're allowed to laugh at any scene you want to," he says. "I don't think there's a sequence that has to be too heavy for you. But if you're watching it and it's heavy for you, you're also right. You are allowed to enjoy this movie any way you want."