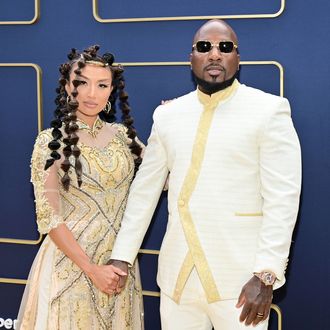 Jeannie Mai and Jeezy.
Photo: Stefanie Keenan/Getty Images
The summer of celebrity splits has found its latest victim. The rapper Jeezy filed for divorce from TV host Jeannie Mai Jenkins on September 14 after more than two years of marriage. According to the documents filed at the Fulton County Superior Court, the couple have a prenuptial agreement and are already separated, per the Atlanta Journal-Constitution. The documents also note that Jeezy is seeking joint legal custody of their daughter, Monaco, who was born early last year. Mai and Jeezy first met when the rapper appeared on The Real, a syndicated talk show hosted by Mai for eight seasons until its cancellation in 2022. "Falling in love with Jeezy made me see life differently for myself," Mai said in an interview with Women's Health in 2021. "Our love is honest, pure, and safe … something I hadn't felt as a child."
Mai is currently a sideline correspondent on ABC's mini-golf reality-competition series Holey Moley, while Jeezy dropped a self-help book last month, which she praised a week earlier on September 6. "'I'm endlessly grateful for your voice in this world," she captioned an Instagram post of herself and their child holding the book. "Honored to walk beside you my love🖤." Here's a self-help tip to other celebrity couples: Stay vigilant.