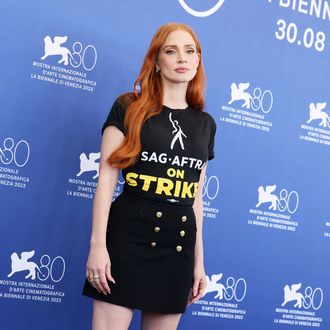 Jessica Chastain at the 2023 Venice Film Festival.
Photo: Ernesto Ruscio/Getty Images
There's still some confusion surrounding SAG-AFTRA's interim agreements, I see. At a press conference for her upcoming Michel Franco–directed film Memory at the Venice Film Festival, the actor was staunch in her support for the ongoing SAG-AFTRA strike, though some on her team wondered if it was right to attend the event in light of the labor action. "I was very nervous about coming," Chastain said on September 8, wearing a "SAG-AFTRA on Strike" T-shirt in support, per Variety. "There were actually some people on my team who advised me against it." Perhaps those opposed didn't understand the terms of an interim agreement? The producers behind Memory reached an interim agreement with the actors' union, allowing them to promote the film in exchange for agreeing to SAG's original terms (the same demands that studios greedily refuse to meet). "I am here because SAG-AFTRA has been explicitly clear that the way to support the strike is to post on social media, walk the picket line, and to work and support interim agreement projects," she added. "It's what our national board, negotiating committee, and our elected leadership has asked us to do."
Chastain even had some choice words for the industry itself. Actors are "often made to keep quiet in order to protect future working opportunities, and we are often told and reminded how grateful we should be," she said. "That is the environment that I think has allowed work to be abused, to go unchecked for many decades. And is also the environment that has saddled members of our union with unfair contracts." Whack 'em again for me at the next conference.