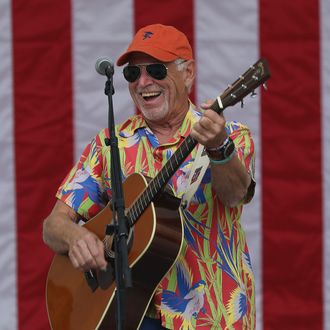 Photo: Joe Raedle/Getty Images
Jimmy Buffett, king of "island escapism," has died at the age of 76. According to NPR, the cause of death was Merkel cell carcinoma, a rare form of skin cancer. His social-media account confirmed the news early Saturday morning that he "passed away peacefully the night of September 1st surrounded by his family, friends, music and dogs." Alongside his Coral Reefer band, the "Margaritaville" singer described his music style as "drunken Caribbean rock 'n' roll," full of themes of relaxation and enjoying life without regrets. Hits like "Cheeseburger in Paradise," "Come Monday," and "Volcano" reflected his manifesto of taking life easy. In fact, all three songs are a part of "The Big 8," a.k.a. songs that are almost always sung at Buffett's concerts in the '80s. As Buffett's popularity grew, so did the list of hits demanded by Parrot Heads (fans of Buffett). Songs like "Son of a Son of a Sailor," "It's Five O'Clock Somewhere," and "One Particular Harbour" were added to the unofficial permanent set list. Buffett knew that people wanted to hear the hits, and he delivered — but not without acknowledging how passionate his fans were. He told a radio station in Texas that he had to "play the ten that everyone wants, or else we'll get killed."
Buffett wasn't only inspired by a tropical paradise in his music; in 1987, he opened the Margaritaville Café in Key West, Florida. He eventually grew to own 23 restaurants and 33 resort and hotel locations, with more under construction and development. Jimmy Buffett's Margaritaville was the subject of YouTubers Eddy Burback and Ted Nivison themed-restaurant quest, where they took a road trip to eat at every single Margaritaville restaurant in North America.
Outside of music and being a restaurateur, Buffett made several cameos in film and television, with his most beloved being in the 2015 film Jurassic World. As dinosaurs began attacking the theme park guests of Isla Nublar, one guest (Buffett) began running, but not without carrying two margaritas in hand.
His family's farewell message embodied the impact of Buffett: "He lived his life like a song till the very last breathe and will be missed beyond measure by so many."
This story has been updated.