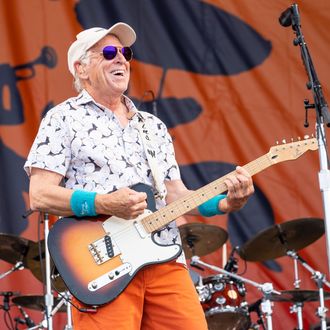 Photo: Erika Goldring/Getty Images
At midnight on September 8, the late great Jimmy Buffett released three new singles from that eternal five o'clock up in the sky. The songs — "Bubbles Up," "My Gummie Just Kicked In," and "Like My Dog" — had been previewed in short radio sneak peeks as part of the rollout for his upcoming album, Equal Strain on All Parts, which will have a posthumous release this November. Now, all three are available, streaming in full.
First, the silly ones. Buffett actually previewed "My Gummie Just Kicked In" during a final interview, on WLNG Sag Harbor in July. It's a silly stoner surf-rock track about a lady friend getting a little too wavy-gravy at a beach party.
In Paul McCartney's Instagram tribute to Buffett after his death on September 1, the Beatle revealed that he plays on the track (according to the album credits, he plays bass).
Buffett had also previewed "Like My Dog" in his final social-media post on TikTok on August 29. The novelty track is a cover of a country song written by Harley Allen and Scotty Emerick for Billy Currington in 2010, about a guy wishing his woman would love him as much as his dog does.
Buffett makes the song his own by changing the dog's pronouns from he to she, presumably as a tribute to his own pups, on lyrics like, "She don't get mad at me and throw a major fit / When I say her sister is a bitch," you get the idea. In Buffett's final social-media post, 30 seconds of the track played over clips of him with his numerous dogs: Cavalier King Charles Spaniels cuddling in his lap, Brittanys at sea, a dachshund standing on its hind legs.
"Bubbles Up" is the most poignant of the tracks, a sweet inspirational ballad full of Buffett's signature nautical imagery in service of a soothing and uplifting message. "When the journey gets long, just know that you are loved," he sings in an extended scuba-diving metaphor. "There is light up above, and the joy is always enough. Bubbles up."
The lyrics also touch on his love of life, and taking the good with the bad, with lyrics like, "Let's pop a cork to the rough and the right, to the bright blazing days and the sweet, starry nights," and, "Sometimes life is a struggle, multiplied double, but they love it too much for the party to end."
The full final album will be released on November 3 with a guest-starry track list and a song called "Fish Porn":
1. University of Bourbon Street (feat. Preservation Hall Jazz Band)
2. Bubbles Up
3. Audience of One
4. My Gummie Just Kicked In
5. Close Calls
6. Equal Strain On All Parts
7. Like My Dog
8. Ti Punch Café (feat. Angelique Kidjo)
9. Portugul or PEI (feat. Lennie Gallant, Will Kimbrough)
10. Nobody Works on Friday
11. Fish Porn
12. Johnny's Rhum
13. Columbus
14. Mozambique (feat. Emmylou Harris)