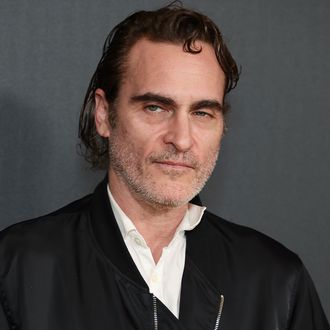 Joa-qussy Phoe-nussy.
Photo: Robin L Marshall/FilmMagic
There's only so much hanging out with Lady Gaga one actor can do before ending up gay in a movie. This fall, Bradley Cooper is starring in Maestro, a biopic about Leonard Bernstein, for example. It's TBD how much explicit gay sex that biopic will include (our guess: not a lot!), but Lady Gaga's Joker: Folie à Deux co-star Joaquin Phoenix won't be making that mistake. In a May conversation with IndieWire at Cannes, director Todd Haynes (Carol), who was there promoting his film May December, described the state of his upcoming project. "The next film is a feature that's an original script that I developed with Joaquin Phoenix based on some thoughts and ideas he brought to me … It's a gay love story set in 1930s L.A.," he said. "Joaquin was pushing me further and going 'No, let's go further.' This will be an NC-17 film." Haynes shared some more plot details in September while speaking to Variety at the Deauville American Film Festival. We can look forward to following a "sexual relationship" between a Native American character and a corrupt cop who ultimately have to flee Los Angeles and go to Mexico. Haynes said the part of the Native American character has not yet been cast, and that his team is currently doing research and speaking to Mexican producers for the project. Okay, but if they want to make this a true portrayal of '30s gays, they should probably include a scene in which Phoenix freaks out after Bette Davis isn't nominated for an Oscar for Of Human Bondage.
This post has been updated.