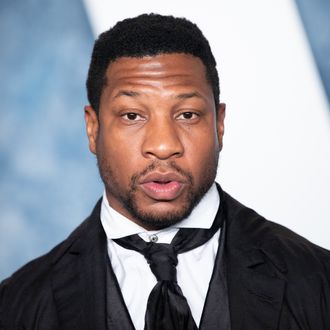 Photo: Robert Smith/Patrick McMullan via Getty Images
A judge has set a date for a key hearing in Jonathan Majors's already delayed domestic-abuse case. Variety and Deadline report that a pretrial hearing has been scheduled for October 25, when Judge Michael Gaffey is expected to rule on a September 12 motion filed by Majors's legal team to dismiss the case. The Manhattan District Attorney's office has until October 6 to respond to the motion, and Majors's team must reply in turn by October 13. Majors faces misdemeanor charges of harassment and assault related to his March 25 arrest over what police described as a "domestic dispute" with then-girlfriend Grace Jabbari. Other accusers who alleged they had been abused by Majors later came forward and said they would cooperate with prosecutors.
Majors, who has further been accused of physical confrontations with peers at drama school and intimidation of crew on multiple film sets, has denied all allegations against him. Defense attorney Priya Chaudhry has also claimed that Jabbari was actually the one who assaulted Majors, suggesting that the case tied to the incident is a "witch hunt" that is "saturated with explicit and implicit bias" against the actor. In the motion to dismiss the case, Chaudhry alleged that prosecutors "have willfully withheld evidence" proving that Majors's "white accuser is lying." Per Insider, Majors filed his own NYPD complaint against Jabbari. According to the New York Times, police found probable cause to arrest Jabbari, but have not done so.
Majors's trial, originally slated for August, has already been delayed twice (once because prosecutors wanted more time for the discovery process, and again when Majors's attorneys found issues with the certificate of compliance). The actor was dropped by several studios and brands in the wake of the allegations, but court hearings haven't stopped him from keeping busy: Majors will reprise his role as Kang when Loki returns for a second season on October 6, and he recently starred as a peacemaker in widely side-eyed TMZ footage of a fight between high-school girls.