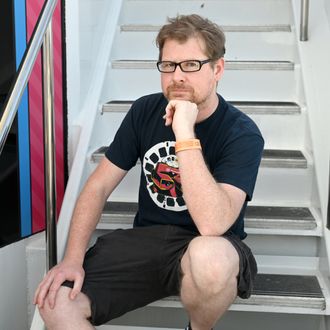 Photo: Michael Kovac/Getty Images for IMDb
Rick and Morty co-creator Justin Roiland has been accused of sexual assault, stemming from a new report from NBC News. Eleven women and nonbinary people came forward with "thousands of messages" with Roiland from 2013 to 2022, displaying a pattern of pursuing fans and turning conversations sexual. Many of these people came forward after Roiland was charged with domestic battery and false imprisonment in 2020. Those charges were later dropped.
One woman says that Roiland sexually assaulted her on a Tinder date, forcing her to perform oral sex after she said "No." Another woman says she was flown out to LA, where she drank heavily and then had sex with Roiland and another woman. She says she now feels Roiland took advantage of her. Both women were 20 at the time, and say that Roiland provided them with alcohol.
The report says that Roiland would often tell fans they were "super cute" or "hot," then ask their age and location. Three of the 11 people who came forward were underage when Roiland started talking to them. Andrew Brettler, a lawyer representing Roiland, called the allegations "false and defamatory" in a letter to NBC News.