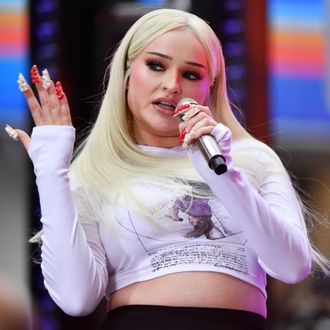 The leak-to-official-release pipeline.
Photo: NDZ/Star Max/GC Images
Kim Petras is ready to feed the beast once again. On September 18, she released Problématique just three months after releasing her previous album, Feed the Beast. The storied new album was intended to be Petras's major-label debut before it leaked in August 2022. In December 2021, prior to it leaking, she told Paper magazine that "it's very European-themed. I'm from Europe, I grew up around Italian disco, dance, techno, German techno, there's a whole scene." Some of the songs from the leaked album — "Revelations," "Hit It From the Back," and "Sex Talk," specifically — made it onto Feed the Beast and are no longer included in the version of Problématique that is set to be released under Dr. Luke's Amigo Records. With Problématique out (through official channels), Petras will be able to perform the new tracks many of her fans already know on tour beginning September 27. Included on the track list is "Treat Me Like a Slut" sequel "Treat Me Like a Ho" and the Paris Hilton collab "All She Wants." Be good and find the full track list for the updated album below.
Side A
"Problématique"
"Je T'Adore"
"All She Wants (feat. Paris Hilton)"
"Born Again"
"Something About U"
Side B
"Treat Me Like a Ho"
"Confession"
"Deeper"
"Dirty Things"
"Love Ya Leave Ya"