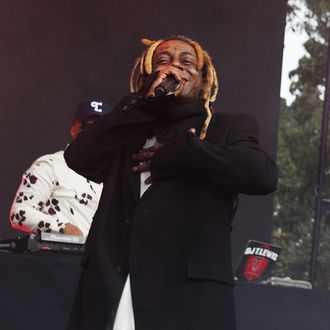 He's in a silly goofy mood.
Photo: Johnny Nunez/WireImage
Lil Wayne's got more than ad hoc guitar features and a good verse on a Tyler, the Creator song. Surprisingly, he also might have jokes. The rapper crafted the funniest setlist for his performance at Kamala Harris's 50 Years of Hip-Hop celebration on September 9, which included a serenade to the veep that's more Veep than Selina Meyer. He played "Mrs. Officer" at the event hosted by California's former top cop at her official residence, a song about the love between a man and a woman police officer. The chorus makes all sorts of law-enforcement-related puns and analogies, like the onomatopoetic refrain: "And when I'm in that thang, I'll make that body sang … Wee-ooh-wee-ooh-wee (like a cop car)." Plus the lyric, "Haha, beat it like a cop / Rodney King baby said beat it like a cop." At the end of his set, which also included the songs "6 Foot 7 Foot" and "A Milli," Weezy F Baby said, "I cannot believe I am here," per Stereogum, ahead of another performance at the MTV VMAs on September 12. Additional performers included Jeezy, Common, Fat Joe, Remy Ma, Slick Rick, MC Lyte, Wale, and Doug E. Fresh. The vice-president, probably pleased by the shoutout she got during the Lil Wayne stage, told Variety that her event would be tough to follow. "This is one of a kind," she laughed as she does.