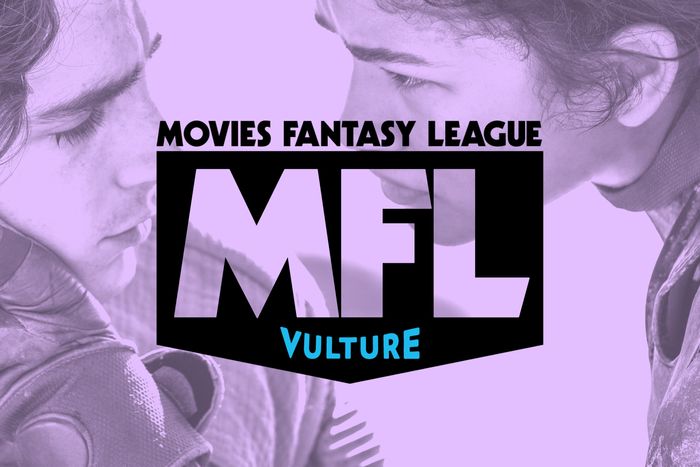 Alas, gone so Dune.
Photo-Illustration: Vulture; Photo Niko Tavernise/Warner Bros.
This column is the on-site version of the Movies Fantasy League official companion newsletter, which is a weekly digest of film news and chatter that gets sent to participants of our game. If you want to learn more about the MFL (you'd love it), swing by its official page—and if you want a reminder to register for it before the September 28 deadline, sign up for a nudge here.
Our two interconnected seasons—fall movie and MFL—are off to a chaotic start, but before we dive in to release calendar and festival news, let's take a quick look at the box office. Ticket sales for movies released before MFL Opening Day on September 28 won't have any direct bearing on your MFL team performance, though some weeks there may be things we can glean from the audience response to a movie that foretells awards success.
This is not such a week. The Equalizer 3 turned in a $42.8 million performance at the four-day holiday box office, but neither of the previous installments of the Equalizer franchise had any bearing on awards season, and this one won't, either. So concludes the section of the newsletter where we discuss The Equalizer 3.
As for things that do matter for the MFL: One major contender has already departed the 2023 fall season, one global superstar surprise-dropped a concert film onto the calendar, and two major film festivals are causing buzz to shift across a ton of movies you've either already drafted or are thinking about drafting. Here we go.
Dune: Part Two Takes Its Water to 2024
Sorry to the 190 eager MFL registrants who already selected Dune: Part Two, but … we warned you? Early indications were that the writers' and actors' strikes might compel some films to depart the 2023 release schedule. That happened mere days after we launched, with Warner Bros. moving Dune: Part Two to safer pastures on March 15, 2024, which is the Friday following the Oscars. Whether or not this portends similar flights to 2024 for the other big-budget fall movies like The Marvels, Wonka, or Aquaman and the Lost Kingdom remains to be seen. Obviously, the major downside of the Dune exodus, at least for our purposes here, is that anyone who had already drafted a roster that included Dune: Part Two is stuck with it for the duration of the game. Which sucks! This year is especially unpredictable, and some teams are going to get stuck with the hot potato. Fingers crossed your seven other movies will make up some of those points for you.
Meanwhile, if you haven't drafted yet, let the Dune: Part Two news be a lesson: Unless a movie has already opened, release dates can be squishy. The longer you wait to draft, the more certainty will be available to you.
Say Hello to the Swifties
Paul Atreides may be fleeing the fall movie season, but one person who doesn't need to worry about work stoppages or competition at the box office is Taylor Swift. When she announced last week that her concert film, Taylor Swift: The Eras Tour, would be making it to theaters on October 13, she threw both the real-life movie marketplace and our fantasyland of make-believe into chaos. We added The Eras Tour to the list of draftable movies as quickly as possible, and now it's there as a $5 buy. As we've mentioned in the draft kit, drafting this movie would almost certainly be a pure box-office play. It's going to make a ton of money, if the initial enthusiasm that led to crashed AMC ticketing servers is any indication. Just don't expect that enthusiasm to continue into awards season. The Oscars really don't ever nominate concert movies, and even when Taylor Swift was eligible for nominations in categories like Best Original Song, for movies like Cats and Where the Crawdads Sing, she's been snubbed.
To the Canals!
The Venice Film Festival kicked off awards season with a series of less-glitzy-than-normal premieres, considering so many of the stars of the films weren't promoting them because of the strike. Still, movies like Bradley Cooper's Maestro, Michael Mann's Ferrari, Yorgos Lanthimos's Poor Things, and Sofia Coppola's Priscilla made strong debuts. In particular, performances by Emma Stone (Poor Things) and Carey Mulligan (Maestro) were singled out and immediately dubbed awards contenders. It's worth keeping an eye on what film wins Venice's prestigious Golden Lion prize, considering recent winners like The Shape of Water, Roma, Joker, Nomadland, and All the Beauty and the Bloodshed went on to Oscar nominations.
And the Mountains!
While the Venice premieres were happening half a world away (geographically, if not socioeconomically), the Telluride Film Festival was enjoying a ludicrously stacked lineup to celebrate its 50th anniversary. The steady stream of buzz wafting out of the Rocky Mountains included raves for Andrew Haigh's ethereally queer All of Us Strangers; Annie Baker's directorial debut, Janet Planet; and Alexander Payne's The Holdovers. There was also explicit Oscar buzz for Rustin's Colman Domingo playing the role of gay civil rights leader Bayard Rustin, and the Nyad duo of Annette Bening and Jodie Foster as long-distance swimmer and coach. Movies that got more mixed festival reactions (which isn't to say bad, just less effusive … which can sometimes mean "bad" in festival-ese, though not always) included Emerald Fennell's Ripley-esque Saltburn and Jeff Nichols's motorcycle-club period piece, The Bikeriders.
And the Great White North!
This week marks the beginning of the Toronto International Film Festival, so that festival buzz ought to keep trickling out. Some notable world premieres include Kate Winslet as a war photographer in Lee; Emily Blunt and Chris Evans as pharma-sales jerks in Pain Hustlers; Taika Waititi's long-delayed Samoan soccer movie, Next Goal Wins; Craig Gillespie's Dumb Money a.k.a. The GameStop "stonks" movie; and a little $1 bargain buy called Dicks: The Musical.
A Win for Wim
Look, I don't feel good about that pun, either, but here we are. One of the things to keep your ear out for as people draft their rosters is anytime an international movie is selected as its country's choice to compete for the Best International Feature awards. Only one film per country gets submitted, and now that movie has a chance to pick up some Oscar points. So it's worth noting that Perfect Days, the latest from director Wim Wenders that premiered at Cannes to warm reactions, has been selected as Japan's Oscar entry. This came as a surprise to some, who expected Hayao Miyazaki's return to filmmaking, The Boy and the Heron, to be Japan's submission.
Adds and Adds Not
As mentioned above, Taylor Swift's The Eras Tour joins the list of movies eligible to be drafted. We've also added Origin, the Ava DuVernay drama that sold out of Venice to Neon, which has indicated that the movie will hit theaters later this year. As for the other 2023 movies that some of you have emailed us to ask about, we won't be adding those on account of them having basically zero potential to earn points in this game. Our apologies to anyone who wanted to draft Plane, Big George Foreman, or The Boogeyman, among others. They will not benefit your team, and by omitting them we're simply protecting you from your own self-defeating impulses.