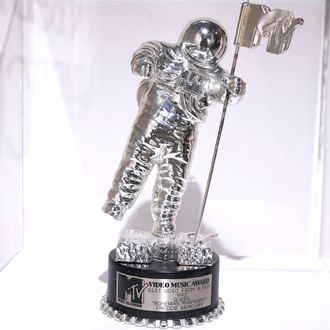 Photo: TIMOTHY A. CLARY/AFP
Update September 13: You can no longer watch the VMAs live, but the live spectacle has been preserved in amber over at Paramount+. Both the preshow and award show are available to stream, so you can catch highlights like Shakira's Video Vanguard performance, the "reunion" of 'N Sync, and Taylor Swift bringing the chaotic audience member vibes.
Original story follows.
Like a fairy tale, last year's MTV Video Music Awards brought us Midnights by musical Cinderella Taylor Swift. Now, what will this year bring, you may ask? Someone might be spilling their guts onstage. Others may try their hand at playing (or inventing) bongos. Someone will most likely get slimed … oh wait, that's the other awards show. The VMAs are back as one of the few awards shows that's survived in the past few months due to the ongoing Hollywood strike, and it has finally made it past the starting line. If you're still using your family's cable package, you can check out the preshow to start off the night, which features performances by Sabrina Carpenter and NLE Choppa (who's promising to bring a special guest with him onstage). The preshow begins at 6:30 p.m. on MTV, MTV2, CMT and Logo. The main show, hosted by Nicki Minaj, comes on at 8 p.m. on MTV and other MTV sister stations — BET, BET Her, CMT, Comedy Central, Logo, MTV2, Nickelodeon, Paramount Network, Pop, TVLand & VH1 — but will not be airing on any streaming platforms. The main show will include performances from Minaj, Cardi B, Megan Thee Stallion, Olivia Rodrigo, and more. Either way, sliming needs to be included in more awards shows.
This story has been updated with additional information.