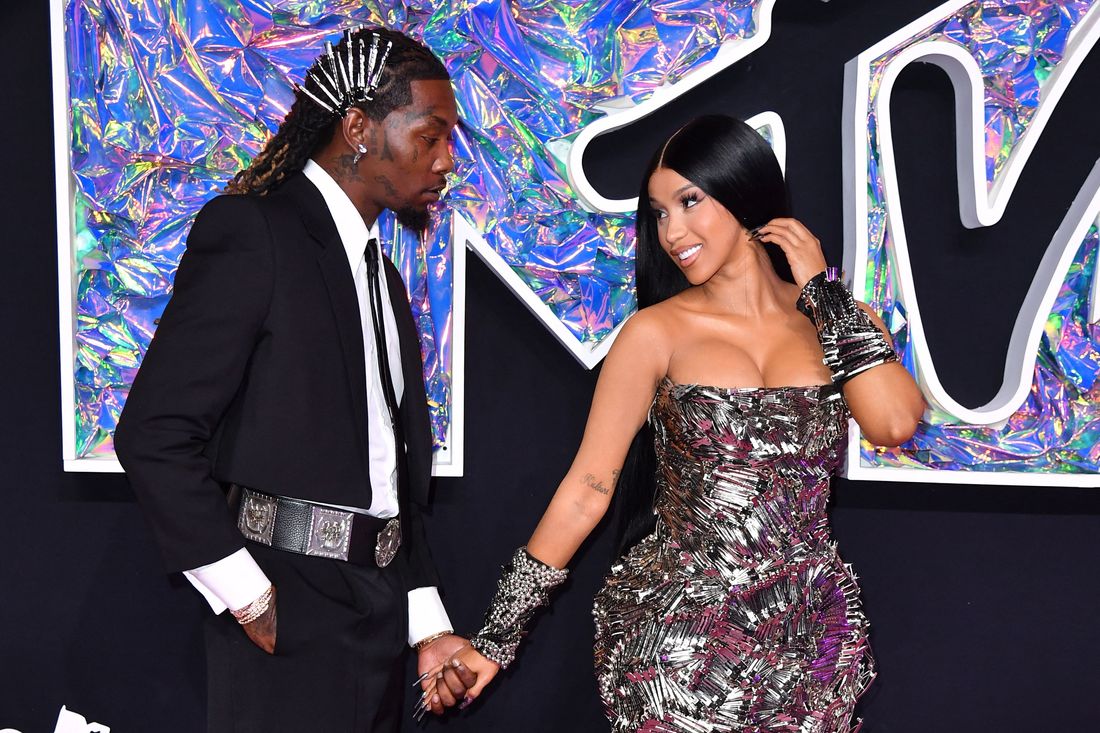 Cardi B and Offset.
Photo: ANGELA WEISS/AFP/AFP via Getty Images
The 2023 MTV Video Music Awards have seemingly taken a page from Barbie's — and Nicki Minaj's — book as they roll out the pink carpet this year. Any color of carpet is better than Champagne at this point. Expect to see appearances from stars Olivia Rodrigo, Taylor Swift, Cardi B, resident hottie Megan Thee Stallion, and more broadcast live from the Prudential Center. Now let's get to all the bejeweled celebs walking down that carpet.
Spilling your guts has never looked so good.
Pebbles Flintstone is shaking.
Someone check on Spirit Halloween's cotton web supply.
The pink hair? The clear heel? No notes.
Danger and dance and a damn quirky tie.
Mother has arrived.
Peso Pluma may not be meeting Lady Gaga tonight, but at least he looks hermoso.
RuPaul's Drag Race winner or mayor of Chromatica?
Ts Madison just came from the Renaissance tour.
A Libra looking gorgeous on a red pink carpet? Likely place for her to be.
Girls, it's the night of Shakira … like, she's even wearing gold because she knows it.
We'll take Doechii in glam and a baseball hat over a certain Jenner's baseball-hat look any day.
He's conveniently hiding the long belt strap that ruins the 'fit, nice.
Timbaland sporting his best Vans outlet flannel.
The glitter boots are kind of punk.
Chlöe rocking a Britney Spears–esque denim look the night *NSYNC reunite onstage is low-key genius.
Gorgeous, gorgeous girl.
Challenge: Try to look at this picture without saying, "That's so Reputation."
Mother of the Barbz showing the pink carpet who owned the color first.
I mean, sure.
Luxx Noir making sure the wig is not 40 inches.
Father, son, and the holy Lil Nas X.
Ice Spice all glammed up, complete with a [checks notes] diamond-encrusted Munchkins necklace to promo her upcoming Dunkin' Donuts collab.
Okay, but where is the signature purse!