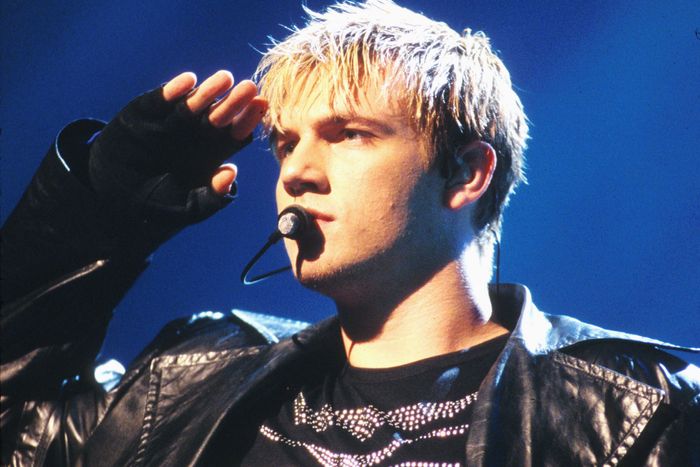 Photo: Marc Steifel/WireImage
On August 28, a woman identified in court papers as A.R. filed a lawsuit against Nick Carter alleging that the Backstreet Boys singer had sexually abused her multiple times starting when she was 15. A.R.'s civil case, filed in Las Vegas court, marks the third lawsuit against Carter alleging sexual abuse or assault. In April 2023, actor and Dream singer Melissa Schuman sued Carter accusing him of sexual assault in harassment. This case was preceded by Shannon "Shay" Ruth's lawsuit in December 2022 accusing Carter of forced sex when she was 17.
As the chorus of allegations against Carter grows louder, he has continued to deny accusations of wrongdoing — and framed the accusers as colluding against him. Following A.R.'s complaint, one of Carter's attorneys, Dale Hayes Jr., told the Daily Mail: "Nick is looking forward to the evidence being presented and the truth about these malicious schemes coming to light." Adding to the legal drama: Carter has sued Ruth and Schuman alleging conspiracy. "Since November 2017, Carter has become the target of a small opportunistic group of conspirators engaged in a harassing, defamatory and otherwise tortious campaign to ruin his reputation for the purpose of advancing their own agendas," Carter's counter-claim alleges. "The effect of this group's unlawful conduct and continued harassment has taken an immense toll on Carter, his family, and his band, both emotionally and financially."
Who is A.R.?
The woman identified in court papers as A.R. claimed that Carter sexually abused her starting in August 2003, when he was approximately 23 years old. A.R. claimed that she, along with Carter's friends and family, were on his yacht in Marathon, Florida. She alleges that Carter brought her to the yacht's cabin and got her drunk. Carter "kissed" A.R. and, shortly thereafter, he engaged in oral and vaginal sex. "Carter knowingly engaged in these and other sexual acts with the then-minor A.R. without her consent," court papers charge. Carter allegedly told A.R. to keep the encounter "a secret." Several days later, A.R. alleges, Carter encouraged her to meet him on the tour bus of his Florida property.
On the bus, A.R. alleges in court papers, he "coerced" her into performing oral sex. A.R. claimed that there was yet another incident in late October of that year, also on Carter's yacht. She said in court papers that Carter goaded three other men to watch him having sex with A.R. from a window. A.R., who was "intoxicated," made "repeated refusals and requests for him to stop" to no avail. A.R. claims that Carter infected her with HPV and that she and her mother reported the alleged incidents to police in York County, Pennsylvania, in December 2003. A.R. is claiming sexual battery, intentional infliction of emotional distress, and negligent infliction of emotional distress in her suit. "This case illustrates how much time, courage, and perseverance it takes for victims and survivors to come forward about child sexual abuse and seek justice," Margaret Mabie, an attorney with Marsh Law Firm representing A.R., said in a statement announcing the lawsuit. "Despite numerous complaints about Carter's past conduct towards young women, his victims continue to struggle to hold Nick Cater publicly accountable for his harms against them."
"We hope that A.R. receives some measure of justice and that this lawsuit will pave the way for other survivors to hold their abusers to account," Mabie commented in the statement.
What is Melissa Schuman's allegation?
According to Schuman's lawsuit, filed in Los Angeles, she and Carter worked together as cast members of the teen horror film The Hollow in early 2003. Prior to working on this film, the two had interacted before and Schuman's managers encouraged her to date Carter after he remarked that she was "cute." Schuman and Carter had a phone conversation, and she told her managers that she wasn't interested, court papers claim. On set one day, Carter invited Schuman over to his apartment to "hang out and play video games." Schuman and a friend went to his Santa Monica apartment. When they got there, he and a "male friend" invited them to go to the liquor store with them. They got back to his apartment and Carter started making drinks. Carter allegedly asked Schuman if she wanted to hear some of his new music.
Carter, Schuman alleges, led her into his office. He pulled her against him and started kissing her. "At 18 years old, Plaintiff felt self-conscious, intimidated, and sexually inexperienced; she had only ever kissed one other boy. Defendant Carter knew that she was a virgin and that she held to religious, conservative Christian values," the suit alleges. Carter then brought her into the bathroom and forced oral sex on her, the suit alleges. Carter ultimately brought her into another bathroom and then a bedroom, where he forced himself on her. "Again and again, Plaintiff said NO! She told him over and over that she was a virgin, that she was saving herself for her future husband, and that she did not want to have sex," the suit alleges. "Defendant Carter continued to force himself on her, whispering in her ear that he could be her husband. Plaintiff could not get away from him, he was too heavy." Schuman said that she told multiple people about the alleged incident, including "her talent manager, her mother, her father, her therapist, a former co-star, and others about Defendant Carter's sexual assaults." She also alleges that Carter gave her HPV and started to "manipulate and torment" her after the alleged incident.
Why did Shannon "Shay" Ruth sue Carter?
In December, Ruth accused Carter of sexually assaulting her on his tour bus following a Tacoma, Washington, concert in 2001; she made these allegations during a December 8 press conference. She was 17 at the time of the alleged assault. On the bus, she alleges, Carter gave her a "funny-tasting beverage that he called VIP juice," attorney Mark Boskovich claimed. He then led her into the bus' bathroom and instructed her to "get on her knees, and he pulled down his pants and exposed his genitals, ordering Shay to perform sexual acts on him." Ruth, who didn't have any sexual experience, cried. She alleges that Carter raped her on the bed of the tour bus. "The last 21 years have been filled with pain, confusion, frustration, shame, and self-harm that are a direct result of Nick Carter raping me," Ruth remarked at the press conference. "Even though I'm autistic with cerebral palsy, I believe that nothing has affected me more or had a more lasting impact on my life than what Nick Carter did and said to me." Ruth claimed that after the alleged rape, "I remember him calling me a 'retarded bitch' and grabbing me and leaving bruises on my arm."
How has Carter responded to the allegations?
Carter denies wrongdoing and frames some of the claims as part of a sprawling conspiracy against him. With A.R., Hayes claims that police "'listened [to] and thoroughly investigated' her allegations at the time she brought them, and told her that they 'were meritless,'" per the Mail. He also remarked that "repeating the same false allegations in a new legal complaint doesn't make them any more true." Carter has also gone on the legal attack against Schuman and Ruth. Before Schuman filed her lawsuit, Carter sued her on February 2, alleging that she "conspired against him to extort money and gain fame." He is also suing Ruth, alleging that she's part of this conspiracy. If this legal strategy sounds familiar, that's because it is. . It's not uncommon for alleged sexual abusers to sue their accusers. Carter's reps did not respond to Vulture's request for comment.
Have other members of the Backstreet Boys commented on the allegations?
After Ruth came forward with allegations against Carter, band member AJ McLean said that the Backstreet Boys were supportive of him. "We all stand behind Nick, and we all fully support him. He's doing as great as he can. [Backstreet Boys] couldn't be more solid," the Daily Mail quoted McLean as saying. This does appear to be true; the band's years-long DNA World Tour wrapped in May 2023. In July, Carter announced a solo tour starting in October.
What do Schuman and Ruth's lawyers say about Carter's lawsuit?
Karen Barth Menzies, one of Schuman's lawyers, pointed out that a judge's decision allowing Carter's lawsuit to go forward was just procedural and didn't mean anything about the merits of his case. "Melissa Schuman has brought her allegations for sexual assault against Carter in a case in California. The merits of those allegations will be decided in the case in California," Barth Menzies said. "This so-called 'counterclaim' that Carter brought does not address Melissa's sexual assault claims — he is raising conspiracy claims against her based on his position that Melissa got other survivors to bring lawsuits against him to extort money." Asked for comment, Boskovitch compared the Carter allegations to the recent Danny Masterson case. "No one with fame and money is above the law. We look forward to the truth coming out, the jury hearing all the facts and rendering a favorable verdict."