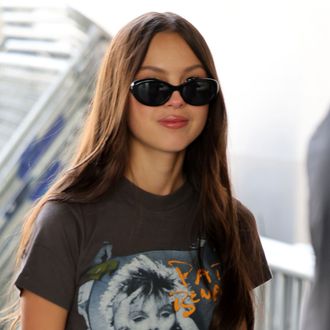 Pop star (20).
Photo: MEGA/GC Images
Olivia Rodrigo was homeschooled, grew up starring on Disney Channel shows like Bizaardvark, got a No. 1 record at 17, and is one of the most famous pop stars in the world. Still, there are only so many ways to be 20 years old. With her album Guts, out September 8, Rodrigo is participating in an avalanche of press lately, and the overlaying takeaway is that, though she may not be in college due to the demands of pop stardom, this girl will act her age. In fact, she's currently in the midst of one of the most "early 20s" of experiences: discovering Joan Didion. In an interview between Rodrigo and Phoebe Bridgers in Interview, Rodrigo asks Bridgers if she's read Didion's The White Album. "She has so many fucking great quotes," Rodrigo says of Didion. "I was reading this bit about her going to San Francisco to meet all these hippies — 5-year-olds were dropping acid and going to Grateful Dead concerts. She was talking to some hippie who ran away from home and he called his mom an all-American bitch. And I was like, 'That's the fucking coolest phrase I've ever heard,' so I had to write a song about it." Next up, if Rodrigo stays on schedule, will be Susan Sontag. She'll probably start with "Notes on Camp," but we'd suggest "Against Interpretation" or "Illness As Metaphor," since she's a writer.
But it's not just the intellectual exercises of your 20s that are on the mind. In a Guardian profile, Rodrigo describes her approach to drinking at restaurants while under 21. "I'm just so scared," she admits. "I am such a goody two-shoes. If someone gives me alcohol at a restaurant, I'll be like, 'Thanks!' But if they're like, 'Do you have an ID?' I'm like …" pause. "'No, no, I'm 20, I promise, I'm sorry!' I'm such a bad liar." Please remember that this young woman got her start as an actress, but the curse of being just under 21 wins out even over that skill.
Rodrigo doesn't seem to get the tension between "extremely regular 20-year-old" and "internationally famous pop star who's been famous since she was little." She, in fact, seems convinced she's not that famous. "I'm not like Kim Kardashian," she told The Guardian when asked about potentially going to college parties. "I'm not some crazy super famous person, so I can make it work." Queen, you have three No. 1 hits and 33.5 million Instragram followers. You, in fact, are that famous.