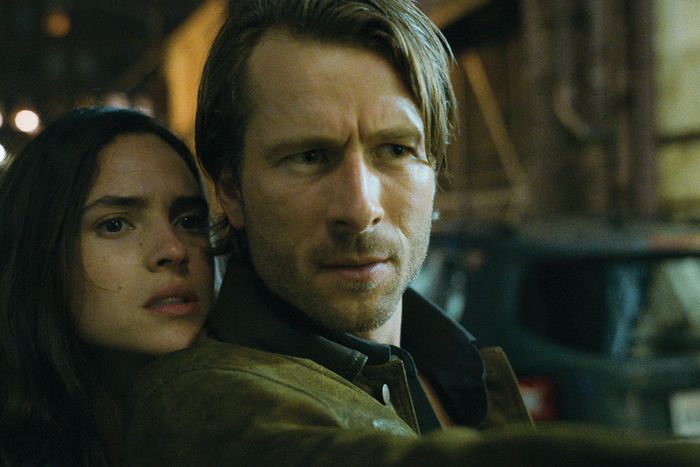 Hit Man
, we hardly knew you.
Photo: All The Hits
Hit Man deserves to be seen in a theater. Somewhere along the way, it was branded as elitist to say that, though I feel like no one trying to make the streaming-is-for-the-people argument really has their heart in it anymore. It's not as though theatrical releases aren't making their way to home viewing in record time for anyone who doesn't want to bother with ticket prices, babysitters, annoying audience members, or possible COVID-19 exposures. And as attested to by the crowds who trekked to their local multiplexes to see Barbie, Oppenheimer, or both, people obviously see value in watching things together. Hit Man, which was directed by Richard Linklater, isn't just packed with the qualities everyone claims to miss in modern-day movies — grown-up comedy, tense thrills, and Glen Powell, who co-wrote the script, making the case for himself as a movie star in a performance that's just incandescent with charisma. It also just plays so well in a room.
Hit Man is a movie about a guy, played by Glen Powell, who pretends to be a killer for hire in stings run by the New Orleans P.D. For other, sexier reasons, he keeps pretending to be a killer in order to impress a woman he meets while on the job. The power of cinema compels these separate parts of his life to come together at some incredibly inconvenient moment. When they do, the collision leads to a sequence I don't want to ruin by saying too much about, but it involves Powell and his co-star Adria Arjona performing characters who are themselves performing what is essentially extremely high-stakes improv. When Hit Man screened at the Toronto International Film Festival earlier this month, the audience whooped and clapped in appreciation after this scene.
According to my colleague Bilge Ebiri, the same thing happened at the film's premiere at the Venice Film Festival: "Wild applause, screaming." It's the kind of interlude that does make you want to cheer from the sheer delight of it, and when Hit Man plays at the New York Film Festival in a few weeks, chances are good it'll get a similar reaction. By then, though, it's bound to feel bittersweet. Netflix recently bought the film for a hefty $20 million, meaning that, while it will probably get one of those pro forma theatrical releases the streaming giant gives to its artier titles, the vast majority of people won't hear about its existence until it's an option on the home screen and will watch it in their living rooms instead of with a crowd. You can still applaud while alone on your sofa, I guess, but why would you?
There's a unique pleasure to having an actor sweep you off your feet the way Powell does in Hit Man, especially when you're aware that other people around you are having the same experience — screen infatuation as a communal experience. To not have that be a significant part of how Hit Man is seen feels like a loss, though that's not the only reason my heart sank when I saw the Netflix news. The service is the biggest platform a movie can get, in theory, with subscribers in the hundreds of millions. But in practice, that doesn't translate to guaranteed attention, certainly not the sort that comes from a longer release arc. Netflix is still, for now, in the business of chasing Oscars, but it remains a challenge for those awards hopefuls to not just get lost in the streamer's sea of offerings. The theatrical releases they do get feel largely ceremonial because they're simply not a company priority — they're a gesture before something gets dropped onto streaming where whatever traction it gets doesn't tend to last long.
I couldn't stand Linklater's last movie, the animated Apollo 10½: A Space Age Childhood, but there's no denying that it vanished into a black hole of content after hitting a scattering of theaters and then being released by Netflix in April 2022. At Toronto this year, the programmer introducing Hit Man actually forgot about it when listing Linklater's work — someone in the crowd had to yell the title out. If you make a movie and no one remembers it, does it even exist? Putting something in theaters has come to mean more than any noodlings about the romance of projection — it's a sign to people that something is worth paying attention to, in the same way going directly to streaming indicates, fairly or not, a certain disposability. But the romance of projection deserves acknowledgment, too. This is, after all, a movie in which someone demonstrates that they have that singular quality that makes them look larger than life. It's an increasingly rare commodity, movie stardom — why preemptively shrink them back down again without giving them a chance?