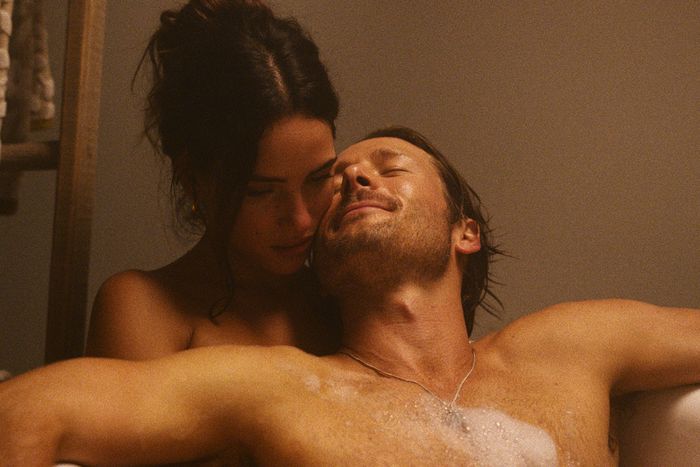 Photo: Courtesy of All The Hits
"How many of you really know yourselves?" Philosophy lecturer Gary Johnson (Glen Powell) posits this question to his University of New Orleans class early on in Richard Linklater's Hit Man. "What if your self is a construction, an illusion … a role you've been playing since the day you were born?" It turns that he's about to become a walking answer to the question. It's a wild story that an opening title tells us is "somewhat true": Johnson (a real guy) worked for a while for the New Orleans Police Department as a fake hit man for its sting operations, arriving at arranged meetings wearing a wire and then getting the suspects to incriminate themselves by obtaining his services.
An amiable, Honda Civic–driving, bird-watching Everyman in shorts and glasses, Gary somehow turns out to be the perfect fake assassin. "You have this unreadable face," a colleague tells him. "Perfectly forgettable." He only gets the gig at a moment's notice because the usual guy got caught beating up some teens and got himself a 120-day suspension. But Gary's a natural: He walks into his first meeting anxiously reminding himself that he's a killer and somehow convincingly transforms into a badass as soon as he meets his mark. It's not unlike the scene in Collateral where Jamie Foxx's mousy cabbie has to pose as Tom Cruise's stone-cold assassin and suddenly becomes a new man. There's more than a bit of Cruise in Powell's performance here, in fact. (One wonders if some of that magic movie-star dust rubbed off while they were making Top Gun: Maverick together. Powell, it should be noted, has a co-screenwriting credit on Hit Man.) But it's not so much the white-haired killer of Collateral as the driven, smiling, fresh-faced icon of the '80s and early '90s. If Glen Powell's not already a star, this picture might well make him one.
It's a movie-star role because it is at heart a fantasy. As Gary tells us, hit men are, by and large, a myth. Why should a total stranger risk death row to kill your business rival or heartless spouse or whatever for money? Gary is effectively playing a figure out of our collective imagination. And on some level, that liberates him. He researches his clients beforehand and tailors his look for their expectations of a hit man: a neck tattoo here, an overcoat there, sometimes dark glasses, sometimes an accent. He can make up the character as he sees fit because the people he's playing quite simply don't exist.
Then, of course, he meets a girl: Madison (Adria Arjona), a terrified wife being tormented by an unstable, domineering husband. She tries to hire Gary, but he's so taken with her that he slyly convinces her to give up on the idea because he doesn't want to see her go to prison. Soon, they're smitten with each other — only she thinks he's still "Ron," the grizzled, open-collared killer who showed her some genuine compassion and threw in a bit of impromptu life coaching.
And Gary sort of thinks he's Ron, too. Or at least, he becomes Ron whenever he's with her, so much so that he's now a demon in bed. ("I was once told I think too much to be a good lover," he reflects. "I like Ron. He's not a thinker. He's a doer.") He also has the instincts of a tougher guy when they're together. When Madison's estranged husband spots them at a club and threatens them, Gary immediately pulls out a gun, Clint Eastwood–style, and backs the guy off.
We get a giddy thrill watching Gary transform because he seems like such an unexceptional person at first. Hit Man works simultaneously as an indulgence in and a deconstruction of the basic transaction of stardom: It presents us with a guy we can never be, then makes us believe for a moment that we can be him, even as it tells us that such a guy doesn't exist in the first place. But Linklater's amiable filmmaking and Powell's charming, self-aware swagger are infused with the idea that anything is possible. They make the whole world seem open, malleable, and accepting. As Gary tells his class, "If the universe is not fixed, then neither are you."
A lot of very dumb things have been said about the auteur theory in recent years, all of which ignore its beautiful central tenet, which is that some filmmakers' sensibilities shine through their work no matter the material. Linklater's breeziness and generosity as a director haven't always worked to his advantage — I can think of a couple of earlier efforts that could have used a darker, more exacting eye — but here, they work wonders.
If one were in the habit of playing artists off one another, one could even say that Hit Man serves as a rebuke to the other hit-man movies at Venice this year — to the self-conscious portent of David Fincher's The Killer, or the graphic tedium of Harmony Korine's Aggro Dr1ft. All of these filmmakers are well aware of the tiredness of the genre they're working in and are trying to poke holes in it, each in his own way. But only Linklater's feels genuinely fresh. He's having fun, his star is having fun, and they allow the audience to have fun as well. Which in turn makes the picture's overt philosophical digressions, in the form of Gary's lectures to his classes, equally easygoing and lively. Linklater's gentle touch is his secret weapon, and Hit Man might be a masterpiece.