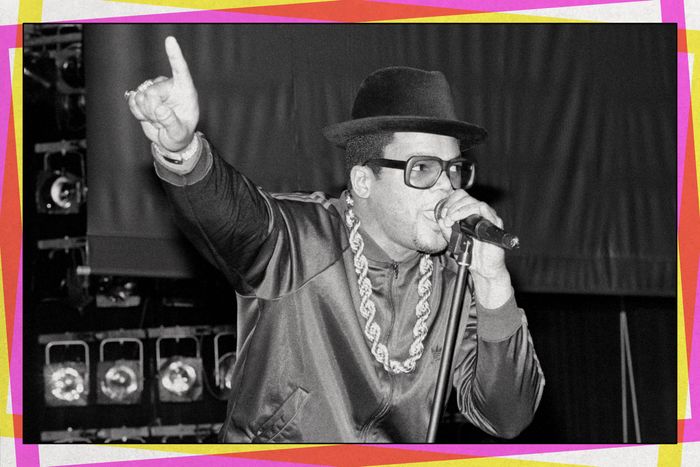 King of Rock,
Photo: Lester Cohen/Getty Images
If Kool Herc was rap's Big Bang, then Run-D.M.C. was Apollo 11. The legendary Queens trio of Joseph "Run" Simmons, Darryl "D.M.C." McDaniels, and Jason "Jam Master Jay" Mizell changed the idea of what was possible in hip-hop. Consider just a handful of the things they did first among their contemporaries: Gold, platinum, and multiplatinum albums; Rolling Stone cover; top-ten pop single; Grammy nomination; featured musical guest on Saturday Night Live. They were also the only hip-hop act to perform at Live Aid and unofficially hosted the maiden episode of Yo! MTV Raps. Sonically, the group eschewed disco and funk for stripped-down drum machine beats and guitar riffs, all while ditching the live band and standardizing the two-turntables-and-a-microphone setup. Aesthetically, they crafted a look that remains a Halloween staple: Kangol hats, Cazal glasses, black Lee jeans, tracksuits and shell top sneakers with no shoestrings in 'em.
Last month, Run-D.M.C. brought its legacy to the massive Hip-Hop 50 show at Yankee Stadium, a final "walk off" performance that, as McDaniels recently told us, didn't go as planned. But it did give aging fans the rare chance to say good-bye to the Hollis legends who've basically been on hiatus since Jam Master Jay's 2002 murder. Meanwhile, the Devastating Mic Controller has stayed busy. Next month, he's dropping a new single — "She Gets Me High," a remake of Ram Jam's "Black Betty" alongside metalheads Sebastian Bach, Duff McKagan, and Mick Mars — and is currently prepping a solo album for early next year called America, a "renaissance of positivity" with features from Joan Jett, Sammy Hagar, Ice-T, and Chuck D.
Run-D.M.C.'s heyday may have been short-lived, but in hip-hop's golden jubilee year, the impact they had on the art form cannot be overstated. "We didn't invent hip-hop, but we definitely reinvented it," says DMC. "What a ride this thing has taken me on."
Most important song in the catalogue
"Rock Box" was the bigger hit off our debut album, but "Sucker M.C.'s" is the most important because it's the true essence of Run-D.M.C. "Sucker M.C.'s" was the game-changer. There had been party records, but even songs like "The Message," with its understandable and relatable darker lyrics, were built around hot and sexy R&B samples. We took it to the early park jams, to the Cold Crush Brothers and the Treacherous Three. Beats and rhymes. The omnipresent representation of hip-hop.
Most captivating individual rhymes by Run and D.M.C.
For Run, I'd go to "Rock Box." "My name is Joseph Simmons but my middle name's Lord / And when I'm rockin' on the mic, you should all applaud." It's him in two lines, a cocky motherfucker backing it up with attitude. Joe always knew who he was.
For me, I could try and get clever, but it's the declaration: "I'm the King of Rock there is none higher / Sucker MC's should call me sire / To burn my kingdom, you must use fire / I won't stop rockin' till I retire." What else can I say?
Most jaw-dropping Jam Master Jay performance
First, let me say something. For the next 50 years, I'm calling out all the bullshit. If you don't have a DJ, it ain't hip-hop. It's a big difference between just rapping over a song compared to having a DJ working the turntables. To me, Jay was the best to ever do it. And his masterpiece is "Peter Piper," which we recorded live, so he cut the record right there in the studio. Run and I are rapping over Jay's wild infectious beats. Real hip-hop understands.
Album that's closest — and farthest away from — your heart
The album closest to my heart is the first one — because it's the first one and because we never thought there would be another. Back in those days, all I cared about was rhyming over Billy Squier's "The Big Beat" on "Here We Go." That was it, that was the goal. We had no idea where this thing was headed.
Farthest away, no question, Back From Hell. We got so far away from who Run-D.M.C. is, cursing and trying to act all hard like we were Onyx or some shit. I remember Dante Ross, a legendary New York City A&R guy and a big fan of the band from the early days, did not hold back. "What the hell is Run-D.M.C. doing? They think they're gangsters now?" That wasn't even the worst part. More embarrassing? Run-D.M.C. doing New Jack Swing.
Most overrated Run-D.M.C. song
I know Run and I agree: the last track on King of Rock, "Darryl and Joe." It's not terrible like Back From Hell shit, but we've never understood why so many people over the years told us they love this fuckin' song. Nas told me it was because it was the first time we used our real names. Only thing that makes sense, I guess.
Most underrated Run-D.M.C. song
Underrated is hard because I think Run-D.M.C.'s most popular songs are also our best songs. There's one song off of Down With the King that comes to mind because I love the way it sounds. "Ooh, Whatcha Gonna Do" where we tried to go a little too hard, letting these '90s cats know we're still here, rapping about gunshots, punks, murder, and all this bullshit. But Jay nailed the sound, it feels like a sequel to "Beats to the Rhyme."
Music video that best represents the band's ethos
"Rock Box." It's the video that first got us on MTV and on our way to superstardom. More importantly, it captures our look and the swagger we were bringing to the scene. It was a great time in New York City because it was the Nirvana thing, come as you are. It's all in the "Rock Box" vibe —punk, disco, hip-hop, CBGB, Lou Reed, the Ramones, Madonna. We didn't have to try and be something we weren't. Run-D.M.C. fit in as Run-D.M.C.
Most lasting memory of the "King of Rock" music video  
Our '80s videos were about having fun and showing off the Run-D.M.C. sense of humor. In "King of Rock," we had Larry "Bud" Melman from the old David Letterman show as a security guard trying to keep us out of a rock-and-roll museum. "You don't belong here!" Which we did then and do now as Rock & Roll Hall of Fame members. But yeah, in that video, long before Eminem and Michael Jackson had beef, we dissed the King of Pop, throwing his sequined glove on the floor and stepping on it. MJ loved it though, he understood the allusions and knew we were just goofing. Michael actually brought us in to do a song together. No lie, we met up with MJ and Bubbles the Chimp. Nothing came of it because as crazy as it sounds now, Run-D.M.C. was too busy to work with Michael Jackson.
Weirdest place you heard "Walk This Way"
There's an episode of Ray Donovan named after the song. Everyone was hitting me up about it before I saw it. It's his teenage son's birthday and all this crazy shit has gone on all day, but in the final scene both of them are drunk — Ray put away like a fifth of liquor — and they just start dancing to "Walk This Way." It goes on for like three minutes, forever by TV standards. I've been sober for almost 20 years and that scene hit me. The coolest, deepest, most emotionally resonating way to use "Walk This Way."
The best and worst aspect of being the forefathers of mainstream hip-hop
The worst part was that Run-D.M.C. always had to be on top of our game. Everybody was gunning for us. Even a dude as cool as Doug E. Fresh made a video where a pair of his Bally sneakers shot up a pair of our Adidas, so we had to keep upping our game. The irony is it was also the best thing. It pushed us to be creative without being conscious of it because we were having so much fun. Our downfall came after Raising Hell when we stopped being Run-D.M.C. and became "Run-D.M.C.," a band that had to have a hit record, get on MTV, and live up to expectations and a lifestyle that had nothing to do with why we got together in the first place.
Are you saying you don't like Tougher Than Leather?
It's got some great songs for sure — "Run's House," "Beats to the Rhyme," "Mary, Mary" — but the full album didn't come together. We were fighting with the label, so it took two years and by the time it came out, dudes like Kool G Rap and Rakim had taken things in new directions. At that point, we should have waited, regrouped, and gotten back into the consciousness of hip-hop. Critically or commercially, Tougher Than Leather wasn't as successful as Raising Hell, but Chuck D did tell me he never understood why so many people are sleeping on that record.
Key to your long relationship with Run
The thing that brought us together: hip-hop. We met one day playing basketball in Hollis. I was in Catholic school, so maybe it was divine intervention. We both got thirsty, but the rule was when my parents weren't home, nobody was allowed in the house. Normally, I'd fill up a pitcher of water and bring it outside with a stack of Dixie cups, but for some reason on that day, I let Joe come inside. He saw the turntables my brothers and I had set up and started DJ-ing. After that, basketball and making music was our thing. Even when we officially started the band with Jay, for Run and I it was about making records.
By the time we hit it big and started traveling the world, Run had a daughter with more kids to come. He was always a family man. I spent most of my time back in the day hanging with the Hollis Crew.  Hip-hop gave us a bond for life even through the darkest days.
Favorite pop-culture usage of a Run-D.M.C. song
The "It's Tricky" dance in White Chicks? [Laughs.] That scene is funny but there's only one answer, right? Die Hard. Nobody knew anything about that movie, nobody thought Bruce Willis could be an action star, and nobody knew it would become one of the dopest classics ever made. Is it a Christmas movie? Of course it is. "Christmas in Hollis" is your motherfucking proof.
Run-D.M.C. drip that deserves more shine
The original black leather blazer and pants with the Godfather hat and the white Adidas with the black stripes. Everyone thinks of us in the tracksuits, but I think our upscale outfits were peak Run-D.M.C. The problem was they looked good, but to perform in? The worst. Hot, sweaty, moldy, stinky. Oh my God, I can still smell it today.
Worst thing about headlining the Yankee Stadium Hip-Hop 50 celebration
I hated it. We went on stage at one in the morning! Why the hell do you want to put Run-D.M.C. on last? We were supposed to go on at 11 p.m. and it was like, What are we even doing here? My body and mind had muscle memory, but I was floating away. Start the show earlier or put us on in the middle. We're old! Didn't make any goddamn sense. At one point Run and I were sitting alone together on a golf cart, and it should be a big deal because we're saying good-bye, and he looks at me and says, 'You think these motherfuckers would notice if we just left?'"
Run and I agreed to do the show because we wanted to pay respects to the culture that gave us everything, in the borough where it all started. It felt like an awards show, something made for TV or streaming, not an authentic Bronx party. It's cool to get Snoop, Ice Cube, Lil Wayne, dudes with massive hits, but there should've been a lot more old-school originators in the mix with the big names. We're in the birthplace of hip-hop but you don't have Bronx OGs like the Fantastic Five or the Funky 4 + 1? They went too big and forgot the culture … Look, I don't want to sound like an asshole, Run and I got the chance to pay our respects to hip-hop one last time. They still could've started at noon.
Rock band you wish you had collaborated with
There isn't one because we never planned on collaborating with a rock band in the first place. On all our albums, we had at least one rock-rap track, so in our minds, Run-D.M.C. already hit as hard as any rock band out there. The title track "Raising Hell" has those guitar licks and was supposed to be that song on that album. We were just going to sample "Walk This Way" — Jay had been cutting the record and we had been rapping over it since we were kids — but it was Rick Rubin's idea to actually make a record with Aerosmith.
It's lost to history a bit because Aerosmith got huge again, but at that time they could have made a record with God, Jesus, or Moses and nobody would have paid attention. Still, they were skeptical — this is when mainstream rock bands shit on hip-hop, "can't spell crap without rap" and all that, but Steven Tyler and Joe Perry realized how cool it could be for everybody involved. We changed the world.