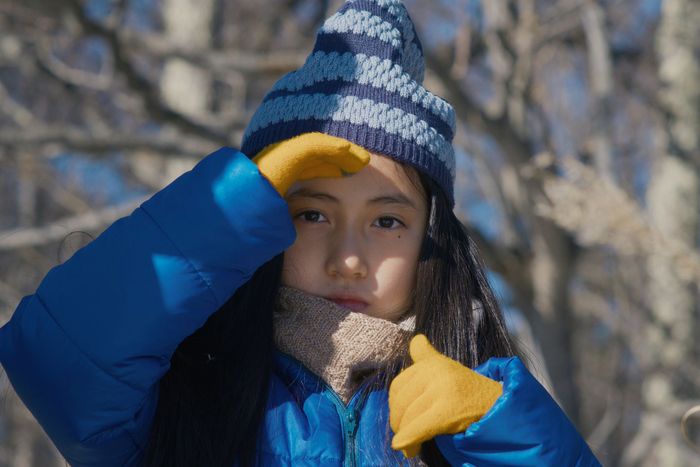 Evil Does Not Exist
is a smaller and simpler movie than
Drive My Car
, and can best be described as a sort of environmentalist folktale.
Photo: NEOPA
Where last year's Oscar-winning Drive My Car was sprawling and emotionally intensive, Ryûsuke Hamaguchi's latest film, Evil Does Not Exist, which premiered at the Venice Film Festival on Monday, is intimate and quiet — a much smaller and simpler movie that can best be described as a sort of environmentalist, anti-capitalist parable, trading those long shots of his characters driving on endless Hiroshima roads for even longer shots of his characters walking through forests.
The tender film centers on a small Japanese farming village, where life moves intentionally slowly and mostly without anything we might recognize as incident. A lively, independent young girl named Hana (Ryuji Kosaka) traipses through the forest while her forgetful widower father Takumi (Hitoshi Omika, a first-time actor who used to AD for Hamaguchi) tends to his animals and chops wood and patiently collects water from its crystal-clear streams. Community and the natural world are valued above all else; the adults' relationships are enviably symbiotic, with the local soba chef (Hazuki Kikuchi) relying on Takumi to schlep her heavy jugs of stream water for her beloved noodles. But when a Tokyo talent agency pops into town to build a glamping site for city people to "blow off steam," this beautifully simplistic way of life is threatened, mostly literally — the septics will pollute the water, among other things — but also figuratively, with all of modern life's chaos interrupting the village's deliberate sense of peace and hard-won homeostasis.
Though Hamaguchi loves a slow-burn narrative, Evil Does Not Exist is a trickle, unfolding at the pace of a languid dream or of the village itself. A long stretch of the movie takes place at a town meeting for the glamping site, where the villagers calmly take the talent managers to task for their shoddy planning; later, those same managers, who seem like cravenly PR-trained talking heads at first, are humanized in their own long scene taking place on a road trip back to the town. It's all beautifully shot and naturalistically acted by a small cast, but it doesn't really pick up, plot-wise, until the last 15 minutes or so, when everything comes to a surprisingly violent, unsettling head. It's an ambiguous, shocking conclusion, one that I'm still pondering hours after seeing it.
The film's curiously hushed, nature-doc-meets-folktale tone can likely be explained, in part, by its "strange" roots as a performance piece. At the film's press conference before its premiere, Hamaguchi explained that singer-songwriter Eiko Ishibashi, who provided the score for Drive My Car, asked Hamaguchi to make visuals that would be played during her live performances. He'd "never done anything like that before," he said, but she gave him demos and they exchanged ideas for a long time.
They ultimately decided they'd make the project in two parts: film a traditional movie scored by Ishibashi, then use the footage for her live performances, as well. They scouted locations in December 2022 and shot the film in February and March as a "personal project," not quite sure what it would become. The result is the 106-minute (a little more than half the lengthy run time of Drive My Car) Evil Does Not Exist, as well as an upcoming film called The Gift, which will premiere at the Ghent Festival in Belgium in the fall and play at Ishibashi's upcoming performances. The film fundamentally altered the way Hamaguchi related to the natural world, an experience he seems to hope will extend to its audience. "I didn't have a big connection to nature until making this film," he admitted at the conference. "I wasn't the kind of child who'd go out and play in nature … Nature to me more was parks that I'd experience in urban areas."
But he'd been thinking of the opening shot — an extended tracking shot looking up at the trees and the sky — all the way back in his early 20s. "I was walking around a park in Tokyo, and I remember finding this perspective and realizing that you can really continue to watch nature and movement in this way. This was, for me, my first conscious experience of being connected with nature," he said. "I remember I was very tired at the time, and I remember finding there was a healing element to nature. But at that time I didn't know how to incorporate that particular perspective in a film. So I'm glad that I was able to finally do it."
Even so, he demurred when asked about his take on "environmental issues" at the conference. "I'm not in a position to talk about environmental issues. I do get asked a lot … but that wasn't really the main focus of my film here," he said. "I embarked on this project from a visual standpoint, because I wanted to think about what would harmonize and mix well with Eiko's music. I figured that nature was the best material to work with her music … Her music also does not give clear answers, and looking at the natural movement of water, light, and the trees, I thought these images would best express what I feel about her music."