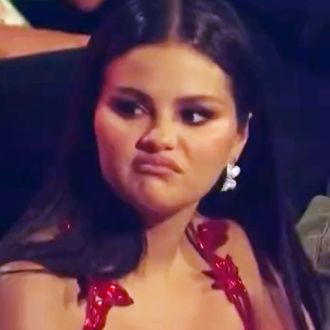 Only Memes in the Building.
Photo: MTV
Even if you didn't watch the 2023 MTV VMAs on September 13, you probably saw a clip of Selena Gomez's face. A specific one, actually, of Gomez scrunching her mouth for just a second after Chris Brown was announced as a nominee in Best R&B. It was a face many of us watching at home also made at the thought of an accused abuser winning an award, and it quickly became a meme. As relatable as she may have been, Gomez wasn't having it. "I will never be a meme again," she posted to her Instagram Story hours after the awards. "I'd rather sit still than be dragged for being myself. Much love."
Now that's a big promise to keep. Never be a meme again? This is a woman who went viral only a few weeks ago just for wearing a blanket. She even memed herself on her Story, posting a photo with bestie Taylor Swift captioned "She looks stunning I look constipated." Sorry, Selena, we don't meme you to drag you; we meme you because we care. Besides, it could've been worse — at least you didn't have a specific camera on you the entire night like your friend did.