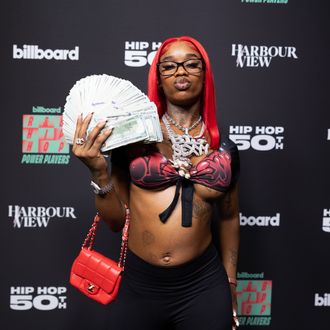 Head coach.
Photo: Getty/Billboard via Getty Images
The New York Jets won one of the wildest regular season NFL games in recent history last night, after would-be savior Aaron Rodgers left the game four snaps in with an Achilles injury. The defense made big stops, running back Breece Hall had an 83-yard rush, wide receiver Garrett Wilson made an improbable touchdown catch, and Hard Knocks star receiver Xavier Gipson won the game in overtime on a touchdown return. But none of that is really why the Jets won: It's because Sexyy Red was at MetLife Stadium.
Let's recap. The St. Louis rapper gave the Jets their anthem for the season with "SkeeYee," her summer banger that the team joyously busted some moves to on a recent episode of Hard Knocks. "Tell 'em play Sexyy Red!" running back Jalen Carter shouted to a DJ during training camp. Cornerback Sauce Gardner sang along, Garrett Wilson got a shimmy in, and coach Robert Saleh even called the song his "jam." "Y'all don't know nothin' about this shit," he said with a grin. After that appearance, Sexyy Red's song debuted at No. 67 on the Hot 100 — no coincidence, we'd say — and the Jets invited her to the opening game, where she enjoyed the food and posed with her favorite player, Gardner.
When the Buffalo Bills scored a touchdown late in the second quarter, receiver Stefon Diggs tried to use the Jets' anthem against them, rapping "SkeeYee" to the cameras. But that was nearly the end of the Bills' good fortune, as the Jets went on to hold them to just two field goals and pick off multiple more interceptions. In other words, we know who's really motivating this team. "WE WON THE SUPERBOWL!!!" Sexyy Red tweeted after the team's overtime win. Can we get her taking snaps under center by next Sunday?