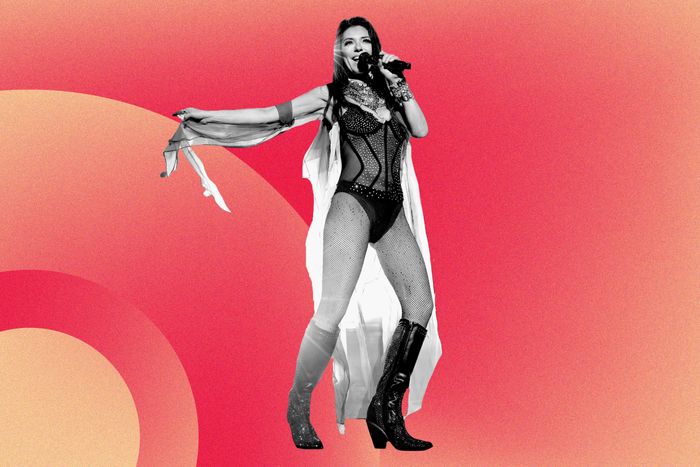 "If country music wouldn't support me and take me to that global audience, then I was going to do it anyway."
Photo-Illustration: Vulture; Photo: Getty
Shania Twain's visionary Come on Over is the best-selling studio album by a woman ever, taking a boot to the glass ceiling with 40 million copies sold. It also spawned an inconceivable 12 singles — 75 percent of the track list! — because of the demand to hear her voice on the radio, extending the initial 1997 release well into the millennium on the airwaves. As Twain recalls, she "went back and forth for a few weeks" about what should become Come on Over's statement-making first single, initially favoring the empowering rally cry of "Man! I Feel Like a Woman!" But she ended up pivoting to the softer "Love Gets Me Every Time," written with her creative partner and husband at the time, Mutt Lange, because it showcased a different and more relatable side of her. "It was a good first song representing what was going to be a very female-power-heavy album," Twain now says. "To say, 'Oh, yeah, but before we get into that stuff, I'm also a fool for love.'"
Come on Over received a deluxe reissue on August 25 in celebration of its 25th anniversary, and Twain is giddyuppin' back to Las Vegas next year for her third greatest-hits residency. With six albums behind her, she remains confident at the decisions that guided her evolution in the industry: from making demos to reluctantly co-writing songs to choosing the right lead single to kick off a new project. "The goal wasn't to be a pop artist or a crossover artist. It was to be an international artist," Twain explains. "If country music wouldn't support me and take me to that global audience, then I was going to do it anyway."
🎵
"What
Made
You
Say
That,"
Shania
Twain
(1993)
.

The Song
I was signed as a singer-songwriter-performer, and a part of getting a deal was sharing my original demos. The plan was I would write part of the first album. I had never co-written anything — I was a very solitary songwriter. But I went along with it, understanding that this was a stepping stone. I was new in town and didn't think it would be unusual to have to do that, but I wasn't expecting it right at the beginning. I didn't flourish very well in the co-writing situation, because they were set in three-hour sessions. It was kind of like going to an appointment. It was the opposite of what I would normally have done and the opposite of what I still do. I had to reset my expectations and adapt to a new environment that was very different from my own way of creating music.
There was no way for me to put my mark on "What Made You Say That" other than my vocals. I mean, it was a cover. There was no room there for me. It just showed up at one of the sessions one day. I knew I had stronger material of my own. I also changed in my mind the course of how my own material would get its opportunity. I thought, Well, the silver lining is that this isn't the way I want to record my own material, so if I just get through this first phase and I'm a good partner, hopefully something good will come of it. I was able to sing it in a very poppy way, which I enjoyed — bringing more of a poppy thing to what was meant to be a traditional country album.
.

The Bet
It was a conversation among all of us, but I don't remember who made the final decision. It wouldn't have been my sole decision. But I wanted it to be the first single, because it was more of a pop-country song, which is what I saw myself as.
.

The Payoff
The only way I could contribute was to the music video. I was left to my own devices. We had a very low budget, so there was no stylist. I was the stylist. I shopped for the clothes. I pinned the clothes how I wanted them to fit. I was braless in the white dress, and there were a lot of styling decisions that surprised the art department when I got back. I cast the male lead and worked on the whole scenario with the director. It was him and I working on all the setups. We made a very provocative video for the genre and for CMT at the time, but it was very popular. The video was more popular than the single itself. Despite not writing "What Made You Say That," I was still able to have a vision of how the song should look.
🎵
"Whose
Bed
Have
Your
Boots
Been
Under?,"
The
Woman
in
Me
(1995)
.

The Song
The idea of the song came about before I met Mutt. I was in my little cabin in the woods. I didn't have anyone living with me. Well, that's another story. But I was living in the cabin and I wrote a bunch of songs. It was around 1990. It was part of the demo tapes I shopped in the beginning for my record deal, but nobody was interested at first. Then when I met Mutt, I presented that one to him and he loved it. We ended up finishing the song together. We kept it very much in the country vein I started it in. My main influence was my grandmother. You know when there's crackers in your bed, and they're not your crackers? Or there's a different scent on your pillow? That was her way of saying someone else has been in your bed. She told me once, "Just make sure there's never anybody else's crackers in your bed." I figured, I want a more mature way of saying that.
It's obviously about a cheating spouse. I thought it would make a great country song that's a little more progressive and modern. It was just me trying to be clever with a country lyric. The lyrics and sense of humor is what made it feel more like a statement song of a liberated woman. I'm a very progressive thinker, but I do love to use a sense of humor to get my point across. It was sassier than the average female country song at the time. Mutt encouraged that humor. I enjoy writing songs that make me laugh while I'm writing them. It's always a joy to do that — when I can laugh at whatever I think is funny and clever.
.

The Bet
It was one of three songs that I was touring around radio stations to introduce the album and give them a taste of what it was about. This was before the single was decided. I actually wanted "Any Man of Mine" to be the first single, because I was so ready, at this point, to be more bold about representing The Woman in Me. But everybody was a little leery of coming in and kicking the door down like that. But I love "Whose Bed Have Your Boots Been Under?" Simply put, it was the safer choice. It was a more traditional-sounding song. It's a stomper for sure. It's a kick-ass country record. It's probably true, in retrospect, that the more intelligent choice was "Whose Bed Have Your Boots Been Under?" It was only a top-ten hit, but it's one of my biggest live songs. I just thought "Any Man of Mine" represented the album better.
.

The Payoff
I felt there was now a concrete beginning to my recording career. It had been stabilized, at least, until the next single could happen. With "What Made You Say That," I was thinking, I hope I get a shot to record my own music and really prove what I can really get my personality across through my writing. That's exactly what "Whose Bed Have Your Boots Been Under?" did. This was pure personality. This is exactly how I would say it if I was in a conversation. It was a chance for the fans to get to know me as a character. Not as a "character" but me and my character. It was a good setup for "Any Man of Mine." Let's give them my country, my character, and my personality. But it also got criticism. I'm too sassy. It's male-bashing. Some people couldn't see the sense of humor in it. I was criticized as "just a lap dancer" from the music video. I remember someone wrote, "That was a great title, too bad about the song." But the fans established it as their hit. That was all it needed.
🎵
"Love
Gets
Me
Every
Time,"
Come
on
Over
(1997)
.

The Song
Originally the song was going to be called "Gol Darn Gone and Done It," but that was too country sounding. To someone British or French or Spanish, what does that mean? We went with "Love Gets Me Every Time" because even though it felt like a really long title, it was easier to pronounce. There were a lot of Nashville musicians on it. It was still very rooted in the country tradition but the drums smacked. It had more of a rock edge. It was important to show the diversity in my messages. It showed a softer side of me. I mean, "I've gone and done it again, here I go again, I went and fell in love." You know? What an idiot. I'm as vulnerable as anybody. In country music especially, there was a risk of thinking, She's this hard-ass. Shania is always trying to make a point about female power. I've never tried to make a point of anything. I just express what I'm thinking. It's coming from my heart and coming from my head.
.

The Bet
I'm the bold one. I wanted to go right for "Man! I Feel Like a Woman!" But it was the right decision to wait until it was set up a little bit better with other songs. I'm not a music-industry or radio-programming expert. I don't study the way it works. I just know what I want to say and the way I want to express it. The visual direction is always easier for me than what song to choose first. But I was able to dig into "Love Gets Me Every Time" in a lot of ways and I really enjoyed it. I knew it would translate very well onstage.
.

The Payoff
Country music doesn't get supported enough on a global level. That would have meant my music was going to remain unheard by other corners of the world. I remember a lot of comments along the lines of, "Oh, if that's country, then I love country." I think that song is very important in hindsight, because with "Man! I Feel Like a Woman!," people may have wondered, "Is this really country music?" But "Love Gets Me Every Time" was a very palatable country song for people that might have been on the fence about what it was — and it made those people now curious about the genre. It opened up more listenership globally for country music and put me on track for Come on Over's ultimate success. The rest was history.
🎵
"I'm
Gonna
Getcha
Good!,"
Up!
(2002)
.

The Song
First off, I never thought The Woman in Me would be a diamond album. For a country artist, it's unheard of, right? Especially for a female country artist. I thought the peak numbers in my career were going to be from the mid-'90s. I went into Come on Over with the expectation of creating another diamond album, because why not? So now I'm thinking again, Of course I'm not going to have a third diamond album. Who gets that lucky? I wasn't being pessimistic. This is more than I could ever ask for. I enjoyed Up! as a songwriting follow-up record and I spent more time in the studio than ever. I felt the pressure was off after Come on Over, weirdly enough.
I wanted "I'm Gonna Getcha Good!" to be something punchier than usual for me. I was thinking about Pat Benatar and "Hit Me With Your Best Shot." I wanted to bring my more teenage-rock edge to the song. The song starts off with: "Don't want you for the weekend, don't want you for a night." I got that direction with the lyrics after hearing "Kiss" by Prince and the Revolution. I wanted to reverse the roles there. The song is meant to be a female take on "Kiss." "You don't have to be rich to be my girl / You don't have to be cool to rule my world." Now read my lyrics. That was the inspiration for the direction of the song's story.
.

The Bet
It sounded familiar but in a fresh way. I decided there were going to be "green," "blue," and "red" versions. It was obvious at that point that fans were coming from so many different walks of life, so I suggested doing three versions of the song to satisfy these different tastes. We were trying to keep up with all the different countries and cultures coming onboard. I found we were always back in the studio making them more palatable. I thought, Why don't we just right off the bat do it like that? So we're not chasing it and have a head start. The classic example is "I Will Always Love You": The Dolly Parton version and then the Whitney Houston cover. They are two completely different treatments and productions. That's why I told Mutt, "It's the same artist, same writers, same voice. I'm not changing myself but let's give the song a different production." I thought my fans deserved that after already following me this far.
.

The Payoff
"I'm Gonna Getcha Good!" established me on a deeper level with the audience I already had and the one I was gaining internationally. I think they were more satisfied with the "red" and "blue" versions. It's fascinating to me — variety is what everybody ended up wanting in the end, anyway, from the music industry. I saw the purpose of it and it was very satisfying for the audience to have those options. And also, for me, when I'm live, I change the versions depending on where I am and how I'm feeling. There were several songs of mine that didn't chart as high as they ended up being as a hit, and this is one of them. At the time, I never followed the charts. I'm like, I can't do it. I have to let go of whatever happens to the songs. I knew that the album was deeper than one song and deeper than the first single. The album did go diamond. Like a lot of things in my career, it's been a progressive experience. I was used to it by then.
🎵
"Life's
About
to
Get
Good,"
Now
(2017)
.

The Song
"Life's About to Get Good" says everything in the title — I'm not quite there yet, but I can see the light at the end of the tunnel and I'm on the right track. I needed to express my joy for life and my respect for pain at the same time. All of the things that brought me valuable lessons. It's an inspirational song, which was what I wanted to do with leading off this album after so many years away. I wanted to capture where I was during the writing process. It's not just about getting over pain, but it was about going through it, and then coming out the other side and what that experience was all about. It was one of the most vulnerable songs of my career. It was quite literal and melancholy, which was unusual for me to put on an album. But it was my truth at the moment. It's a very important song on a very important album.
.

The Bet
So many people were asking, "Where are you? What are you doing? How are you? When is your next album?" "Life's About to Get Good" was my answer to that. It represented Now the best. I'm coming up and out of a personal challenge and I'm coming out stronger. I was insistent for this to be the lead single because of that. I wanted everyone to know that all is good and the sun is coming out.
.

The Payoff
You can sense the reception when I play this live. It's cheerful, but the audience loves the sentiment. They sing along. I think, overall, my fans were just happy to see that I was happy. The whole album tugged at their heartstrings more than any other music I've released. The stories that I get back, and why they relate to the song, are very moving. They responded with appreciation, which is what I wished for.
🎵
"Waking
Up
Dreaming,"
Queen
of
Me
(2023)
.

The Song
I love to daydream.  It's great escapism and it inspires my songwriting. This is my version of "Don't Stop Believin'" by Journey. This is my Don't stop dreaming, don't stop at the ceiling moment. You can find your power in your imagination and in your dreams. I wanted it to be super optimistic and uplifting. It represents self-motivation and exercising the freedom that you have in dreaming. It's completely free. It's so liberating. It had been in my mind for a while, especially during the COVID pandemic, because I just wanted to be cheerful. I needed to dream and I needed to go to other places — those desires naturally became a song. It's a mindset that I adopted during that time and wanted to put out there in Queen of Me.
.

The Bet
I changed labels with this album. There was a refreshing new group of talent that was also feeling this optimism. I suggested it as the lead single and they didn't need any convincing. It was actually the opposite. These new creatives inspired me to hear my music another way. They gave me more exploration and freedom with the production. It got more dance-y as a result, which was new for me. "Waking Up Dreaming" represented the whole spirit of everybody around me, and it represented a shared celebration of my reentry into the industry.
.

The Payoff
In the '90s, my expectations were pretty modest. Country music wasn't globally known. Now, in 2023, I realize more than ever that the sky's the limit. It's quite satisfying and surreal to have the privilege to think that way. I don't take it for granted at all. The margin is wide for me. Having a greatest-hits album, I don't remember what the first song is. Even that was a triumph. Because of my voice, there have been many builds along the way. There were so many things I never expected to happen. To put it simply: The outcome is just gratitude.
More From The Song Roulette Series
Lange, previously known for his prolific work in the rock-music industry, worked with Twain on The Woman in Me, Come on Over, and Up!. And then …
Twain: "You can bet your bottom dollar in time, you're gonna be mine / Just like I should, I'll getcha good." Prince: "I want to be your fantasy, maybe you could be mine / You just leave it all up to me, we could have a good time."
Three versions of Up! were recorded and released around the world to appeal to different listeners: A pop version (red), a country version (green), and an Indian film-music version (blue).
In 2008, it became public knowledge that Lange cheated on Twain with her best friend since childhood. The couple divorced and shared custody of their son. During this time, Twain was also reckoning with weakened vocal cords, which were caused by Lyme disease.
Twain switched from Mercury Nashville to Republic Records.