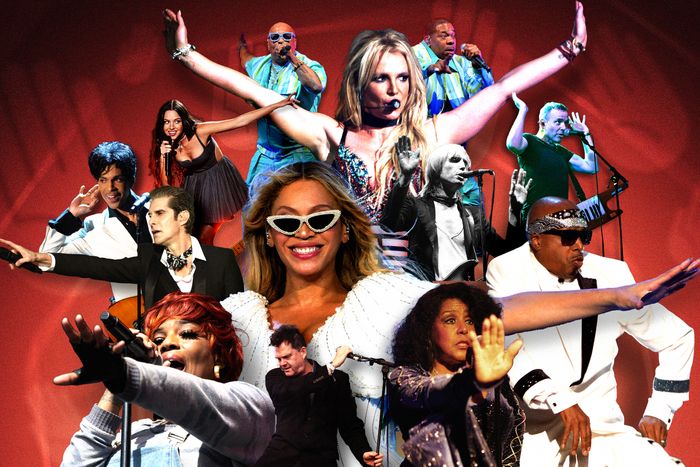 Photo-Illustration: Vulture; Photos: Getty
Artists use many musical tools and techniques to manipulate our emotions — volume-busting crescendos to amp up our excitement or melismatic vocal runs that toy with our tears. But none are quite as effective or as well-worn as the "stop" stop. You know, that point in the song where the singer literally says "stop," takes a deep breath, and waits. After a grand, silent pause, the music comes whooshing back in. It's a timeless trope that's persisted through genres and generations. We've seen it utilized by everyone from '60s girl groups to '70s singer-songwriters, '80s indie rockers and '90s hip-hop juggernauts to the biggest hitmakers of today. And there's a good reason for it. These brief respites of silence lend infinite suspense, tension, and, dare we say, hope, however misguided it may be. (It's a well-worn tactic of those desperate to get back together with an ex, despite impossible or self-destructive circumstances.) What follows is a ranking of the best stops in pop, based on length, intensity, and overall impact. From superficial stillness to cathartic exhales, these are moments where we truly enjoy the silence.
Honorable Mention: "Energy," Beyoncé
During live performances of "Energy," there's an epic pause after the line "Big wave in the room, the crowd gon' move / Look around, everybody on mute." The backup dancers freeze. And, naturally, so does the crowd. Through viral videos and social-media posts, entire cities are now competing to maintain the longest stretches of silence. Though not technically a "stop," if anyone deserves reverential awe through the power of quietude, it's Beyoncé.
19.

"Stop!," Jane's Addiction
This sturdy, stuttering game of stop-and-go from the Los Angeles alt-rock stalwarts is the sonic equivalent of surfing the waves of an apocalyptic flood. While a bit too on the nose in its delivery, it's a road map to learning to slow down and live más during rapidly changing end-times.
18.

"Can't Repeat," the Offspring
An abrupt shout followed by a lingering emptiness can signify many things — often it's the speed of life, the whooshing pace of time, and our impending mortality in the context of it all. Sometimes it's just a pause en route to catchier pop-punk choruses. In the case of "Can't Repeat," it's both. Life goes on, as does the song.
17.

"Uptown Funk," Mark Ronson ft. Bruno Mars
Structurally, "Uptown Funk" is a marvel. With more moving parts than a game of Tetris, every part seamlessly builds upon each other, forming a formidable pyramid of hooks. While the "Stop, wait a minute" doesn't lend much in the way of meaning or emotion, it still earns a place on this list for being yet another ultracatchy component in a song teeming with them.
16.

"Fragile," Tech N9ine ft. Kendrick Lamar
A feature from Kendrick tackles hateful critics and bruised egos with a mighty stop. Rarely has a pause dripped with so much disdain. It would be hard to swallow if it weren't coming from a titan of hip-hop, but since it's Kendrick, we'll let it slide.
15.

"Like Dylan in the Movies," Belle & Sebastian
Here's a stop that lends a surprising amount of suspense. The pause serves as a foreboding warning in an otherwise deceptively melodic song. Be on alert, the silence screams in this twee stalker anthem. Be sure to think twice, it's not all right.
14.

"Break Ya Neck," Busta Rhymes
The most shocking thing about the stops in "Break Ya Neck" is that there aren't more of them. It's likely one of the fastest raps ever recorded, so we can't fault Busta for taking a well-needed breath. These pauses function mostly as a chance to come up for air so he can continue to dazzle with his rapid-fire flow.
13.

"Don't Come Around Here No More," Tom Petty and the Heartbreakers
As we'll see throughout this list, stops can add an extra layer of intensity in the context of a breakup song. Instead of coming to an impassioned halt of anger or regret, Petty opts for a quick succession of staccato yelps, which land with ambivalence more than emotion. Regardless, it's still a banger.
12.

"Batdance," Prince
With its fits of stops and starts, Prince nails the jittery majesty of a good pause. This song nearly doubles as a game of superhero freeze dance. A fun, if slight, entry to the stop canon.
11.

"Dress," Taylor Swift
The stop in this Reputation deep cut is so effective because it happens exactly once. By the time the chorus hits the third time around, Taylor finally, finally gives her imploring plea the extra boost it needs. There's nothing like a lingering pause to let her sensual tryst remain a secret just a little while longer.
10.

"U Can't Touch This," MC Hammer
A very necessary stop, for the statement that follows is one of the most memorable declarations in pop music. This is a pause that lets us brace ourselves for the baggy panted reckoning to come: HAMMER TIME.
9.

"Improper Dancing," Electric Six
By far the most playful and self-aware entry in the stop canon. Not only do Electric Six let you know when to stop, but they also let you know when to …wait for it … continue. They've been known to even throw in a whole extra song in the interstitial gap live. (What more opportune time to tackle INXS's "Never Tear Us Apart"?) A silly diversion and ironic inversion of a typically sincere trope.
8.

"Where Is My Mind?," the Pixies
Here's a stop that sets the tone for the entire song to come. The opening pause bursts open a door to heady confusion, woozy guitar, and all-around disorienting vibes. Never has a stop so effectively demarcated the line between delusion, reality, and the liminal space in between.
7.

"I Try," Macy Gray
Only three lines in, this stop acts as an opening plea that sets the tone for the rest of the song. Imagine if we could still be together, it begs, despite knowing full well that's an impossibility. If a moment in time could reverse, this would be its cue.
6.

"Bad idea right?," Olivia Rodrigo
The newest addition to the pantheon of "stop" songs is an instant classic. An all-too-brief moment of logical thinking is upended the second the chugging guitar kicks back in. Of course you should stop seeing him, Olivia. Of course, you won't.
5.

"Stop! In the Name of Love," The Supremes
As if the exclamation point in the title didn't give away how powerful this stop truly is. One of the earliest uses of the now well-worn trope is also one of the best. All it takes is the briefest of gaps between pleading gasps to convey the desperate and likely ill-fated attempt to stay together. Ohhh, think it over.
4.

"Crying," Roy Orbison
Another early pioneering stop, Orbison's pleading practically freezes time with his crackling vibrato. This mid-line stop disrupts the flow of the song and jump-starts the flow of our tears. That unexpected pause gives the listener an extra moment to dwell on what could be, but never will. Iconic.
3.

The Britney Trifecta: "You Drive Me Crazy/Lucky/Stronger"
Britney works the stop motif to the max with this trifecta of songs, even deploying the technique twice in the span of one album. However, never is it more effectively deployed as it is in "Lucky." This cautionary tale gets to the heart of the dark side of celebrity culture. Just what happens when the glitz and glamour of red carpets stops? If anyone's basked in the messy afterglow of fame, it's her. It's by far the most prescient pause on the list, given the media hellscape she'd endure for decades to come.
2.

"Alison," Elvis Costello
The pause after the stop may be barely perceptible, some may say nonexistent, but it's all in the enunciation. The sharp, direct emphasis of "STOP" is devastating and disarming in its sincerity. It's a bittersweet crest of yearning. A desire to change the past in order to save a loveless future, and Costello's yelp sells it every word of the way.
1.

"How Sweet It Is to Be Loved by You," James Taylor
No slight against the Marvin Gaye original, but James Taylor truly understands the impact a good stop can bring to an already familiar song. By taking a lengthier beat, his cover of the Motown hit gives ample breathing room to the tune, thus maximizing the romantic sentiment. The lingering pause is like a warm, all-encompassing embrace frozen in time. Silence has rarely felt so intimate.