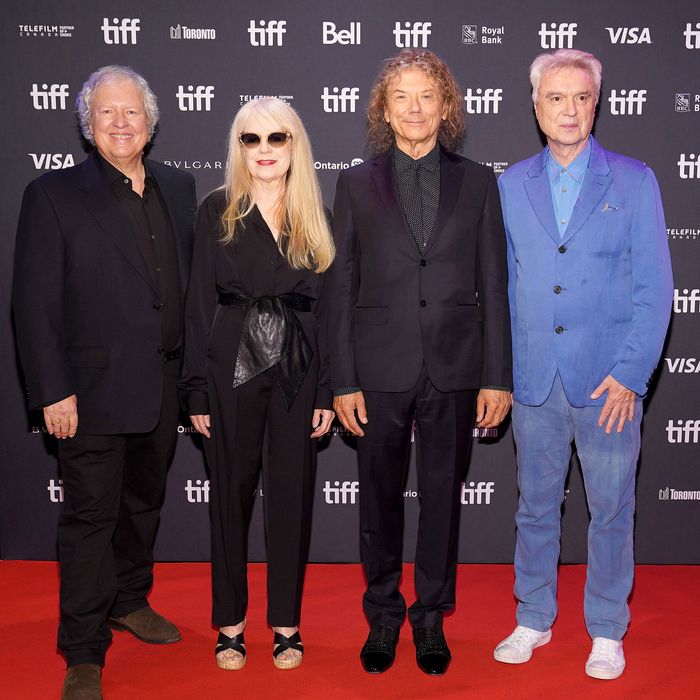 Once in a lifetime: Talking Heads' Chris Frantz, Tina Weymouth, Jerry Harrison, and David Byrne at TIFF.
Photo: Shawn Goldberg/Getty Images
The name of this fan is Spike Lee.
"This is the greatest concert film ever!" declared the veteran director at the Toronto International Film Festival premiere of Talking Heads' newly remastered concert doc, Stop Making Sense. Lee had been asked to host both the screening and a Q&A with the entire band to mark the group's first public appearance together in two decades.
For years, fans have begged members David Byrne, Tina Weymouth, Chris Frantz, and Jerry Harrison to reunite. But the event on Monday would be a test as to whether the rockers could even be in the same room with one another. As Frantz — whose last meeting with Byrne was "about 20 years ago" — recalled in his lively 2020 memoir, Remain in Love, Byrne had repeatedly taken sole songwriting splits for the group's collaborative efforts, broke up the band in 1991 much to everyone's surprise, and signed away full ownership of the catalogue to EMI against the others' wishes. Meanwhile, Weymouth has previously described Byrne as "Trumpian" and "transactional."
But at TIFF, the potential drama was quickly neutralized. With Lee on the mic, the post-screening interview stayed as light and polite as possible. "This is the greatest concert film ever!" he declared again, encouraging the group to crack smiles as they celebrated their music and cinematic legacy.
"Talking Heads was such a good band, and when we had that expanded lineup … ​​it just took us into a whole nother dimension," said Frantz. "Excuse me for blowing our own horn; it's so good to be here with my bandmates tonight."
Forged in the fires of CBGB, Talking Heads began in 1970s New York City as an irresistible live act focused on collaboration and an entrancing, ever-shifting sound — one that set them apart from their more traditional verse-chorus-verse peers. They became particularly adept at studio wizardry, merging rock with synthetic textures on Fear of Music (1979), and writing polyrhythms inspired by African grooves on follow-ups Remain in Light (1980) and Speaking in Tongues (1983). Talking Heads earned a rare combination of critical and commercial praise, though it took until 2021 to get their first Grammy, a Lifetime Achievement Award.
The 1984 release of Stop Making Sense further enshrined their cathartic live performances. The groundbreaking film transports you to L.A.'s Pantages Theatre, where Talking Heads played three nights on their Speaking in Tongues tour. By then, the group had accomplished a richer in-person sound and awe-inspiring theatrics, like gradually expanding their lineup throughout the show.
Whether you're new to the band or a repeat viewer of Stop Making Sense, the restoration — which includes remastered sound (supervised by Harrison) and a 4K image — pulls you directly into their set. In IMAX, it makes for an extremely intimate experience. ("Look at how sweaty he is!" one of my neighbors said during the close-up shots of Byrne.) Fans in the theater gyrated to "Burning Down the House" and joined Lee in leaping out of their seats for "Once in a Lifetime"; another began running up and down the stairs in time with Byrne onscreen during the performance of "Life During Wartime."
"When I was watching this just now, I was thinking, This is why we come to the movie theaters!" Byrne said later, before joking, "This is different from watching it on my laptop."
After the screening, Lee took on the role of motivational coach: "Can we give it up, please? I'm going on record around the world!" Acknowledging the role of the rerelease in part as Talking Heads 101, Lee asked questions along a timeline, from how filming took place in 1983 to how the band and audiences received it in 2023. With a particular affinity for Weymouth and her bass stylings' "bringing that bottom," Lee asked her to name her favorite performance of the film. "Come on, Spike," she replied. "That's like making me choose which of my children I love the most."
Whenever a Talking Head comment or fan-submitted question — such as "What's it like seeing this iconic movie being shown to a brand-new audience?" — left room for the word love, Lee reinforced it. "Love!" he echoed like a therapeutic mantra for these bandmates who haven't always shared the same sentiment. "Timeless!" he repeated in assurance of their legacy. "Rich and detailed sound!" he emphasized to the group's delight.
"One of the reasons for the lasting power of the film is you see that we are having so much fun onstage," Harrison said.
"Can I put the word love in there, too?" Lee asked. "Love! Love!"
"Love and fun, and the audience is brought right into it to say, 'You're part of this too,'" Harrison continued. "Every time I watch this, it brings back that wonderful emotion."
Talking Heads should meet with Lee more often — it would be good for them.
Explaining his iconic big suit, designed by Gail Blacker, Byrne recalled having dinner with a friend in Japan who told him that everything in theater is bigger than in real life, from movement to volume.
"And I'm thinking, Oh! My suit should be bigger too," Byrne said to laughter.
"It was really big tonight," Frantz cracked back.
Weymouth made a point to shout out visual consultant Sandy McLeod, who toured with the band for weeks before filming to take "notes on every song, what each player was doing, who was moving. I think that really helped when it came time to shoot." The band also heaped praise on Jonathan Demme, who received the bulk of the filmmaker credit on Stop Making Sense despite its being a team effort.
"I realized that he was looking at it as an ensemble film," said Byrne of the late director. "You have a bunch of actors, you get to know each character one by one, and then you watch how they all interact with one another. I thought, I'm in my own world, but he saw what was going on there."
Added Frantz, "Jonathan gave us a lot of confidence. He made us feel like what we were doing was worthy of making a motion picture and also worthy of being remembered into the future."
Lee unfortunately steered clear of any questions about how the band members get along today or a possible live reunion, though Byrne recently gave a mea culpa to People that he "regrets" how he ended the group, calling it "an ugly breakup." At Talking Heads' prior public appearance, in 2002, Frantz thanked the Rock & Roll Hall of Fame for giving the band "a happy ending." The TIFF premiere felt like an even happier one.
"It was magical," Weymouth said about Stop Making Sense — but the reflection could just as easily have applied to the night itself. "Everything about it was so special. The love that you talk about between us and the audience, the teamwork, our crew, the film crew, it was all amazing."