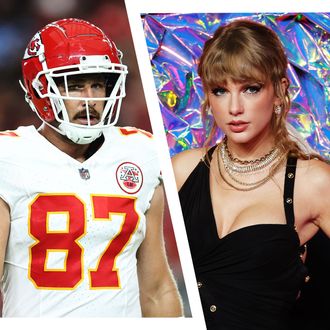 Travis Kelce and Taylor Swift.
Photo-Illustration: Vulture. Photos: Getty Images
The Taylor Swift and Travis Kelce dating rumors are coming from inside the house. On Sunday, September 24, Swift took Kelce up on his previous invitation to watch him "rock the stage" at one of his games. She was spotted cheering on the Kansas City Chiefs in the Arrowhead Stadium while seated right next to Kelce's mom. Well, perhaps there's at least one member of Kelce's family who knows what's going on with this relationship. Kelce's brother, Jason, previously jokingly confirmed Travis's dating status in a September 20 sports radio interview. "It's hard to answer 'cause I don't really know a lot about what's happening with Travis's love life and I try to keep his business kind of his business and stay out of that world," Jason told Philadelphia's 94 WIP. "But having said that, man, I think they're doing great and I think it's all 100 percent true." But don't take it from him. "No, I'm joking," he added. "I don't know what's happening."
Jason's "joke" came just after a Sunday night football game on September 17 when his brother, a Kansas City Chiefs tight end, scored a touchdown in the team's win against the Jacksonville Jaguars. And CBS announcer Ian Eagle used the auspicious moment to reference a Swift song in a nod to Kelce and Taylor Swift's alleged relationship. "Kelce finds a blank space for the score," Eagle said during his announcer call as Kelce basked in his glory, per Fox News. The next day, the football star and SNL host acknowledged the puns made at his expense, appearing delighted by a compilation of Swift references made by NFL Network's Rich Eisen during the pre-game coverage. "Well played Rich … Well played 👏🏻😂," Kelce commented on the video jointly posted on Eisen and the NFL Network's Instagram.
Neither Swift nor Kelce has directly addressed the dating rumors, though sources told The Messenger that "Taylor and Travis have been quietly hanging out." Back in July, Travis Kelce said he attempted to get some face-time with Swift following her Kansas City top of her Eras Tour, but was unable to link. "She doesn't meet anybody — or at least she didn't want to meet me," he told Jason, on an episode of their New Heights podcast. "So, I took it personal." He also wanted to give her his version of the tour's signature keepsake. "I was a little butthurt that I didn't get to hand her one of the bracelets I made for her." Dating or not, the Venn diagram of Swifties and football fans might become a circle if they keep referencing the singer like this.
This post has been updated throughout.