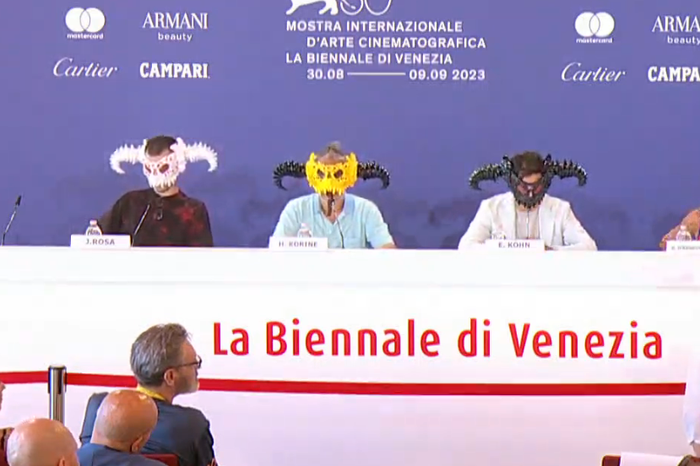 Photo: Venice Film Festival
Before this week, I would never have called the presence of movie stars in any given room "keenly necessary." A few days into the 2023 Venice Film Festival, I have had the chilling realization that, should the Screen Actors Guild strike lurch on due to the Alliance of Motion Picture and Television Producers' stubbornness and greed, and we are subsequently forced to continue to live in a world without celebrities, things might descend into unbearably dull chaos. By way of example, I offer you a snapshot of the festival's press conferences, during which the vibes have been decidedly off since day one.
Things began entertainingly enough on Thursday, with Caleb Landry Jones, one of the only actors allowed at the fest due to his film Dogman reaching an interim agreement with SAG, beginning the press conference by speaking in a Scottish accent. (He is from Texas.) French director Luc Besson, looking vaguely and uncharacteristically concerned, attempted to explain. "Just for you to know, he's working on a character in Scotland, so it's not his normal voice, but he needs to stay in character. And so if you don't understand so much the accent, it is brilliant accent, but … " Jones smiled slowly, perhaps a little Scottishly. "It'll be better in the film," he said.
Besson, who has since been excoriated for his film, talked about how he and Jones joined a spa together to lose weight before filming. "I want him to lose 20 kilos and I try to lose 10 at the same time," Besson said cheerfully. One journalist asked Jones a long question about whether, for him, acting and music are "part of the same universe, where you can live out very different made up characters, or is that more of a vehicle where you can express your true self?" Jones exhaled. "More or less," he said. He did not elaborate. Tragically, this was the last bit of raw actorly weirdness we would get.
The Ferrari press conference was relatively normal because that film's production team also reached an interim agreement and its conference was thus attended by stars Adam Driver and Patrick Dempsey, who are both hot and charming and talked shit about Netflix and Amazon and told little on-set stories about cars and sandwiches. Bradley Cooper did not attend the conference for Maestro out of solidarity, which means we will maybe never get to hear him defend the nose of it all while getting visibly, maybe even theatrically annoyed. At the Poor Things press conference, Yorgos Lanthimos looked pained as he lamented the absence of the film's incandescent star and executive producer, Emma Stone, and had to carefully answer questions about her wild sex scenes that would have been way more fun to hear about from her perspective.
Roman Polanski did not attend the press conference for his latest directorial effort, The Palace, which is best viewed as a thought experiment: What if someone revived Garry Marshall against his will, gave him bad drugs, and forced him to direct Triangle of Sadness 2? Or what if you had committed a crime so terrible that you were only allowed to watch the first 12 minutes of a bot-generated streaming Christmas movie on loop forever until you begged for the sweet release of death? Or what if a bunch of wealthy elderly racists started their own Hallmark Channel (I guess Candace Cameron Bure already did that)? If Polanski had attended, he might have been extradited due to allegedly raping a teenager in the 1970s. None of its stars attended, either — Mickey Rourke or John Cleese or whoever else is in this movie. Instead, Polanski's producer Luca Barbareschi showed up to say things like, "I cannot speak for Roman but the '70s were not today. It was free sex for all. I could have a jail sentence for what I did in New York between 1974 and 1980 with the logic of today's political correctness."
Harmony Korine was indeed here for the premiere of Aggro Dr1ft, a movie inspired by Ed Hardy that features such edgy dialogue as, "Dance, bitch. Dance, bitch. Oh, yeah. Dance, bitches." He was also there to promote his new multimedia design collective, EDGLRD, which aims to disrupt movies or something. Wearing a large demon mask, Korine sat down alongside his special effects director João Rosa and head of strategy and development Eric Kohn, who were both also wearing demon masks, likely to evoke the characters in the film, who do demonic things like storm moodily around Miami and put swords near their dicks while thrusting aggressively. They wore the masks the entire time, which is fine and cheeky enough, but let's not pretend that it isn't a sad substitute for actual movie-star charm and eccentricity.