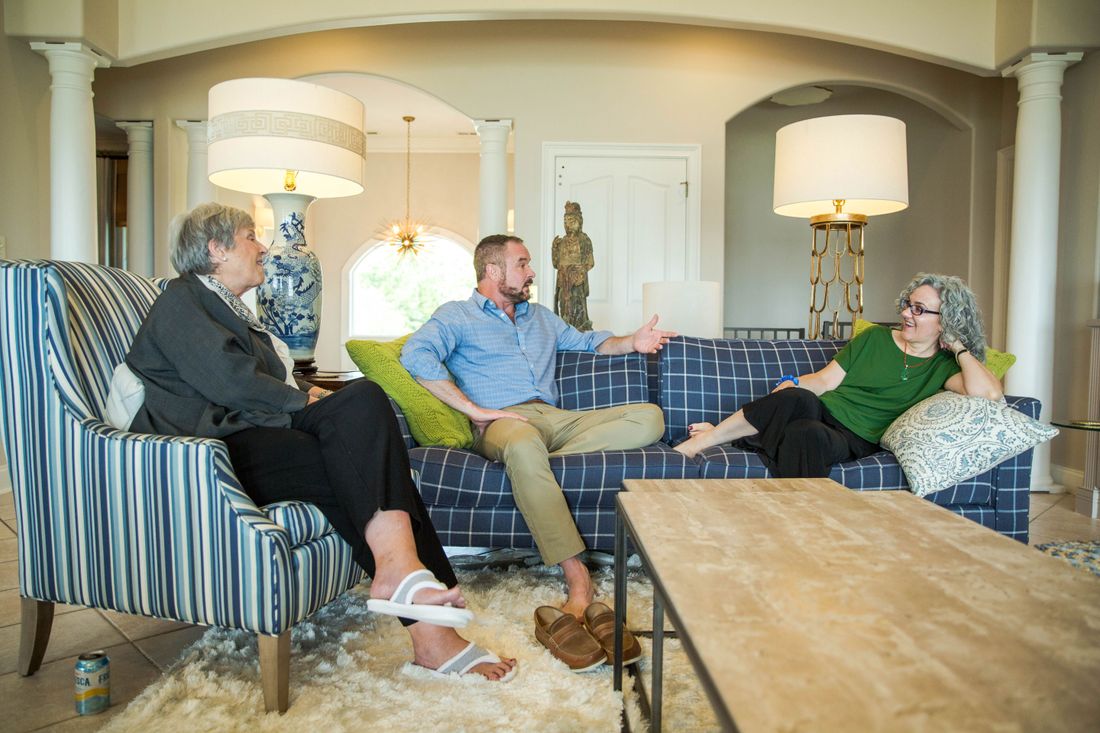 This Jungian Life
hosts Deborah Stewart, Joseph Lee, and Lisa Marchiano.
Photo: Joseph Lee
For Matthew Quick, the author of Silver Linings Playbook, 2020 was the third year of a crippling writer's block. Long runs near his home, in the woods of North Carolina's Outer Banks, weren't helping. Nor was spending eight hours glued to his office chair every day. Writer friends were generous with their support at first but eventually became nervous about catching the bug themselves. An ongoing battle with depression and anxiety only made matters worse. In desperation, Quick even hired a creativity coach. It didn't go well.
Then, one day, his wife suggested he listen to an episode of This Jungian Life, a podcast where three Jungian psychoanalysts — Joseph Lee, Lisa Marchiano, and Deborah Stewart — playfully apply the insights of Swiss psychiatrist Carl Jung to modern topics: burnout, scam artists, hookup culture, the Grinch. Quick listened on his next run — and couldn't stop listening for the next two months. "Almost immediately, the show gave me a vocabulary for things that I intuitively understood about myself but had never been able to verbalize," he remembers. "I suddenly had a framework that felt really helpful — and profound." When he ran out of back episodes to listen to (one on A Christmas Carol's Ebenezer Scrooge was an early favorite), Quick found himself a Jungian analyst of his own. Soon, the writing came back. And last November, We Are the Light — his first novel since the block (featuring, it just so happens, a Jungian analyst) — was published.
When it comes to the fathers of psychoanalysis, Jung is less of a household name than Freud, but if you've ever used the words introvert or extrovert, talked about someone having a complex or persona, or taken a Myers-Briggs test, you've encountered his ideas. As with the Freudians, training to become a Jungian analyst is extremely involved, requiring hundreds of hours in personal analysis and at least five years of study, which is how the hosts of This Jungian Life first met — during the early 2000s in training seminars at the Philadelphia Ethical Society.
"I can still remember exactly where Deb was sitting in the room," Marchiano recalls. "I liked her right away and felt certain that we were going to become good friends. Though I was frustrated over the subsequent months because she didn't seem to have the same intuition." The friendship eventually did blossom, and when Lee showed up, the three became "kind of a core because we just had so much fun together," remembers Marchiano. "Of course, we were talking about ideas and presenting cases, but we also would just gossip and make irreverent jokes." After getting certified, the three went their separate ways. "It was such a loss because we weren't in this intense container anymore," Marchiano remembers. "We'd meet for dinner sometimes and have calls, but I was always lonely for that feeling."
Eager to get it back, in early 2016, Marchiano asked the others if they'd be willing to try recording a podcast, and the three committed to each other for a year. "None of us thought it was going to be hugely successful, but we knew we wanted to talk to average people who didn't necessarily know anything about Jung and to really make his ideas accessible," Lee explains. "There are plenty of online lectures that are very erudite and sophisticated from Jungian scholars, but we wanted to reach people in Peoria. To take struggles that are relevant to everyone's lives, like procrastination, and add some depth, but without overwhelming people. We just wanted to be a welcome mat to these ideas." Or in Stewart's words, "Your safe guides into the underworld."
Their timing proved fortuitous. In recent years, the rise of therapy as entertainment, from productions like Couples Therapy and Jonah Hill's Stutz to the continued ascent of Esther Perel and TikTokers like Therapy Jeff, has coincided with a returning appreciation for psychoanalysis, born out of a growing skepticism that the mainstream therapeutic approach today — cognitive-behavioral therapy — is too focused on a quick, thought-deflecting fix. After only a month of episodes (titles include "Shithole," "Hookups," and "Emotional Affairs"), the This Jungian Life's hosts were receiving a stream of emails from listeners as far afield as Estonia, Morocco, and Suriname, thanking them for the light-hearted way they were breaking down Jung's ideas. (Reading him alone is a little harder: One analyst says that trying to find Jung's take on a specific subject can feel like "diving into the Indian Ocean," as there are 20 volumes of the collected works, "all in tiny font with notes.")
"It caught fire almost right away," remembers Marchiano. "I'll never forget: We started that April, and by June, we had 10,000 downloads. Now, we have around 10 million. I remember being completely shocked, thinking, Wow, this has legs I did not expect it to have."
Today, the show averages around 30,000 listeners per episode. At the last meeting of the International Association for Analytical Psychology in Vienna (something like the Jungian Coachella), Marchiano and Stewart were "more or less mobbed," one analyst told me. "It was like, 'Oh my God, you're the people who do TJL!'" Every month, there seems to be a constant stream of celebrities — Russell Brand (on Dua Lipa's podcast), Emma Cline (on How Long Gone), Kate Berlant, Angelica Ross — who go out of their way to talk about the show's impact on them. And it's in the air in New York, too: I heard about it first from Passerby magazine founder Clémence Polès, then from a close friend's father who was mainlining the show on drives between the city and New Hampshire, then again at a dinner party, where our host explained that her options for that evening had been between cooking for all of us, or "sitting with a bottle of wine, crying to This Jungian Life."
Of course, a podcast can only provide so much analysis; many listeners have been finding themselves in live sessions. In conversations with Jungian analysts around the world, it became clear that the success of This Jungian Life is doing its part in filling their practices and that training applications have also soared. Martha Blake, an analyst in Portland, Oregon, says that she's sent notes to the hosts thanking them for her many new referrals (her practice is now full). Christina Becker, a Jungian analyst in Toronto, was a guest on the podcast and says that as soon as her episode aired, she had "tons, tons, tons" of listeners from as far afield as France, Ireland, and New Zealand, writing to her for virtual sessions. Jane Penrod, an analyst in Albuquerque, New Mexico, says the show has led clients to her door, many of whom top up their sessions by tuning into each new episode and bringing back related personal material. Wendy Jones, co-president of the CG Jung Institute of New York, says that over the past few years, the institute has enjoyed "a heightened interest" in its training program and that This Jungian Life has been one catalyst. Stephen Martin, an analyst in Narberth, Pennsylvania, who trained in Zurich with some of Jung's own students and co-founded the Philadelphia Jung Seminar, described the podcast as "miraculous — and singularly helpful in generating interest in our seminar, with considerably more applications."
Chicago-based Jungian analyst Gus Cwik, who has had patients come to him after listening to the podcast, put it plainly: Marchiano, Stewart, and Lee have become the "rock stars of the Jungian world."
When I put this to the hosts, Marchiano laughs. "Jungian rock star is kind of a contradiction in terms. We're a tweedy, introverted, low-profile bunch, so that's kind of a funny metaphor." Stewart counters: "I think we definitely are out there in a way that is not typical for Jungian analysts, so to our colleagues, we must look like blazing extroverts," she says. "But really, we're just three people having a conversation every week about something that we feel matters."
Since the beginning, each episode of the series has been produced the same way: Ahead of time, a topic is chosen — anything from road trips to gambling to stay-at-home dads to Puss in Boots, as long as the hosts all agree it's fertile ground for a Jungian reading — and the three separately prepare notes on the subject, tying the stresses of 2023 to psychoanalytic ideas from 1923. Episodes are recorded on Monday mornings, and once they've wrung everything out of the topic at hand over the course of a banter-filled, hour-long discussion, they'll close by analyzing a new listener-submitted dream. (At this point, Marchiano says they have "thousands and thousands" of dreams in their inbox to sift through.)
Their expertise on a niche subject aside, part of the reason fans say the show works so well is because, like so many other successful podcasts, it's simply enjoyable to be included in a warm conversation between close friends who've known each other forever. "They laugh a lot, and they're all so comfortable listening to each other — no one is trying to persuade the other that it's actually like this or that," one analyst-in-training, who came across the show while studying in Vienna, explains. ("If you join a Jungian study WhatsApp group," she added, "someone is going to come up with a link to the show eventually.")
While the laughter and relaxed conversation of the hosts might seem to clash with the stereotype of the pensive analyst on their black leather chair, Cwik says it's in line with Jung's own approach. "Jungian analysis is different from Freudian psychoanalysis, which uses the couch and the analyst sitting behind a person. Jung always talked about more face-to-face meetings and being actively engaged with the person. I think what they've been providing is a three-point dialectic."
Proving Cwik's point, many of the This Jungian Life fans I spoke to described their first time listening to the show as a soothing, therapeutic experience and typically offered the same two reasons as to why. First, because Jung's theories were explained in a way that immediately resonated with their own struggles. And second, because in the scary moment where they now had a name for what had been eating at them, the hosts' tones were ones of both acceptance and humor, suggesting that all was not lost and help was at hand.
"It wasn't a kick in the face or an implication that I was an awful person," Quick, the author, remembers. "It was just, let's take a look at these things, and maybe they might be useful to you in some way. It was a beautiful invitation to look in the mirror." Art professional Laura Rivera-Ayala (favorite episode: "Jonah and the Whale") experienced a similar feeling: Unfulfilled at her corporate job, she'd started listening while experiencing "a lot of panic and anxiety" and credits the show with giving her the confidence to leave that job, and even move cities. "Their tone is this constant reminder that there's a way forward. It was just so soothing."
Flavius Ardelean-Bachmann also changed his life after listening. In the fall of 2019, he was working in Germany for IBM when suddenly it "all came to a stop very violently, and I had a breakdown." He began to look into what his unusually intense dreams might be telling him, which led him to the podcast. "I started listening and never stopped," he says. "Through sleepless winter nights, they became my friends and helped me find my way out." He's now happy in a new career as a novelist but plans to later train as a psychoanalyst.
Lee, Marchiano, and Stewart are now in high demand as psychanalysts themselves. Interest in their respective practices has exploded, and their waiting lists have become "irresponsibly long," Lee says. As for the trio's next steps: While they're determined to keep the podcast free, they've since expanded it into a year-long, paid, virtual "Dream School," complete with office hours. "It's a real commitment that dives deeply into teaching people how to work with their own dreams, involving a lot of contact with us throughout and with fellow students," Marchiano explains. They've also signed a contract to deliver a book next year, and there's still no shortage of future episode ideas to think about, whether generated by listeners (the hosts tend to ignore frequent requests to get into politics, but are planning to address Jung's murky response to the rise of Nazism) or by their own clinical practice (an upcoming episode on wedding anxiety, for example, was inspired by Marchiano's work with one of her own clients).
All in all, they're just hoping to keep the Jung train rolling. "There was a resurgence around Jung's ideas in the 1990s, which was when I found him," Marchiano remembers, citing books like Clarissa Pinkola Estés's recently reissued Women Who Run With the Wolves, Thomas Moore's Care of the Soul, and James Hillman's A Blue Fire. "Public interest in Jung tends to bubble up every couple of decades, so to think that we may be a part of another moment, given that our personal mission is to popularize Jung's ideas, certainly tickles me."
One person who's joined them in that mission is Quick, who on his book tour this year for We Are the Light has been going into detail about how Jungian analysis changed his life. "I famously did not like being in public very much," he remembers. "I would go to airports with my hood up and my sunglasses on and my earbuds in, hiding from a world that seemed really hostile. But after listening to This Jungian Life for almost three years, and two and a half years of analysis, I go to the airport now with no sunglasses, no hood, smiling at people, interacting, and the world just seems a lot brighter. Everyone got nicer. And I've realized that it's not that those people were mean three years ago. It's that I was different. That's new, humbling, and exciting. And I don't think I would have ever gotten there if it hadn't been for the show."