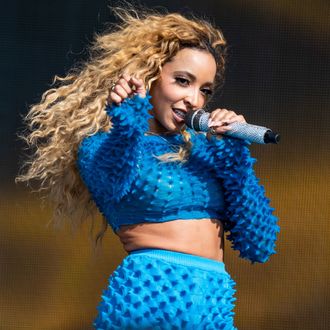 Tinashe.
Photo: Lorne Thomson/Redferns
Tinashe was freed from her label RCA back in 2019, bless, but not before it dragged her into collabs with certain deviant figures in the music industry. In a new interview on Zach Sang Show on September 13, promoting her new album BB/ANG3L, Sang asked if she thought the collaborations with R. Kelly and Chris Brown were a result of the flop strategy RCA deployed during her contract with the label. Tinashe scoffed before implying that she had no desire to work with the pair at all, actually. "You think I wanted to? I literally block out that R. Kelly song from my mind — I forget that it even exists," she said, recalling her 2015 track "Let's Be Real Now" with Kelly. "That is so embarrassing. That is so unreal that I even have a song with R. Kelly." Over the past few years, he has been found guilty of numerous charges in his sex-crimes and racketeering cases. "I was so young too, which is crazy because I feel like I did that song when I just signed to that label …" she continued. "I was probably like 20."
As for the song with Brown, 2015's "Player," Tinashe said the label wanted to push the song with a big-name collab, with Sang noting that the public backlash did not take into account her lack of control. "That was a song that we all wanted it to be this big moment, this big single," Tinashe explained. "So I feel like, in their mind, they were like, 'You need the support.' He was their biggest artist that they had on rhythmic radio at the time," adding that she didn't think it made sense for Brown to be on the pop song anyway. What's RCA's new excuse?