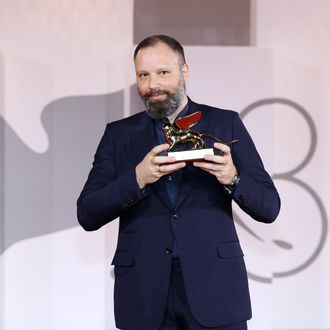 Photo: Daniele Venturelli/WireImage
Despite an industry-wide strike that's made the promotion of films feel impossible, the Venice Film Festival has given a chance for some stars of independent features to shine a light on their upcoming projects — with a few of those artists taking home prizes from the fest. The 80th Venice International Film Festival awards gala on Saturday evening celebrated the films competing for various categories, including the Golden and Silver Lion, voted on by the jury, which includes directors Jane Campion and Martin McDonagh.
Taking home the grand prize of the Golden Lion was The Favorite's Yorgos Lanthimos for his follow-up film, Poor Things, starring Emma Stone, Willem Dafoe, and Ramy Youssef. In his acceptance speech, Lanthimos called Stone an "incredible creature" and praised her performance as Bella in the film. "This film is her both in front of and behind the camera," he concluded.
Priscilla's Cailee Spaeny took home the Best Actress award and thanked her muse, Priscilla Presley in her speech. For Best Actor, winner Peter Sarsgaard for Memory spoke about the union strikes and how A.I. jeopardizes the industry. "It's hard to prioritize it because it does seem like the stuff of science fiction," he said in his speech. "We can all agree that an actor is a person and a writer is a person but it seems that we can't. And that's terrifying because this work we do is about connection." Sarsgaard wasn't the only winner to discuss the on-going Hollywood strikes, Pablo Larraín also brought it up in his speech for Best Screenplay for El Conde with Guillermo Calderón. He said, "I hope through collaboration that the studios will come to an understanding. We need dignity, respect, understanding, and compassion for writers all over the world."
Below is the complete list of winners.
Main Competition
Golden Lion
Poor Things by Yorgos Lanthimos
Silver Lion Grand Jury Prize
Evil Does Not Exist by Ryusuke Hamaguchi
Silver Lion Best Director
Matteo Garrone for Io Capitano
Special Jury Prize
Green Border by Agnieszka Holland
Best Screenplay
Pablo Larraín and Guillermo Calderón for
El Conde
Best Actress
Cailee Spaeny for Priscilla
Best Actor
Peter Sarsgaard for Memory
Marcello Mastroianni Award for Best New Young Actor or Actress
Seydou Sarr for Io Capitano
Horizons
Best Film
Explanation For Everything by Gábor Reisz
Best Director
Mika Gustafson for Paradise Is Burning
Special Jury Prize
Una Sterminata Domenica by Alain Parroni
Best Actress
Margarita Rosa De Francisco for El Paraiso
Best Actor
Tergel Bold-Erdene for City of Wind
Best Screenplay
El Paraiso by Enrico Maria Artale
Best Short Film
A Short Trip by Erenik Beqiri
Lion of the Future – Luigi De Laurentiis Award for a Debut Film
Love Is a Gun by Lee Hong-Chi
Audience Award
Felicita by Micheala Ramazotti
Venice Classics
Best Documentary
Thank You Very Much by Alex Braverman
Best Restored Film
Ohikkoshi (Moving) by Shinji Somae
Venice Immersive
Grand Jury Prize
Songs For A Passerby by Celine Daemen
Special Jury Prize
Flow by Adriaan Lokman
Immersive Achievement Prize
Emperor by Marion Burger and Ilan Cohen