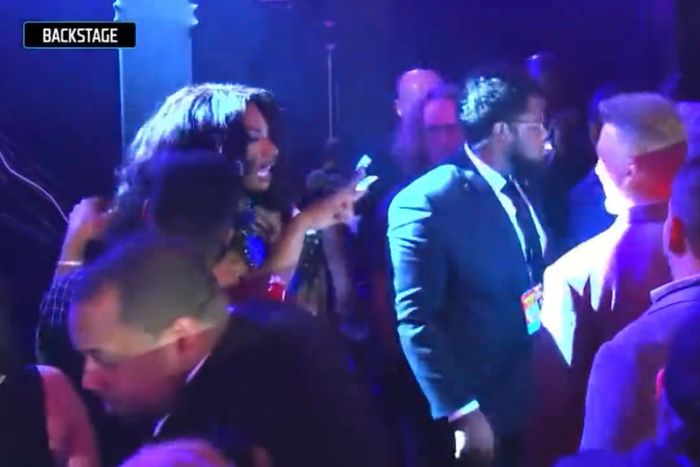 Update, September 19, 2023: Megan Thee Stallion and 'N Sync beat the beef allegations. Speculation of some sort of confrontation between the two parties arose after she was spotted speaking to the boy-group member backstage using strong hand gestures. However, the hottie herself told People that there was absolutely nothing going on other than mutual admiration backstage at the VMAs. "First of all, I do not have any apps on my phone social media-wise except for TikTok. But when somebody asked me, 'Were you fighting with Justin Timberlake?' I said, 'Why would you say that? In what world would Megan Thee Stallion be fighting with Justin Timberlake? What are you talking about?'" she explained as she reemphasized how she naturally communicates. "I just talk with my hands. So I was telling him, 'No, I didn't really get to meet you. This does not count.' I had my in ears in. I couldn't hear what he was really saying, but we talked after and I was like, 'Oh man, they think I'm back here tussling with Justin Timberlake.'"
Last week, Thee Hot Girl Coach posted a TikTok of herself and Justin Timberlake happily ke-keing together post-VMAs, effectively deading rumors that there was drama afoot. "I just talk with my hands lol," she captioned the post. "See ya next time @Justin Timberlake." Per usual, all weapons that rise against Megan shall fall.
Original story, published September 12, follows.
It wouldn't be the backstage camera at the MTV VMAs without some sort of drama — or speculation of it. At the beginning of the show, a livestream on MTV's YouTube channel showed Megan Thee Stallion getting ready for her "Bongos" performance with Cardi B, and as 'N Sync walks by, Justin Timberlake leans over to tell her something. Megan then appears to change her demeanor with him, waving her finger and saying something to him before resuming getting ready for the song. At the least, it looked like an expressive interaction, and at the most, it looked like a confrontation. While fans were ready to ride for their stallion, Variety confirmed with a source that there was no fight at all, saying the interaction was actually "very cute." Timberlake allegedly told Megan that it was nice to meet her, but Megan wanted more than a quick hello. "She said, 'No, no, this don't count, this don't count. We gotta meet proper,'" the source explained. Maybe a Megan Thee Stallion and 'N Sync collab was the surprise Taylor Swift was hoping for.