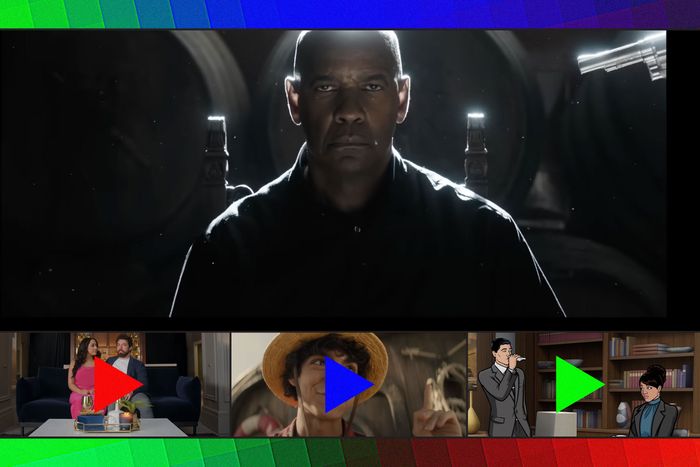 Clockwise from top:
The Equalizer 3
,
Archer
,
One Piece
,
Love Is Blind: After the Altar
.
Photo: Vulture; Photos: Sony Pictures, Netflix, FX
Summer may be winding down, but at least we have a holiday weekend to help ease the transition. Oppenheimer and Barbie are still kicking ass in theaters, which helps because this year's Labor Day weekend movie slate is basically just Equalizer 3 — great for dads everywhere, but for others, maybe not so much. At home on TV, though, there's a new live-action anime adaptation hitting Netflix, the return of some reality dating shows, the finale of Justified: City Primeval, and more. —Savannah Salazar 
Featured Presentations
.

The live-action One Piece 
If the words "live-action Netflix adaptation of a beloved anime" give you pause, that's forgivable. The streamer's past efforts, like Cowboy Bebop and Death Note, should have stayed animated. But, somewhat miraculously, the live-action take on One Piece — a beloved long-, long-running manga about pirates with big dreams and wacky powers — isn't bad! The cast of mostly unknowns are One Piece's real treasure as they better represent the Straw Hat Pirates than any anime watcher could have dreamed, and the show does a decent job of transplanting, rather than just re-creating, the source material's unique tone. Is it better than the original? Of course not. But if you want eight live-action episodes of swashbuckling high jinks rather than 1,073 (and counting!) anime episodes, set sail. —James Grebey
➽ The best live-action anime adaptation ever made is Speed Racer, and it's streaming on Max.
.

The Equalizer 3
It's an hour and 49 minutes of Denzel Washington kicking ass. What more do you want? —S.S.
.

Archer season 14
If you dipped out of Archer during the experimental genre seasons, which put the talented but immature superspy Sterling Archer in film noir and sci-fi settings, this 14th and final season is a good time to get back onboard. Unlike those in many long-running cartoons, Archer's characters actually age, and Archer himself is still plenty immature even if he's, you know, getting up there in years and not quite the crack agent he used to be. New spy Zara Khan, voiced by Natalie Dew, may outdo Archer on all fronts. —J.G.
➽ Are we not saying "phrasing" anymore?
.

Love Is Blind: After the Altar
Love Is Blind's trio of epilogue episodes is a nice closing bookend to each season. You get all the tea: Who's still together? Who's dating someone new? What beef has yet to be squashed? Seeing as Jackie is actually in these episodes, compared with her not being present at the reunion, we'll at least finally get to see Jackie and Marshall reunite and, hopefully, boss up. —S.S.
Grand Finale
Justified: City Primeval 
One can only hope that Raylan Givens — the hero of Justified who made his way into a TV version of a different Elmore Leonard novel that didn't originally feature the deputy U.S. Marshal — will keep popping up in future shows based on the author's work after City Primeval wraps up. Heck, why limit Raylan to Leonard novels? Let's get Timothy Olyphant in All the Light We Cannot See. —J.G. 
➽ Unfortunately, this is pre-bleached-blond Timothy.
Reality Bites
The Ultimatum season-two reunion
Okay, so this season wasn't my favorite. The drama wasn't there, and to be honest, neither was the love, but to each their own. Since Netflix releases the episodes in batches, this is just a reminder that the Ultimatum reunion is out this week. Enjoy. —S.S.
➽ This whole cast needs to boss up! 
Genre Fare
Wheel of Time season two
Prime Video's, uh, other show based on an iconic high-fantasy book series is back for season two. Rosamund Pike returns as Moiraine, a member of a powerful order of women who can harness an immense magical force, who is trying with mixed success to keep track of a group of hot young folks (with varyingly distinct and memorable personalities) since one of 'em is the reincarnation of the Dark One. —J.G.
➽ Just go all in at this point, Amazon. Make an Earthsea show. Adapt Discworld. You're bound to get a Game of Thrones–size hit eventually.
Welcome Back to Storybrooke
Once Upon a Time
This show once had audiences in a choke hold. The story of Snow White and Prince Charming's (Ginnifer Goodwin and Josh Dallas, who have since gotten married) long-lost daughter (Jennifer Morrison), who returns to Storybrooke, a town populated by mythical characters, has cycled through every fairy tale in the book. The show takes a bit of a nosedive near the end, but it still has great moments to revisit. —S.S.
Make It a Double Feature
The anime One Piece
If the live-action One Piece isn't your style — or maybe especially if it is — check out the anime, also streaming on Netflix. The story is much, much bigger than can be captured in the new show alone. (I read the manga, but this is a watching recommendation list, not a reading one.) —J.G.
Want more? Read our recommendations from the weekend of August 25.