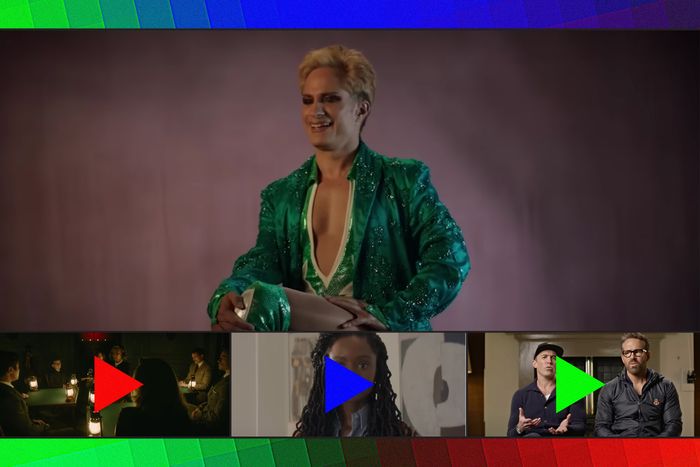 Clockwise from top:
Cassandro, Welcome to Wrexham, The Other Black Girl, A Haunting in Venice
.
Photo-Illustration: Vulture; Photos: Amazon Prime, 20th Century Studios, Hulu, FX
Nothing has made me more depressed this week than this TikTok of a man peeling off a set of Barbie posters somewhere in New York. Summer has truly come and gone, so much so that Warner Bros. Discovery released Barbie on VOD this past Tuesday. (Though, if we're being honest, a ticket to see it in theaters is cheaper than renting it digitally.) But even if summer vibes are winding down, the movies and television offerings aren't still rolling in. We may not have Challengers, which was originally supposed to debut today before getting its strike delay (thanks, AMPTP!), but at least we have Cassandro, A Haunting in Venice, and more new movies and shows on the docket. Here's everything we've got to watch this week. —Savannah Salazar
Featured Presentations
.

Cassandro
Gael García Bernal stars as the eponymous exótico wrestler in this upcoming biopic by director Roger Ross Williams. Bad Bunny, Roberta Colindrez, and Raúl Castillo round out the cast as Cassandro chronicles Saúl Armendáriz's rise in the wrestling world. It's a tender movie you can watch in limited theaters this week or on Prime Video next week. —S.S.
.

A Haunting in Venice 
Kenneth Branagh's Inspector Poirot and his Escher-esque mustache are back for another mystery … and this one is spooky. A Haunting in Venice, a (very) loose adaptation of Agatha Christie's 1969 novel Hallowe'en Party, has Poirot investigating a murder following a séance. There are some horror elements to this whodunit, which also stars Tina Fey and Michelle Yeoh, giving it a slightly different flavor than Branagh's two previous Poirot films. —James Grebey
➽ But will there be enough champagne to fill the canals of Venice?
.

The Other Black Girl
Adapted from author Zakiya Dalila Harris's debut novel, The Other Black Girl is a sharp thriller about a young woman named Nella who, after being the only Black employee at a popular publishing company, encounters a new co-worker named Hazel. The closer Nella gets to Hazel, though, the more things at work start to unsettle her. —S.S.
.

Welcome to Wrexham season two
Deadpool and the Mythic Quest guy are back, and now the scrappy little football club they bought has gone from a novelty to … an actual contender? Season two of the celeb-driven FX sports-documentary series has Wrexham A.F.C. once more trying to make it to the big leagues, so to speak, but the vibe is different now that there's real enthusiasm behind the team and a royal visit from King Charles III. —J.G.
➽ Hey, for real, do you think the late Elizabeth II knew about Deadpool?
.

El Conde 
Anybody who knows anything about Latin American history knows that Augusto Pinochet was a brutal dictator who ruled Chile for close to two decades. What El Conde presupposes is: What if he was actually a 250-year-old vampire and he wanted to just die already? Pablo Larraín's new film is a dark satire that blends supernatural horrors with historical ones. —J.G.
.

The Morning Show season three
If at some point you said to yourself, "What The Morning Show needs is to cast Jon Hamm as an Elon Musk–esque figure who wants to put Jennifer Aniston on one of his spaceships," then, wow, you will probably enjoy this. —Jen Chaney 
➽ Is The Morning Show coming for For All Mankind's throne as "the best Apple TV+ show about space"?(Sorry, Foundation.)
.

Wilderness 
This series follows a seemingly perfect British married couple (Jenna Coleman and Oliver Jackson-Cohen) who aren't actually happy. A trip to the States quickly turns sinister as we wonder which spouse is more dangerous. —Roxana Hadadi 
Grand Finale
Harley Quinn season four
The best DC show right now by far is still Harley Quinn. The end of season four brings Harley's seasonlong internal conflict to a head as she is finally forced to decide whether she can be a hero while still remaining true to her villainous tendencies. She may have to kill the Joker first, though. —Eric Vilas-Boas
By Popular (On) Demand
Barbie
Have you all heard of The Godfather Barbie? We're sure you are on your nth rewatch, but if you haven't had the chance to be dazzled by the pink and glitter of Greta Gerwig's film, there's still time. The film is now on VOD a week before it hits Imax screens for a short run. Double the Barbie! —S.S. 
John Wick: Chapter 4
Like Keanu Reeves careening down a flight of stairs, the acclaimed fourth installment in the John Wick series is hurtling onto the Starz streaming platform. —J.G.
➽ Also newly streaming this weekend: Elemental, coming off a surprisingly long, successful theatrical run, and Theater Camp, which was on the big screen for a hot minute before jumping to Hulu. 
Make It a Double Feature
Don't Look Now
If you want a real "haunting in Venice," rent this classic 1973 horror movie starring Donald Sutherland and Julie Christie, who travel to Venice following the tragic death of their daughter. It's a deeply disturbing and occasionally surreal exploration of grief, as Sutherland's character keeps seeing a figure wearing the same red raincoat his daughter was wearing when she drowned. We'll say no more, as Don't Look Now might have one of the most shocking twist endings. Poirot could never. —J.G.  
Want more? Read our recommendations from the weekend of September 8.