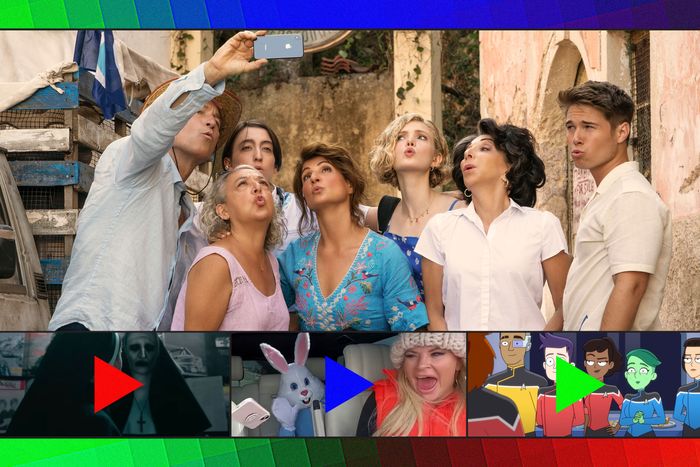 Clockwise from top:
My Big Fat Greek Wedding 3
,
Star Trek: Lower Decks
,
Real Housewives of Salt Lake City
,
The Nun II
.
Photo-Illustration: Vulture
August is over, which means we're out of the final dregs of the summer-blockbuster movie calendar. That's good, but the downside is that the prestigious fall movie releases … haven't really started yet. Alas. Luckily, TV, as always, is there for us, as we've got a new era for Real Housewives, an Apple TV+ drama that could become the next surprisingly popular show like Hijack or Silo, and a Walking Dead spinoff. And, hey — the movies aren't actually too shabby, either, as we've got a new installment in a popular horror franchise and one big fat sequel. —James Grebey
Featured Presentations
.

My Big Fat Greek Wedding 3
"A lot has happened since my big fat Greek wedding," says Nia Vardalos in the trailer for the third installment in what is now officially a cinematic franchise. In this one, Vardalos and her clan head to Greece for a family reunion in honor of her late father, Gus, played by Michael Constantine, who died in 2021. John Corbett, a man who truly knows his lane, is back again as another much-beloved love interest of the early aughts. —Rachel Handler
➽ Hey, Mamma Mia! … the ball's in your court for a threequel (or "Greekquel," if you will).
.

The Nun II
The Conjuring universe, even in its weaker entries, continues to slay. In The Nun II, Farmiga sister Taissa returns as Sister Irene as she investigates a murder that clearly has something to do with the terrifying nun/demon Valak that haunted her in the past — a.k.a. the one from The Conjuring 2. Whether it's as good as the original The Conjuring or not, it'll at least be a good time. —Savannah Salazar
.

The Walking Dead: Daryl Dixon
At this point the words walking dead might as well refer to this whole dang franchise instead of just the zombies! Hahaha, I kid. But seriously, folks: There's a new Walking Dead spinoff focused on Norman Reedus's breakout character, Daryl Dixon. Daryl finds himself in France, which is just as zombie-infested as the American South, but the change of setting seems poised to do The Walking Dead some good. The corpses might still be rotting, but for the first time in a while, this saga feels fresh. —J.G. 
.

The Changeling
Girl meets boy, girl marries boy, girl … disappears after giving birth to her first child? So goes The Changeling, Apple's adaptation of the best-selling novel by Victor LaValle. With Melina Matsoukas directing the pilot and LaKeith Stanfield EP-ing and starring, this eight-episode series will surely be as beautiful as it is unsettling. —Julie Kosin
.

Star Trek: Lower Decks season four
Disney has Marvel and Star Wars, Warner Bros. Discovery has DC, and Paramount has Star Trek. That brings us to the fourth season of Star Trek: Lower Decks — which follows the crew of the "least important" Starfleet ship, the U.S.S. Cerritos, and happens to be the franchise's second animated series since the '70s. Episodes will drop weekly, but the season's first two entries are streaming now. —S.S.
Reality Bites
Real Housewives of Salt Lake City season four
A new era begins in Utah. Jen Shah is behind bars for running a nationwide telemarketing fraud scheme (not that one), so the rest of the women have to plow ahead with another winter of high drama and petty differences all on their own. They'll be joined by two fresh faces filling in the Shah-size hole: Angie Katsanevas, who was soft-launched last season, and newcomer Monica Garcia, an excommunicated Mormon and baby-products mogul who's divorcing her husband for the second time. Oh, and Mary Cosby is back, too, but only as a "friend." —Nicholas Quah
➽ It would be pretty funny if a new Real Housewife of Salt Lake City got arrested for fraud.
Archive Dive
Criterion's High-School Horror Collection
The Criterion Channel, the favorite channel of film buffs, tends to be associated with black-and-white movies that feel like homework to an average movie-watcher. That's never really been true (there are a ton of fun genre gems on there, not to mention an entire category of "samurai" films), but it's perhaps never been less true than this month, because I Know What You Did Last Summer is on the Criterion Channel, along with a bunch of other fun high-school horror flicks including Battle Royale, Prom Night, The Craft, and Ginger Snaps.  —J.G.
➽ Also new: Criterion's '70s Car Movies collection. Rev up Duel, Steven Spielberg's first movie, about a driver being chased down by a vengeance-seeking trucker, Jaws style.
Make It a Double Feature
Sex and the City season three
With My Big Fat Greek Wedding 3 coming out, how about a tour through John Corbett's other role as a dreamboat partner? Corbett joined Sex and the City in season three, coincidentally probably the show's best season, as Aidan Shaw, one of Carrie's great loves. Of course, this is Carrie Bradshaw we're talking about, so it's not as doe-eyed and easy of a romance as My Big Fat Greek Wedding. —S.S.
Back Under the Sea
The Little Mermaid
The Little Mermaid (1989) has been streaming on Disney+ since the service first launched, but now The Little Mermaid (2023) is also there. No other notes from me! Watch what brings you joy! —J.G.
Want more? Read our recommendations from the weekend of September 1.